2021 Castrol FloRacing Night in America at Brownstown Speedway
Gilpin Builds Momentum For Brownstown's Castrol FloRacing Event
Gilpin Builds Momentum For Brownstown's Castrol FloRacing Event
Fresh off his first victory of the season, Devin Gilpin couldn't think of a better time to welcome the Castrol FloRacing Night in America to Brownstown.
May 10, 2021
by Robert Holman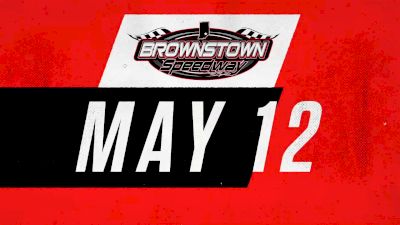 Fresh off his first victory of the season, Devin Gilpin couldn't think of a better time to welcome the Castrol FloRacing Night in America to Brownstown (Ind.) Speedway.
The 30-year-old Gilpin's victory Saturday at Florence Speedway — his second career Late Model triumph at the Union, Ky., oval — was just his third top-five finish of 2021 and it came at the right time for the Columbus, Ind., driver.
Watch Castrol® FloRacing Night in America at Brownstown Speedway LIVE on FloRacing
"It was a heck of a race between me and Kody Evans," Gilpin said. "We were scheduled to start fifth and the polesitter Jesse Lay, something happened to his car before we actually took the green so that bumped us up and we wound up starting third. At the start the race we fell back to like fifth or sixth and then just got up to the top of the track and started rallying and passed a couple cars.
"Got to third and the yellow came out and we restarted on the outside and got to second and slid Kody Evans a couple of times and then me and him exchanged sliders on each end a couple times and he ended up getting back by me. We had a late caution and me and Cody Evans and Trevor Landrum was like three-wide down the back stretch and we ended up getting out front there at the end and taking off and ended up winning it, so it was a good night."
With the upstart Castrol FloRacing Night in America midweek tour visiting his home track on Wednesday for the first time, and with $10,000 up for grabs to the winner, Gilpin hopes he can take the momentum from Saturday's Florence win and keep it going at Brownstown's Jackson County Fairgrounds oval.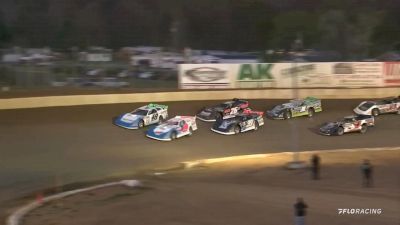 Highlights from the most recent Castrol FloRacing Night in America at Atomic Speedway.
"That was the reason we went to Florence instead of Atomic (Speedway's Iron-Man North event) this past weekend … just because we knew that Brownstown was coming up on Wednesday," Gilpin said. "With Brownstown being my home track and me with a lot of laps there, I'm pretty good at that place. So that was why it was nice to go to Florence to get a win and kind of build some momentum. We've had some bad luck to start the year, just some mechanical failures and stuff like that, so it was good to get a win and hopefully parlay that into a good run here Wednesday."
Four of Gilpin's five victories in 2020 came at Brownstown, two in special events. He picked up a $5,500 check for winning the Born Free 40 on July 4 and grabbed another $3,500 with a win on Oct. 10. But after failing to qualify for the prestigious Jackson 100 in September — a $15,000-to-win Lucas Oil Late Model Dirt Series event — Gilpin is realistic about his chances.
"For us, with the cars that's going to be there, a top-five (finish) would be awesome," Gilpin said. "Obviously we want to win the race and I think if everything goes right we can win the race."
Even with his vast experience on the quarter-mile track, a driver's night can be won or lost during prelims, or even earlier in night, Gilpin said.
"It just depends on a lot of factors that can go into it as far as the draw and qualifying order and if I'm one of the first cars out in Group A and bust off a good (qualifying) lap," he said. "Being in the first heat and winning the first heat, then that would be huge. Or I can get a horrible draw in Group A or in Group B, be one of the last cars out and the racetrack can slow down two- to drive -tenths (of a second) and then we're buried in the heat race and that just sets the whole tone of the night.
"You've got to put a whole night together there. With that caliber of cars, you can't be off in no areas. You have to have luck on your side and then you have to execute. So it's going to be tough, but I know Brownstown really well and I feel like I get around the top at Brownstown really well, so we're really looking forward to it."
Brownstown has long been a favorite among fans in the region and Gilpin has had the luxury of witnessing that since well before he began driving. He expects the midweek program, the tour's third of the season following wins by Jonathan Davenport at Tyler County Speedway in Middlebourne, W.Va., on April 15 and by Devin Moran at Atomic Speedway in Alma, Ohio, on April 22, to draw a lot of attention. A stout group of competitors vying for a five-figure payday, along with FloRacing's streaming audience is the kind of event that lends itself to Brownstown's mystique.
"I think the fans really enjoy the way that the grandstands are set and how you kind of feel like you're just on top of the racetrack," Gilpin said. "Seems like you go to Illinois and a lot of Illinois tracks the bleachers are freaking 100 yards off the frontstretch like at Farmer City and in Fairbury. It just feels like you're way back. At Brownstown it feels like you're just up on top of the racetrack. And there's no wall. In my opinion, one thing that makes it unique is that there's no wall.
"Another thing about Brownstown is just the drivers from the '70s to the '80s and '90s. I was born in 1990. So I have recollections of the 1995 Jackson 100. If I could have caught a signed frisbee from John Gill during driver introductions back in '95, I would have been freaking stoked. I just remember Jim Curry, John Gill, Don O'Neal, Dan Sturgeon and Steve Barnett and I'm sure I'm forgetting some. On a regular basis, you know, on a race in the '90s you'd have 40 awesome drivers show up."
"I've seen a lot of good racing up there and it's a good place where you can go and not tear your car up too much you know, like I said, it don't have a wall and it just puts on good racing. I always heard back in the '90s in the early 2000s that if you win at Brownstown you can go anywhere and win. It's just one of those places."