The World Of Outlaws
Theater Deserving Of The Greatest Show on Dirt
Theater Deserving Of The Greatest Show on Dirt
Two historically significant moments converged at Eldora but it was Sheldon Haudenschild's moment.
May 9, 2021
by Matt Weaver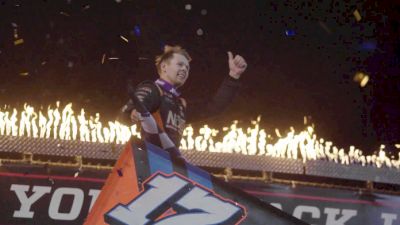 It was the end of one journey, while another one continued, and those two stories converged upon each other with two laps remaining in #LetsRaceTwo.
Donny Schatz, stuck on World of Outlaws win No. 299 for 217 days was closing on the finish line of this particular chapter, but there were two pages figuratively stuck together, a plot twist before the end could ultimately be recorded.
Sheldon Haudenschild, son of one of the greatest to ever do it at Eldora, was ripping the top just like The Wild Child in his heyday.
The Haud Line was open for business.
Meanwhile, photographers began setting up at the start-finish line cutout, eager to record a moment in time, history as it happened.
You get the history that happens, not the history you expect.
Not the picture they set up for but the one they got pic.twitter.com/6pjJzR62kH

— Matt Weaver (@MattWeaverAW) May 9, 2021
Taking the twin popsicle sticks, Schatz was committed to the bottom, giving the Child of the Wild Child an open lane.
Haudenschild accepted.
A decade and 41 races into racing at a venue he was literally born to conquer, Haudenschild hadn't yet made good on this particular birthright.
There was the Governor's Reign podium, and another one with the Outlaws in both 2019 and 2018, and one with the All-Stars in 2015, too.
Those were just pages in a chapter yet to be completed.
Two to go.
. @DIRTVision REPLAY: @Haudenschild_17 takes the lead late and wins tonight's Feature at @EldoraSpeedway! #LetsRaceTwo pic.twitter.com/Xk6w8Vfe4Q

— World of Outlaws (@WorldofOutlaws) May 9, 2021
Haudenschild completes the pass, and no one in New Weston, Ohio truly knows how to feel. On one hand, even the World of Outlaws faithful have begun to feel bad for the 10-time champion, once again denied a historic benchmark in so many painful ways this spring.
Or maybe, they just want to be witnesses to history.
On the other hand, Haudenschild is a resident of Wooster, Ohio, three hours east of Eldora Speedway, but he grew up in the pit area in New Weston. He grew up in Victory Lane, his dad winning two Kings Royal and a Historical Big One, three of his 26 wins at The Big E.
Something had to give -- 217 days versus a decade of expectation.
When the leaders completed the final lap, those same photographers waiting, it was the Stenhouse-Marshall Racing No. 17 that crossed the line first.
What's the story?
That Sheldon won, or that Donny didn't, both holding so much important to the Sprint Car community.
"I don't mind taking something from Donny," Haudenschild said. "He's the best in the business. You love beating him, especially straight-up like that. It's such a good feeling. Donny will get that 300th win."
This was an important coming of age moment in this developing story of Haudenschild becoming a complete package, a championship contender, and Sheldon Haudenschild, rather than simply Jac's son.
"Definitely big," Haudenschild said. "It's big for me, big for this team and big for my family. You know, it's a different thing from top-3 to top-5 to winning."
As for Schatz, the 300th win story is coming to a close, too.
The podiums are starting to again come with regularity as Tony Stewart Racing perfects the FPS 410 engine. Schatz contended at Bristol, and again at Odessa, and led 21 laps at Eldora.
The expectation, much like with Haudenschild had built to a crescendo. It was time, until it suddenly wasn't.
It was great theater deserving of the Greatest Show on Dirt moniker.
Again, history itself decides the who, what and when of such moments.
Haudenschild gets to turn the page on his own emerging legacy, while Schatz is stuck on his.