2021 Rich Vogler Classic at Winchester Speedway
Grant Tops 120 Mph In Winchester Silver Crown Test
Grant Tops 120 Mph In Winchester Silver Crown Test
Justin Grant was the lone driver to exceed 120 mph in Sunday's USAC Silver Crown practice at Winchester in preparation for the race on May 9.
May 3, 2021
by Richie Murray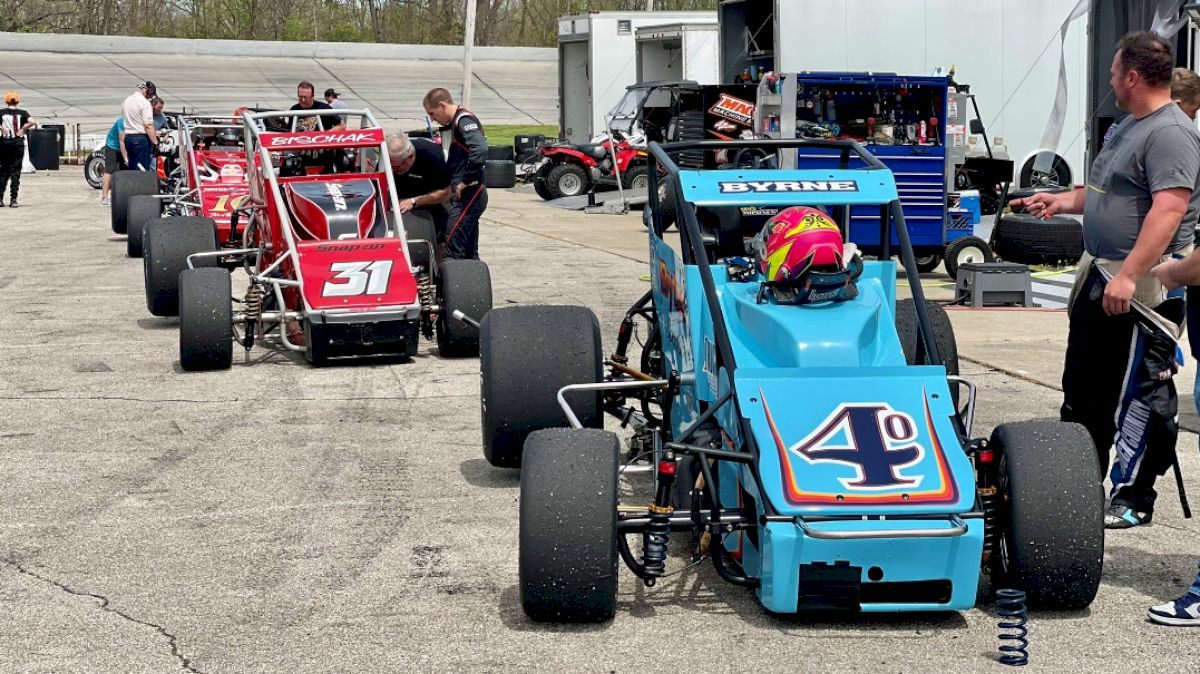 Justin Grant blistered Winchester (Ind.) Speedway with a 120 mph lap average, setting the quickest time in Sunday afternoon's open practice for the USAC Silver Crown National Championship in preparation for the debut of the big cars on the half-mile paved oval next Sunday afternoon, May 9.
Grant (Ione, Calif.) was one of 12 cars that took an official time during Sunday's practice. A field of 22 cars and drivers are expected to compete in the Rich Vogler Classic the following week, and Grant, the defending series champion has already turned heads with his time of 14.997 seconds, translating to an average speed of 120.024 mph.
Bobby Santos (Franklin, Mass.) was second overall in practice at 15.257 with David Byrne (Shullsburg, Wis.) third at 15.493, Kyle O'Gara (Beech Grove, Ind.) fourth at 15.607 and Eric Gordon (Fortville, Ind.) rounding out the top-five at 15.629. O'Gara turned the most laps during the afternoon session with 95.
Brian Gerster (Fishers, Ind.), Travis Welpott (Pendleton, Ind.), Kyle Robbins (New Castle, Ind.), Derek Bischak (Angola, Ind.), Austin Nemire (Sylvania, Ohio), Patrick Lawson (Edwardsville, Ind.) and Hank Lower (Angola, Ind.) also took practice runs as well on Sunday.
Shane Cottle did not participate in practice but will be the pilot of the Curtis Williams-owned No. 81 for race day after Lower, the four-time Sprints on Dirt champ and former track record holder at Winchester, was in the seat for practice.
Those dozen, plus five-time series champion Kody Swanson (Kingsburg, Calif.), series race winners Aaron Pierce (Muncie, Ind.) and Kyle Hamilton (Danville, Ind.), plus 2020 Rookie of the Year Bryan Gossel (Fort Collins, Colo.), along with Mike Haggenbottom (Levittown, Pa.), Dave Berkheimer (Mechanicsburg, Pa.), Matt Goodnight (Winchester, Ind.), Rookie Jake Day (Abilene, Texas), Toni Breidinger (Hillsborough, Calif.) and Jim Anderson (Joliet, Ill.) are among those ready to compete in next Sunday's race.
On race day, the pits open at 9am ET with the drivers meeting set for 10am, practice at 11am, Fatheadz Qualifying at 1pm, a driver's autograph session at 2pm, opening ceremonies at 3pm and the 100-lap main event at 3:30pm.
Reserved seats are $30 apiece, while general admission tickets are $20, and just $10 for children aged 6 to 12.
The race will be shown LIVE on FloRacing at https://bit.ly/3frPoW6.
=====================
USAC SILVER CROWN NATIONAL CHAMPIONSHIP PRACTICE RESULTS: May 2, 2021 – Winchester Speedway – Winchester, Indiana – Fatheadz Eyewear Rich Vogler Classic Presented by The Pallet Builder – 1/2-Mile Paved Oval
PRACTICE: 1. Justin Grant, 91, Hemelgarn-14.997; 2. Bobby Santos, 22, DJ-15.257; 3. David Byrne, 40, Byrne-15.493; 4. Kyle O'Gara, 1, SFHR-15.607; 5. Eric Gordon, 99, Armstrong-15.629; 6. Brian Gerster, 94, Myers-15.691; 7. Travis Welpott, 18, Welpott-15.732; 8. Kyle Robbins, 7, KR-15.903; 9. Derek Bischak, 131, Bischak-16.119; 10. Austin Nemire, 16, Nemire/Lesko-16.338; 11. Patrick Lawson, 2, Lawson-16.604; 12. Hank Lower, 81, Williams-18.477.