World of Outlaws
Bristol Motor Speedway Gets Covered in Gravel ... David
Bristol Motor Speedway Gets Covered in Gravel ... David
David Gravel boosted his resume and World of Outlaws championship hopes with a big weekend at Bristol.
Apr 26, 2021
by Matt Weaver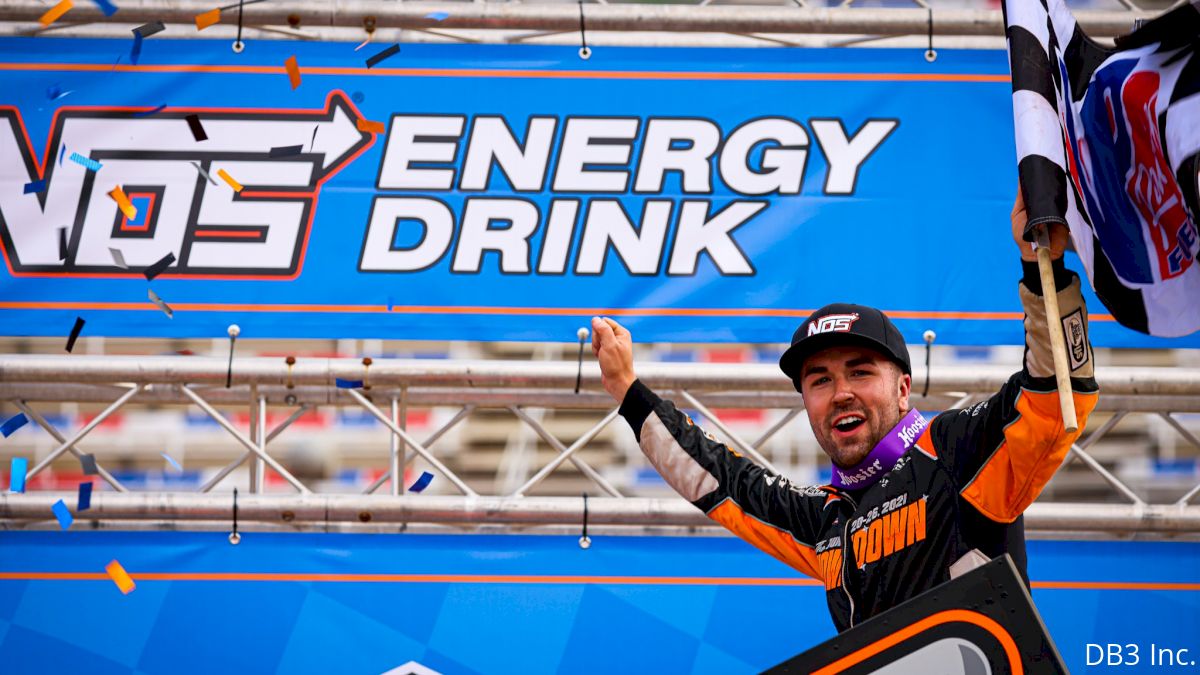 Bristol Motor Speedway's surface was temporarily replaced with clay over the winter, but it was covered by gravel.
David Gravel.
The Big Game Motorsports No. 2 lived up to the moniker over the weekend by sweeping the World of Outlaws Bristol Throwdown on Friday and Sunday.
It wasn't that the still reigning Knoxville Nationals winner captured both trophies but it's how he did it -- sweeping the proceedings on Friday night and placing himself in position to take the lead on Sunday when a dominant Logan Schuchart broke with two laps to go.
Gravel had fallen to third on the penultimate restart but battled back to take second from Donny Schatz when Schuchart suffered the engine failure.
The weekend was a statement from Gravel who entered Bristol third in the championship standings but feeling like he had been just 'ordinary,' with only a single podium in the form of his victory last month at Revolution Raceway Park in Louisiana.
"I feel like we should have had more than that," Gravel said. "To come here and sweep the weekend is a really good feeling. I've been saying we're going to be good on big tracks and that showed this weekend. This team is working really hard together right now."
It actually says a lot that Gravel entered the weekend third in points given a history of slow starts at the beginning of his CJB Motorsports and Jason Johnson Racing tenures, respectively. If a 6.94 overall finish with Tod Quiring and Cody Jacobs is considered slow, then Brad Sweet is going to have routine company near the front of the field very soon.
📊 𝗦𝗨𝗡𝗗𝗔𝗬 𝗦𝗧𝗔𝗡𝗗𝗜𝗡𝗚𝗦

The high banks of Bristol offered loads of momentum for certain drivers in the championship chase. pic.twitter.com/WBw6DLFA58

— World of Outlaws (@WorldofOutlaws) April 26, 2021
After taking both halves of The Throwdown, and capitalizing on a subpar weekend from Sweet, Big Game has reentered the big picture and is just 60 points out of the championship lead. He entered the weekend 98 points behind the two-time champion.
"I'll be honest in that it was super depressing to be looking at a 100-point deficit this early in the season," Gravel said. "And to get roughly half of it back in two days is a really good feeling."
Of course, much of that deficit had more to do with Kasey Kahne Racing than it did Big Game Motorsports. Sweet was setting an unsustainable pace and his finishes of 8th and 11th felt like a return to the mean -- even if that mean is one that's still the championship favorite.
"Brad has been super-fast," Gravel said. "Consistent too. Brad's weak points in recent years has been speed on big tracks, like at Eldora when he doesn't qualify well, and I'm not sure he has a weak point in his game right now.
"We're going to keep working hard. We have work to do as a team right now. Our big track program is great, and we're taking it one race at a time, and we're just going to make the most of every night."
Hell yea! Swept the weekend and got the 25k payday! Can't thank my @BigGameMotorspt team enough! Cody, trey, and scotty did great all weekend! It was a team effort! pic.twitter.com/d2KA7RLkYn

— David Gravel (@DavidGravel) April 26, 2021
With the Bristol sweep, he becomes the track's winningest driver, joining Sammy Swindell, Mark Kinser and Donny Schatz as the only drivers to win at Thunder Valley. When you combine that with his Knoxville Nationals victory and Eldora Governor's Reign triumph last year, Gravel has very much reached elite territory.
And he's only 28!
"As far as big event wins, it's amazing to be on that list of Bristol winners," Gravel said. "Next one is the Kings Royal. Other than that, I've got them, so hopefully I can get a Kings Royal someday."
The Outlaws return to competition next week with three races at Jacksonville Speedway (IL) and I-70 Raceway (MO) but the real tests for where he stands against both Sweet and his own pursuit of the Kings Royal will come on May 7-8 in the #LetsRaceTwo at Eldora.
Does Bristol, with its long straights and high banks portend any carry-over success for Gravel and Big Game? Stay tuned.
"Ask me after Eldora because I have no idea," Gravel said. "This place is so unique with its straights and banking. I hope we can run similar stuff at Eldora and be really fast, but they're definitely different animals.
"No matter what, we'll be pretty good. It's going to be fine-tuning our qualifying and just putting whole races together."
For many of us, Bristol was a childhood dream.

This weekend, it become reality once again, and in spectacular fashion at that.

THANK YOU to every single fan, staff member, sponsor, driver, team, and anyone who supported the monumental weekend that was the #BristolThrowdown. pic.twitter.com/teMw2IOptM

— World of Outlaws (@WorldofOutlaws) April 25, 2021