World of Outlaws
Hazards, Competition Awaits The Outlaws In Bristol
Hazards, Competition Awaits The Outlaws In Bristol
The sprint cars head to Bristol Motor Speedway with the World of Outlaws. The greatest in the world do battle at the Last Great Coliseum!
Apr 21, 2021
by Matt Weaver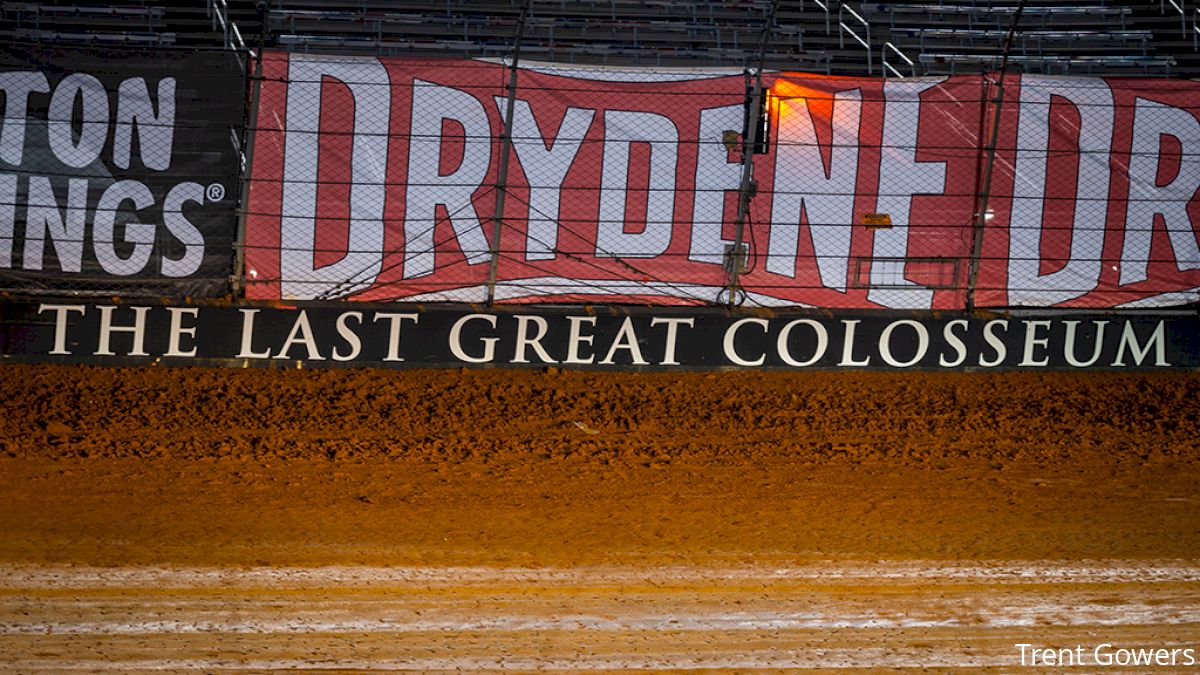 The Last Great Coliseum Has Never Sounded More Appropriate.
The stars and cars of the World of Outlaws will be introduced to a venue unlike anything else in Sprint Car racing on Thursday when they unload for this weekend's Throwdown at Bristol Motor Speedway.
At just over a half-mile, Bristol isn't the largest speedway on dirt, nor is it the longest with its 650 feet straightaways but combining these features with 19 degree corners presents an intimidating challenge for the Greatest Show on Dirt.
It's been 20 years since the last World of Outlaws race at Thunder Valley and technology has moved swiftly during these two decades. The engines make more power than ever before, and the engineering prowess of the garage has only increased tenfold.
That's to say no one really knows what to expect, even 10-time World of Outlaws champion Donny Schatz, who took home a trophy from Bristol in 2001.
"We were going 168 miles an hour, top speed back in 2000 and 2001 when we were there," Schatz said. "What are we going to be now? There's all these questions because we've had a lot of time to think about it.
"Are the tires going to hold up? What happens if someone crashes? Will the cars hold up? Everyone has that in the back of their minds."
The prestige of racing at Bristol Motor Speedway is not lost on those set to race this weekend.
Everyone has fond memories of watching the races on TNN back in the day or reliving the experience through online replays. Everyone entered into the Bristol Throwdown intends to leave with the iconic sword and shield trophies, but there is some serious trepidation over the weekend, too.
Two-time and defending World of Outlaws champion Brad Sweet raced at Bristol in the NASCAR Xfinity Series and already has a multidiscipline respect for the venue. He also shares the unease expressed by Schatz.
"There's always two sides to every story, right," Sweet said. "The fans are definitely very excited, but there are so many unknowns from a driver's standpoint, that I wish were more known. I wish we had a better idea of what speeds we're going to be running and what type of loads the cars will have. We're going to put the parts and pieces of our cars through a lot and that leaves me a little nervous.
"But again, from our fanbase perspective, it's one of the premier races on the schedule and a world class facility that is internationally known. I don't want to downplay the excitement, because I can feel it, and I'm sure that's only going to increase once we get there."
Open practice is scheduled for Thursday evening, but several drivers expressed to Flo a sense of reservation that a test day had not been scheduled over the past several weeks. That test day is going to be hugely important in terms of dictating not only car set-up and driver confidence, but also how groundskeeper Mike Van Genderen treats track prep over weekend.
Schatz praised the current tire but says Bristol will be demanding a lot from the compound.
"One thing that's not brought up a whole lot in our sport is trying to keep the tires locked on the wheels," Schatz said.
He cited that tires would blow in previous eras when teams used single bead locked right rears and the other side would spin and blow the other tire. Teams are using double bead locked wheels these days but the tires still spin, and that's something Tony Stewart Racing immediately wants to monitor on Thursday at Bristol.
Sweet says he agreed with Schatz and really wishes there had been a test day to allow more than just an overnight debrief on any possible problems that presents itself on Thursday.
"It's not that I'm scared to race a Sprint Car because we do it every night, but we're pushing the envelope more than ever before," Sweet said. "We can say we were there 20 years ago, but the engines have gained a bit of horsepower since then, parts and pieces have changes, the package has gotten lighter and tires are different.
"So, there is just so much we don't know. The series didn't necessarily do the greatest job of going there and figuring that stuff out for us. We're just jumping in and wishing for the best when a little bit of testing would have made us feel better about going there."
With rain in the forecast, the biggest concern is a fast-wet track, especially with cold temperatures and maximum horsepower. Reigning Knoxville Nationals champion David Gravel is hoping for a dry slick surface to slow the speeds down.
"We don't want the track wide open, fast, like hammer down, lots of grip because we're going to be going extremely fast," Gravel said. "Our cars aren't built like a NASCAR, you know what I mean?
"They don't have the safety that a cup car does or, or stuff like that. Our engines run better than ever. We make a lot of horsepower and our cars are light. It's going to be really, really fast.
"And the other thing: Sprint Cars are hard to drive straight because of all stagger that we run. If you watch Williams Grove, it's literally a chore to run straight."
Another challenge that makes Thursday so important is the uniqueness of Bristol. There are similar straights, or other high banked corners, but nothing that contains each of those elements in one venue.
"The size of the track is very similar to Port Royal, but Port has nothing near the banking of what Bristol has," Gravel said.
Sweet says he expects similarities to the fast half miles of Eldora and Volusia, but with the banking of tiny Pevely.
"We really don't know what we're up against until we get there," Sweet said. "I feel like we're approaching it like a bigger version of Eldora at this point."
It's been 20 years since the World of Outlaws raced at Bristol and it could be another 20 years if history is any indication. So, these two races could be the only shot this roster gets at Thunder Valley.
The races will come down to balancing the aggression needed to win a World of Outlaws feature with the reality that is the most intimidating venue they will likely ever visit.
"I would say there's caution, especially going this fast, because anything could happen," Gravel said "We just want the track to be wide and on the slicker side."
Schatz readily admitted that his primary goal is just getting through the weekend unharmed.
"I'm going to treat it like a special event, it's a big deal," Schatz said. "But we have to treat it like any other races too. Every race is important. The most important thing is trying to avoid being in a bad scenario around someone who might do something silly. That's the biggest factor with these speeds, what happens when you get thrown a slide job by someone who isn't capable. There's no room for that this weekend."
Schatz is the most prominent Bristol veteran, but he is joined by Paul McMahan, Jason Sides, Tim Shaffer and Jac Haudenschild.
This is a responsible field of drivers. All that remains is giving them a track that balances entertainment and safety.
"Winning this would be huge," Sweet said. "Obviously, all eyes are going to be on the Sprint Cars at Bristol. There's no doubt some prestige there, and it pays big money too. ... I got to race a Stock Car there and I understand how special it is to walk inside and see 160,000 seats.
"If you can get a trophy that says 'Bristol Motor Speedway' on it, it's special no matter what car you're driving."