2021 Lights Out 12
Lights Out, Sweet Sixteen, No Mercy: That Duck X Drag Racing Vibe
Lights Out, Sweet Sixteen, No Mercy: That Duck X Drag Racing Vibe
Lights Out 12, Sweet 16, Mother Road Rendezvous... they all have a vibe—and what a great vibe it is.
Apr 12, 2021
by Chet Christner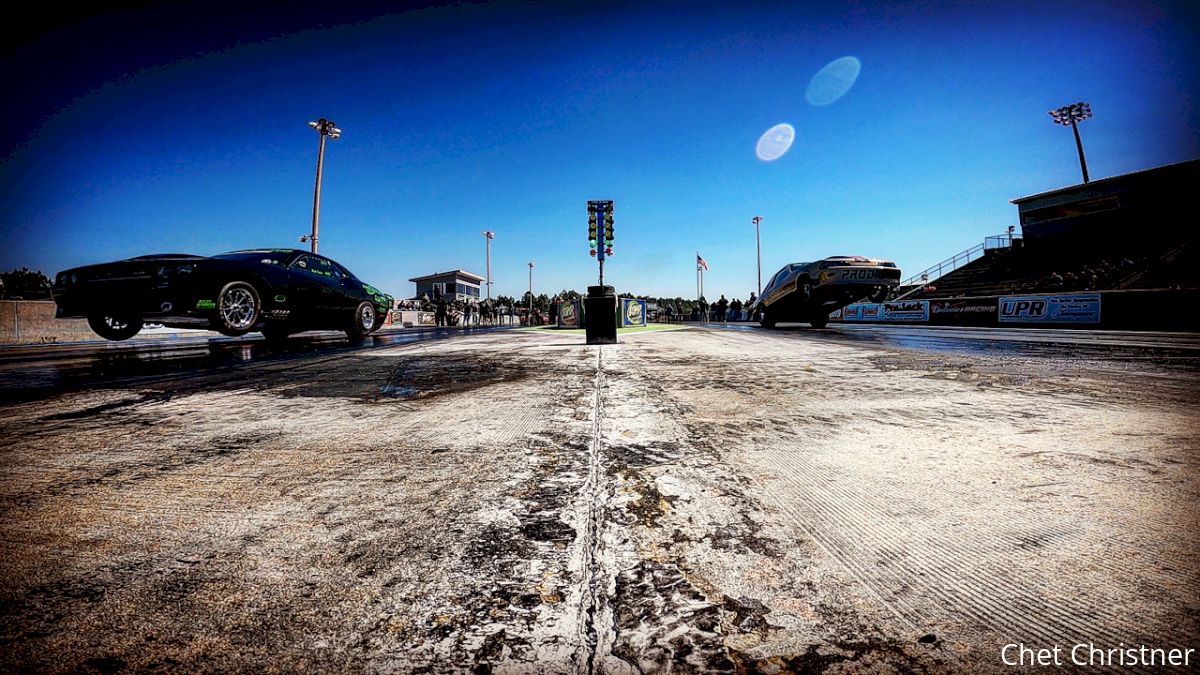 I have now attended two Duck X Productions events, Lights Out 12 and Sweet 16, as my foray back into drag racing after a hiatus from the genre. Both were held at South Georgia Motorsports Park and in full disclosure, these were my first radial specific drag races I have ever attended. I thought about writing this after Lights Out 12 but decided to wait until after Sweet 16 just to make sure I had my ducks in a row. And yes, that pun was fully intended.
I have been around drag racing for a long time, first as a racer in my youth, working on the crew at the LVMS Strip for a number of years and, obviously, as an announcer at a multitude of events. I tell you this just so you know that I have seen a drag race or two and am intimately familiar with the flow of an event. Having said that, I have not attended a drag race as a "fan" since the NHRA Southern Nationals on May 4, 2002 and I can say that with utmost confidence because I still have the rain check in the pocket of my "emergency" rain jacket I carry in the truck. (If you have never been to Atlanta Dragway you better go because this is its last year of operations and if you need a recommendation for a nice, robust rain jacket let me know.)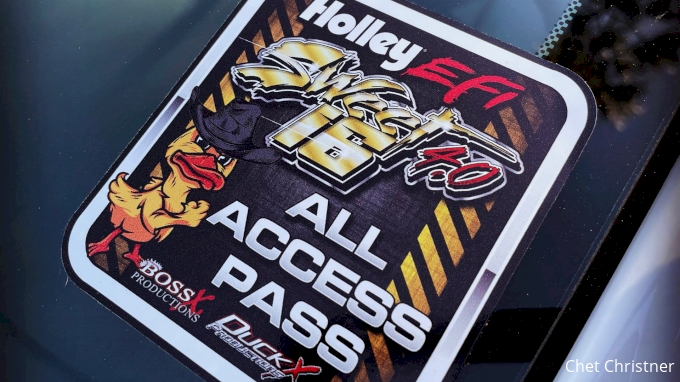 All Access, baby!
In my new role in content with FloRacing I journeyed to these drag racing events to work; gathering interviews, running GoPros and taking pictures but if I were to be honest, it does not feel like work. Actually, it feels an awful lot like being a fan with all access credentials, which is what led to this episode of Chet Chat.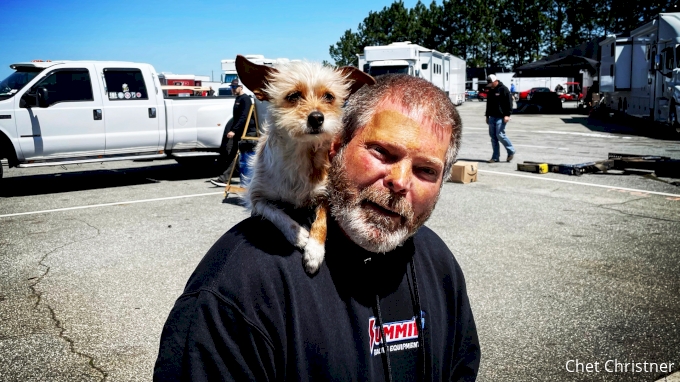 Crew members come in all shapes and sizes, including small and furry
If you do not know, drag racing has a completely different vibe than short track racing, especially at these heads-up style events. Racers and crew are extremely approachable and welcoming and when filming segments there are no secrets to hide. You don't have to worry about accidentally showing front end geometry, shock dyno numbers or what is underneath that banner covering the rear end. These racers want to show you their cars. They're proud of them, as well they should be, as they are absolutely gorgeous machines (check out Flaco's '93 S-10, Kenny Floyd's '58 Corvette or Chris Cantrell's '67 Mustang, a few of my favorites so far) but that is just part of the equation. These cars are ridiculously quick. Like, holy crap quick.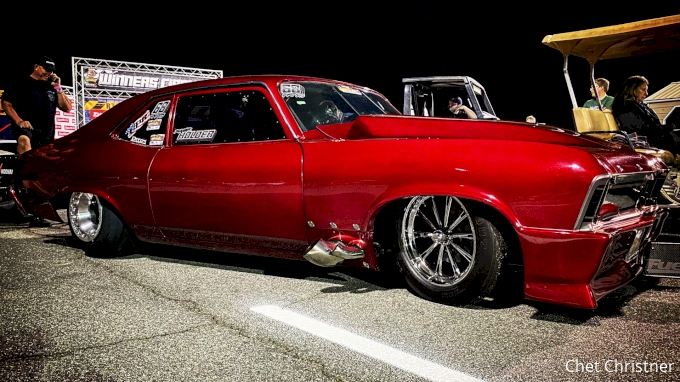 Roger Holder's Pro275 Nova
Most drag racing these days has moved to the 1/8 mile because it is, quite simply, not safe to send these door slammer, street style cars the full quarter mile. Roger Holder, who took flight during Sweet 16 (much like Tim Slavens at Lights Out 12), had posted a 211mph trap speed at the end of the 1/8 the previous round of qualifying. Think about that for a moment. From a dead stop, with no wheelie bars to assist the launch, he broke 211mph in exactly 1/8 of a mile. Granted, the car tried to leave the atmosphere the next round but still.
Turbos, nitrous and three different types of superchargers abound at these events, with everything from 150cid engines to ones over 1,000. Quiet cars, LOUD cars, pretty cars, ugly cars, it is a motorhead's paradise and you are surrounded by your peers in a surprisingly relaxed atmosphere.
At most drag races a ticket to the grandstands automatically puts you in the pits and, as I just mentioned, you will find everyone most welcoming. But there is even more to the story at one of Duck's events. VIP access also allows you to head up to the VIP deck located right between the water boxes! Yes, you can hang out right between the water boxes on an elevated, tri-level viewing platform with the sublime fumes from high octane fuel wafting across your olfactory receptors and then you can walk away smelling slightly of tire smoke and with a light dusting of rubber across your being. I have seen groups taken to the middle of the track, at ground level, during NHRA events. I have stood in a large clump of humanity on the starting line at a no-prep grudge race (unless you force yourself to the front you can only see the tops of the cars at best) and at most tracks you can stand in a viewing area off to the side of the track but none of these scenarios are quite the same as Duck's deck. I thought that was a really clever and cool experience and perhaps one that more tracks should consider.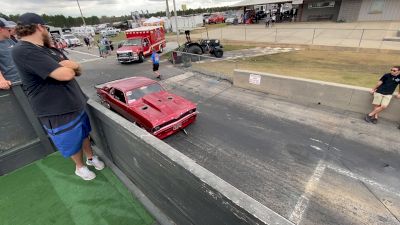 Burnout from the Duck Deck
The point of all this is, I had forgotten how much I enjoyed drag racing events. Thinking back, one of my favorites ever was the old Rockabilly Rod Reunion which took place more than a decade ago at Las Vegas Motor Speedway. It was a combination of car show, Nostalgia drag racing (who doesn't love Gassers and Cacklefests!), live music and a great vibe. The awesome news is that Chris Blair and John Bisci, who were instrumental in the creation of that particular event, are doing it again at World Wide Technology Raceway under the moniker of Mother Road Rendezvous, coming up on May 7-8! We will be broadcasting the drag racing portion of the event but if you are close the St. Louis area I highly recommend you attend. I will be in California for the IMCA Speedweek those dates but I am planning on heading back down to South Georgia Motorsports Park on October 14-17 for another Duck X production, No Mercy 12.
If you are poking around on the FloSports app you short track fans should check out some of the other great drag racing we have on FloRacing and make plans to get out to a track near you because if you are a drag race fan, you know and if you are a short track fan, you should find out. In the meantime, I am going to brush up on my Late Model vernacular as I get set to head to West Virginia Motor Speedway for their grand reopening on April 25!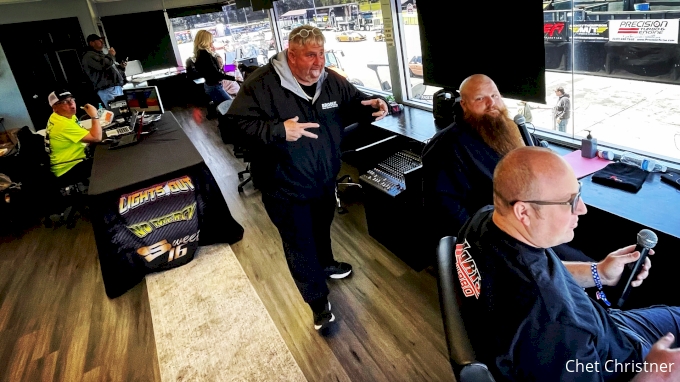 Duck X Productions' Donald "Duck" Long is always operating in rare form