2021 Bill Corum Memorial at Tazewell Speedway
Larson Dazzles Again By Taming Tazewell's High Banks In Debut
Larson Dazzles Again By Taming Tazewell's High Banks In Debut
After a runner-up in his Tazewell debut, it's obvious Kyle Larson is more than just a threat to win any Late Model race he enters, he's likely a favorite.
Apr 5, 2021
by Robert Holman
TAZEWELL, Tenn. (April 3) — Kyle Larson isn't a sideshow. The NASCAR star and open-wheel standout from Elk Grove, Calif., has proven to be a force behind the wheel of most any type of race car he sits in. Dirt Late Models are no exception. When Larson first decided to run a few races in Kevin Rumley's K&L Rumley Enterprises Longhorn Chassis late last season, there was speculation that it could take Larson a few races to get up to speed.
It didn't take long for Larson to put those feelings to rest. A $15,000 Lucas Oil Late Model Dirt Series victory on Aug. 29 at Port Royal (Pa.) Speedway, followed five months later by a dominating victory in the Lucas Oil Series season opener at All-Tech Raceway in Ellisville, Fla., on Jan. 23 left little doubt — if there was any remaining — that his performance in Rumley's potent machine wasn't a fluke.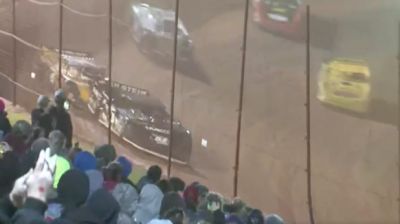 Unlock this video, live events, and more with a subscription!
Get Started
Already a subscriber? Log In
Feature replay from Saturday's $21,000-to-win Lil' Bill Corum Memorial.
After a dandy runner-up performance behind Jonathan Davenport of Blairsville, Ga., in Saturday's Lil' Bill Corum Memorial at Tazewell Speedway — a track Larson had never been to and hadn't planned on competing at until Wednesday, three days before the race — it's obvious that Larson is more than just a threat to win wherever Rumley's machine is unloaded, he's likely considered a favorite. Tazewell, one the nation's highest-banked ovals, isn't the easiest place to get around, especially for first-timers. But Larson was quick to get up to speed.
"I've watched (races) here in years past, and getting to come here, videos and pictures don't do it any justice," said Larson during his postrace interview on the frontstretch in the race co-sanctioned by the Valvoline Iron-Man Racing Series and Schaeffer's Spring Nationals. "This place is extremely banked and a lot of fun, too. … I'd love to rip a 410 (sprint) around this place."
Dakotah Knuckles of Ewing, Va., and Michael Chilton of Salvisa, Ky., get around Tazewell as well as any of their peers. Each had a first-hand look at Larson's prowess. Chilton chased Larson for 10 laps in the fourth heat race, managing to look under him for the lead with two laps to go as many of the fans in the packed grandstand briefly came to their feet.
"I feel like (he's a favorite) anywhere he shows up," Chilton said. "He's got the equipment behind him and he's got Kevin (Rumley). (Rumley) is probably one of the sharpest guys in the business with setting up cars and you put someone like Kyle behind it, they're gonna be hard to beat no matter where they show up. It was kinda a hoorah (at first). Everybody wanted to talk about it at first, but now he's just a normal driver like everybody else. He's a wheelman. He gets the job done that's for sure."
Chilton wasn't surprised that Larson was fast right out of the gate.
"I told the guys when we got here that I guarantee Larson qualifies in the top three tonight and he wasn't too far from it," Chilton added. "That guy can get around. He's been to more racetracks in the country than anyone probably. He's been on all kinds of different places, so I figured he'd be pretty good. It was pretty neat to race with him there. I felt like I made the wrong move coming to the checkers (in the heat). We both dove to the bottom of (turn) three. I probably should've committed to the top and tried to cross him over. But at the end of the night, we broke a wheel so it probably wouldn't have mattered anyways."
Knuckles, who started the 75-lap, $21,000-to-win main event from the third spot alongside Larson, pulled ahead of him at the start of the feature. On a lap-four restart however, when Knuckles slid ahead of Larson entering turn one, Larson turned back down the track, only to speed by as they raced down the backstretch. It was a slick move made often when drivers are trading sliders, a move certainly not limited to Late Models.
"He just all around has that talent," Knuckles said. "He's good about anywhere he goes and about anything he gets in. He's got so many races under his belt, he can figure it out and pick it up pretty easy. Him and Kevin work good together. Jonathan (Davenport) drove the 6 car up here once with Rumley and them, so I'm sure they had a pretty decent notebook on where they needed to be at. I highly expected him to do pretty well here."
Davenport did indeed drive Rumley's iconic No. 6 to a Lucas Oil Series triumph at Tazewell on May 29, 2015. While the cars were obviously not the same, Rumley said he was able to glean a few notes from that win nearly six years ago. He added that he and Davenport "were constantly comparing notes all night." Now that he and Larson are beyond the getting comfortable stage of their relationship, Rumley said they have much loftier goals.
"We have a really good team now," Rumley said. "We're super competitive and we're learning more and more every week. We're getting to know each other a little better … what each other needs. Our goal is to win at Eldora. Any of these races that we can build upon that, that's our ultimate goal. And it's a lot of fun.
"How humble does a (NASCAR) Cup driver have to be to decide to come to Tazewell on Saturday on a Wednesday? He's a good kid and it's a once in a lifetime opportunity for us, so we're going to take advantage of it."