2021 USAC #LetsRaceTwo at Eldora Speedway
Dirt Racing World Mourns Passing Of Berneice Baltes, Eldora's First Lady
Dirt Racing World Mourns Passing Of Berneice Baltes, Eldora's First Lady
The first lady of Eldora Speedway, Berneice Baltes owned the speedway for 51 years alongside her husband Earl.
Feb 27, 2021
by FloRacing Staff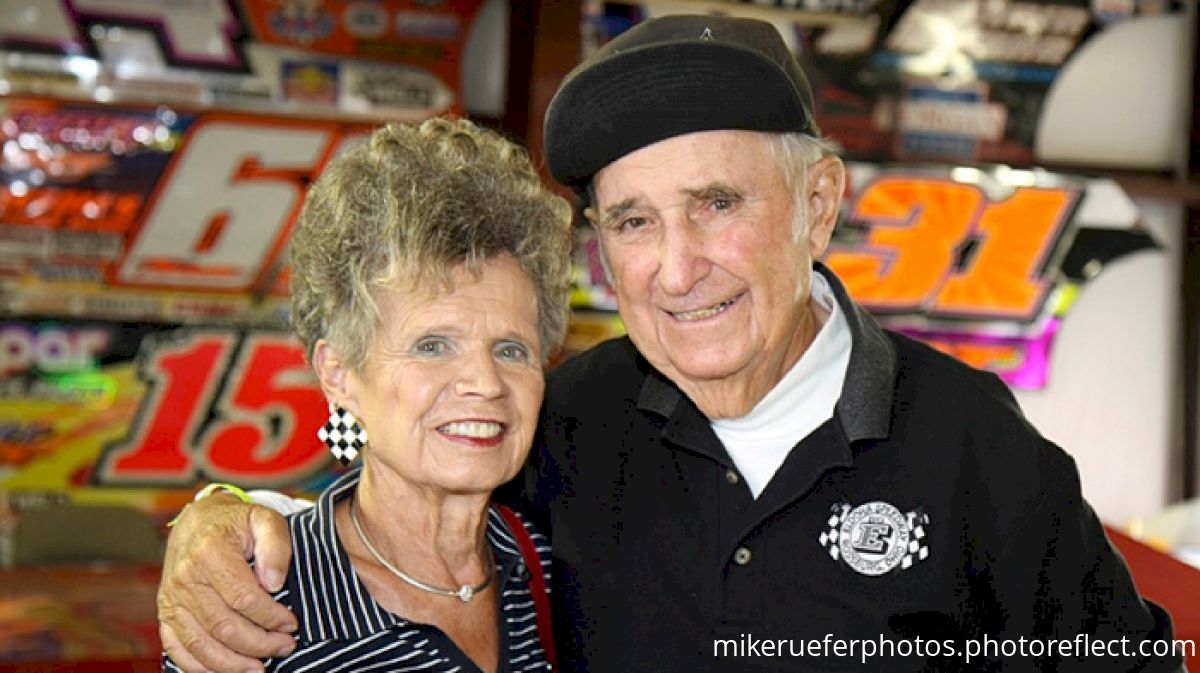 Berneice Baltes, at the side of her husband and Hall of Fame race promoter Earl Baltes for 51 years of Eldora Speedway ownership — and 67 years of marriage — died Wednesday. The New Weston, Ohio, resident and beloved figure among Eldora's ardent fanbase was 93.
Jim DenHamer photo - Berniece Alongside her husband Earl acknowledging the Eldora Crowd
Her grandson Joey Schmitmeyer posted news of her passing on his Facebook page Thursday night. "Berneice got her wings and went home to be with Earl Wednesday, peacefully in her home," he wrote. "What a wonderful life she had. We will love and miss you forever!!!"
Berneice Moeller met her husband-to-be at the St. Henry Nite Club, a longtime supporter of Eldora Speedway, when she was 17 years old. They married April 26, 1947, and soon enough the bandleader she married became a hard-working (and wisecracking) race promoter when Eldora Speedway was built on the property of the Baltes's Eldora Ballroom starting in 1953.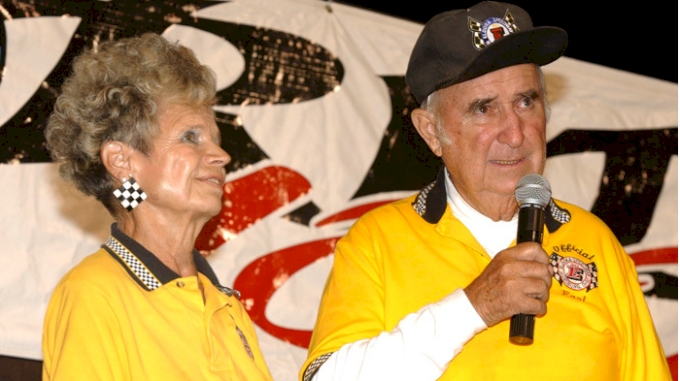 Brian McLeod/Dirt Scenes Photo - Berniece and her husband Earl - Owner's Eldora Speedway
The oval, eventually tabbed as "the house that Earl and Berneice built," soon became one of the most famous short tracks in the country with legendary drivers Mario Andretti, A.J. Foyt, Parnelli Jones and Johnny Rutherford among those competing. The World 100 was launched in 1971 and became the sport's biggest Dirt Late Model event, followed later by the $100,000-to-win Dream and the one-time Eldora Million in 2001 with Earl and Berneice toiling at the events, then typically joining the winners in victory lane.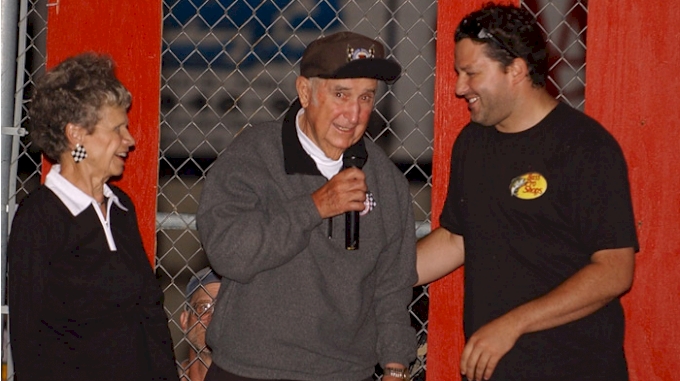 Rick Schwallie Photo - Berniece, Earl and Tony Stewart (Now Owner of Eldora Speedway)
"Some of my best memories of Eldora include pulling into the track early in the week — before you'd see Earl on the track or Berneice in the concessions — you'd see laundry on the clothesline at their house right out front," said Tony Stewart, the famed racer who bought Eldora in 2004. "It was a great reminder that these two people built something that can never be recreated right in their backyard — and that's why the statue at Eldora's main entrance is of the two of them, arm-in-arm, welcoming everyone to their place."
The always well-coiffed Berneice, often sporting checkered flag earrings, continued occasional visits to Eldora to spectate in the years after suffering a 2014 stroke and following the 2015 death of Earl, whose flipped-bill caps and quick one-liners made him popular among Eldora competitors and fans alike.
Eldora's legendary first couple will forever remain arm in arm in the track's breezeway, memorialized in a life-size bronze statue with Earl and Berneice continually waving to arriving fans, much like they did the 2004 night they announced they were selling the famed oval to NASCAR driver Tony Stewart.
While Earl, as usual, did most of the talking that September night, thanking the "greatest race fans" for their support, Berneice took a rare turn behind the microphone at the track's biggest Dirt Late Model event.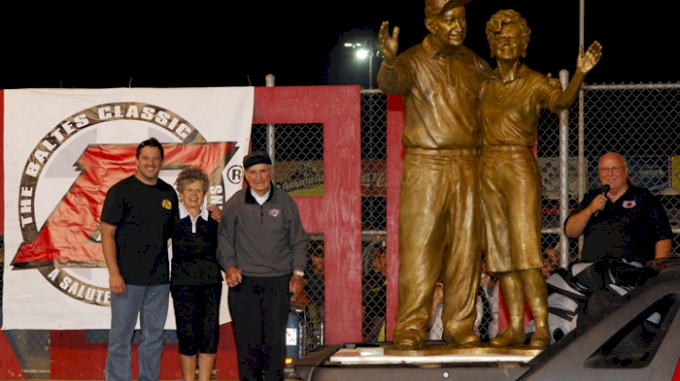 Rick Schwallie Photo - Berniece, Earl and Tony Stewart (Now Owner of Eldora Speedway) pose next to statue
"We've had a wonderful 51 years," she told the throng at the 34th annual World 100.
Survivors include daughter Starr and husband Joe Schmitmeyer, son Terry and wife Dee, along with six grandchildren and many great-grandchildren.
Visitation is 4-8 p.m. Tuesday, March 2, at Tribute Funeral Home in Greenville, Ohio, and again 9-9:45 p.m. Wednesday; the funeral is 10:30 a.m. Wednesday at St. Bernard Catholic Church in Burkettsville with burial to follow in St. Bernard Cemetery.
Memorial contributions may be given to the DARF Injured Drivers Fund, 1361 Edinburg Drive, Troy, Ohio 45373. Find a complete obituary at tributefuneralhomes.com.