2021 Lights Out 12
Small Tires, Big Action: Lights Out 12 Heats Up At SGMP
Small Tires, Big Action: Lights Out 12 Heats Up At SGMP
Lights Out has become absolutely legendary in the small tire scene and is one of the biggest "can't miss" events of the year.
Feb 23, 2021
by Ainsley Jacobs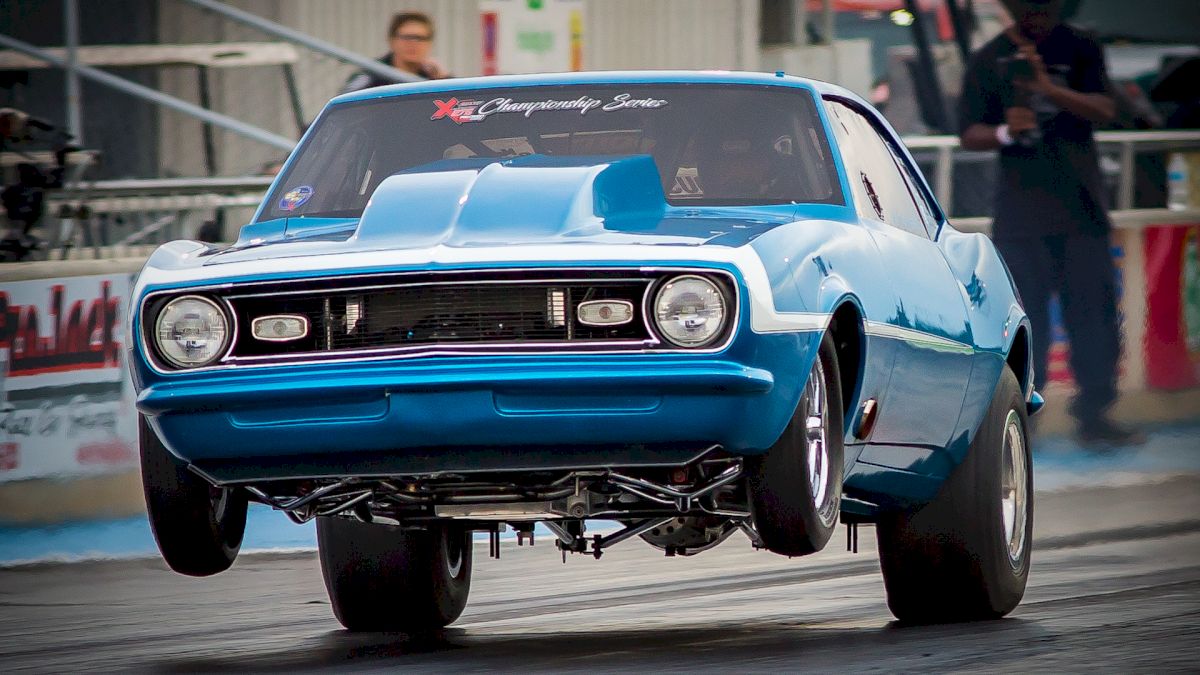 Now in its twelfth year, Donald "Duck" Long's infamous Lights Out race has become absolutely legendary in the small tire scene and is one of the biggest "can't miss" events of the year. Firmly bringing radial tire cars to the front, Duck X Productions' Diamond Pistons Lights Out 12 "Playin' With Fire" returns to South Georgia Motorsports Park over the weekend of February 24-28, 2021, and promises the absolute best when it comes to radial racing.
Watch Lights Out 12 LIVE on FloRacing
Coupling insanely competitive categories like Radial vs the World, Pro 275, X275, and others with superstar drivers and the most technologically advanced cars on the planet, previous Lights Out races have seen everything from records being smashed to huge upsets in the final rounds of eliminations, cars flying through the air, catastrophic engine failures, and so much more unpredictable action that the race has become a favorite for fans who want entertainment and excitement on a whole new level.
In 2020, Radial vs the World racer Marcus Birt and his nitrous-injected Corvette were on their way to an epic run but caught some air and took off into the stratosphere. He came crashing down, hard, but fortunately was not injured and was able to give the spectators a truly epic moment in the process.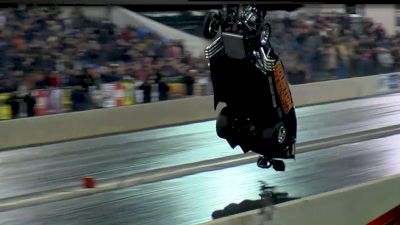 Marcus Birt takes flight in 2020.
Birt's tuner and crew chief, the one and only Stevie "Fast" Jackson of Killin' Time Racing, also had a monumental weekend himself as he qualified number one and then earned a spot in the Radial vs the World finals against chassis builder and the number two qualifier, David Reese. Jackson had lane choice and easily put his screw-blown '15 Camaro known as "The Shadow" into the winner's circle with a monster 3.548 at 213.81 mph run over Reese's small block-powered 3.594 at 205.88 mph retaliation.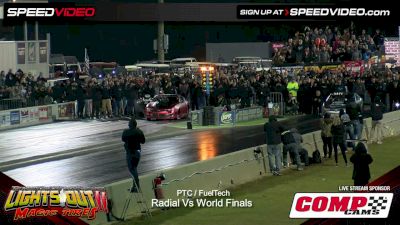 Last year's RVW final from SGMP.
Also at the 2020 Lights Out race, Manny Buginga reset the X275 record with his run of 4.22 at 173 mph in his '03 Mustang Cobra. Although that record has now been shattered many times over (by Buginga himself), the X275 category is always a hair-trigger away from another new number.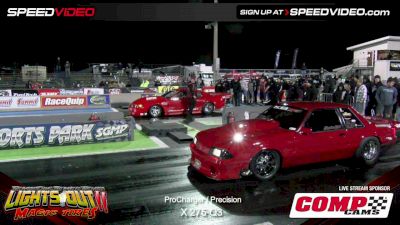 Manny Buginga set an X275 record at Lights Out in 2020.

Buginga went on to take home the runner up honors, as Rob Goss captured the overall win with his Hemi-equipped and ProCharged '09 Dodge Challenger.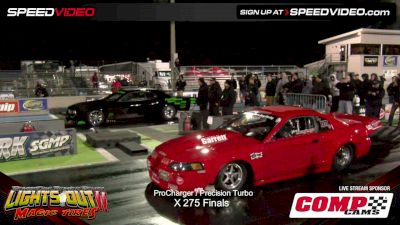 Last year's X275 final at Lights Out.
An absolute marathon battle of attrition, testing begins early in the week on Tuesday afternoon to give teams plenty of time to get their combinations dialed in. As one of the first major radial events of the season, many have spent all winter working on upgrades and new additions that will need to be worked out before qualifying begins on Wednesday evening.
From there, qualifying continues on Thursday and Friday with several sessions each day to give ample opportunity for all to have their tune ups set on kill. Final qualifying is scheduled to begin at 10:00 AM on Friday morning, with eliminations getting started immediately thereafter.
Picking up on Saturday morning, also at 10:00 AM, those lucky enough to still be in the running will continue on through the remaining elimination rounds hoping to get wins while keeping their cars in one piece. As the drivers dwindle down to the final pairs, only one in each class will be crowned the winner and go home with a huge cash payout, a legendary black DXP Stetson hat, and undeniable bragging rights.
Featuring what is arguably some of the best outlaw drag radial racing in the world, the Duck X Productions' Diamond Pistons Lights Out 12 "Playin' With Fire" race will surely be one for the history books as small tire performance is taken to a whole new level once more.
Don't miss out on the experience! DXP's Diamond Pistons Lights Out 12 "Playin' With Power" will be shown live RIGHT HERE from South Georgia Motorsports Park on February 24-28.
This broadcast is brought to you by COMP Cams, FuelTech, AFCO Racing, Brisk Spark Plugs, Canton Racing Products, Hot Shot's Secret, Howards Cams, Intercomp, Late Model Engines, MAHLE Motorsports, Moser Engineering, Neal Chance Racing Converters, Nitrous Outlet, ProCharger, Stage 8, TCI Automotive, and Vortech Superchargers.