The third night of the 2021 Winternationals saw new winners in Victory Lane with the DIRTcar UMP Modifieds moving to a 35-lap main and the excitement of previous action staying right there.
Qualifying saw the first sub-17 second laps when fast qualifier Kevin Adams posted a 16.898 for fastest time with Lucas Lee also dropping into the 16-second bracket on his second qualifying pass with a 16.967 run. Other drivers who led their groups were Drake Troutman (17.119), Rick Aukland (18.105), Eric Moon (17.745) and Jeff Mathews (17.073).
Watch the 45th Annual East Bay Winternationals LIVE on FloRacing!
The six heats were won by Spencer Hughes, Adams, Nick Stroupe, Eric Moon, Jason Hughes, and Lucas Lee. During the final heat, Lee posted a lap of 16.600 for the fastest circuit of the week.
B Mains were won by Bryan Bernhardt and Brayden Berry.
The night's feature would be an extra five laps in distance, putting the 24 cars on a task to cover 35 laps. Previous night winner Kevin Adams would lead the field to the green flag, but the race would be stopped in short order for a two-car spin. Spencer Hughes took the early lead with Jason Hughes and Lee in tow. Lee swept around Jason Hughes, then went to the bottom on lap four to grab the lead. Lee was closing in on lap traffic by the 10th lap, only to get a reprieve for a caution. On the restart, Jason Hughes drove past Spencer Hughes for second and soon became a thorn in the side of the leader. The two would battle side by side, each driver giving the other the respect and room to go racing. A series of mid-race cautions kept the field from making significant progress, but there were positions changing with each lap just outside the top five. With three laps to go, it appeared the Jason Hughes would take the lead by the yellow flag changed the scenario and Lee was back up front. It would be the last chance for Jason Hughes as Spencer Hughes moved to second on the restart and Drake Troutman dispatched Jason Hughes to fourth as the checkered flag waved.
The third winner in the Street Stock portion of the Winternationals parked in Victory Lane as Scotty Kay claimed the win. The newest winner was making his first start of the year and had top battle last night's feature winner Tim Gay for the top spot. Gay and Kay were heat winners.
The fourth night of racing will be a critical one as the final opportunity to secure points that will determine the drivers' fates for Saturday night. The DIRTcar UMP Modifieds will again face off in a 35-lap main while Street Stocks will continue their 20-lap features. Race time is 7 p.m.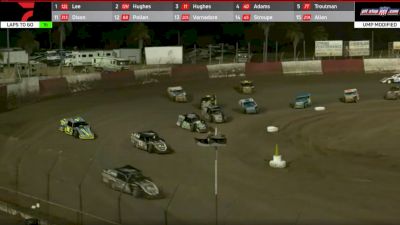 Unlock this video, live events, and more with a subscription!
Get Started
Already a subscriber? Log In
DIRTcar UMP Modifieds
Feature: Lucas Lee (12L), Spencer Hughes (11), Drake Troutman (7T), Jason Hughes (12H), Devin Dixon (313), Tyler Nicely (25), Dave Hess Jr. (44), Kevin Adams (40), Nick Allen (21A), Travis Varnadore (205), Brad DeYoung (7), Eric Moon (18M), Nick Stroupe (45), Mark Dickson (0), Brayden Berry (75B), Tyler Clem (14C), Chris Wilson (86KOC), Devin Wright (37), Jason Jack (311), Brian Skaggs (20), Bryan Bernhardt (B69), David Pollen (88), Jeff Mathews (33), Mavrick Varnadore (18)
STREET STOCKS
Feature: Scotty Kay Jr. (21), Tim Gay (90), Zack Amundsen (20), Tim Powers (26), Race McMahon (45), Thomas Pratt (22), Jimmy Wagner (17W), Justin Rodgers (95), Jerry Bruce (35), Steven Deinhardt (73), Dustin Reeh (16), Buck Woodhouse (55), Matt Bozeman (58), Jeramy Doerr (1), Tyler Davis (55T), Jeff Dirkes (06), Joshua Sigler (19), Richard Livernois (71), Paul Davis (10D). DNS – T.J. Henry (57H), Jason Harrison (69)