2021 Lucas Oil Chili Bowl Nationals
30 Favorites To Watch At The Lucas Oil Chili Bowl Midget Nationals
30 Favorites To Watch At The Lucas Oil Chili Bowl Midget Nationals
With more than 300+ entries competing in the 35th annual Lucas Oil Chili Bowl Midget Nationals, the list of contenders is incredibly long.
Jan 11, 2021
by FloRacing Staff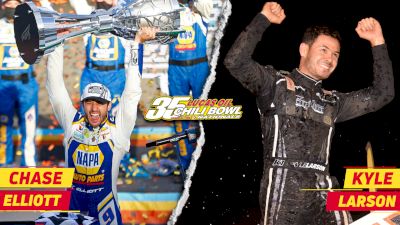 With more than 300+ entries competing in the 35th annual Lucas Oil Chili Bowl Midget Nationals, the list of contenders is incredibly long.
For the sake of this article, we limited ourselves to 30 of the top dogs to watch next week in Tulsa:
Justin Allgaier (Riverton, Ill.)
Has it been more than a decade since Allgaier's most recent appearance in the main event? Yes. However, he's got back-to-back preliminary top 15 finishes, and more importantly, drives one of the nicest cars in the building next week. Look for the NASCAR Xfinity star to be a threat come Friday night in his Steve Reynolds owned, Flea Ruzic prepared Ripper/SR-11 No. 1A.
Rico Abreu (St. Helena, Calif.)
This 2x Chili Bowl champion ('15, '16) is more determined than ever to bring Keith Kunz and Pete Willoughby back to the Tulsa mountaintop. On the heels of a fifth-place finish last year, Rico's No. 97 program at KKM has completely rebranded with Rowdy Energy and Pit Pay App coming on board. He'll stick to Wednesday night, which he has won five of the last six years, including the last three consecutive.
Spencer Bayston (Lebanon, Ind.)
A former Chili Bowl podium finisher (3rd in '18), Bayston will move over to the Dave & Matt Estep led RMS Racing program in Thursday's preliminary. RMS becomes Bayston's fourth Chili Bowl team with previous stints at Clauson, Kunz, and Hayward, all resulting in feature starts. The former USAC National Midget champ will be one to watch aboard a lethal Spike/Toyota No. 1S with Rusty Kunz on the wrenches.
Jonathan Beason (Broken Arrow, Okla.)
Fresh off a heartbreaking loss at the Tulsa Shootout, the fire burning inside Jonathan Beason is brighter than ever. Without a doubt, he's been the best "true local" inside the Tulsa Expo with three top ten finishes in six Chili Bowl main events, to go along with 2014 Tuesday triumph. He's reunited with Jonathan Kantor's Hard 8 Racing outfit and brings a fresh design to his Spike/Toyota No. 8J.
Christopher Bell (Norman, Okla.)
A heavy favorite in pursuit of his fourth Golden Driller next week, CBell is back for year two with Chad Boat's CB Industries operation. The Oklahoma native filled the state with pride winning three-straight Chili Bowl's from 2017-19, but when he left Kunz for Boat, the streak ended. iRacing will again back the Spike/Toyota No. 84X, which Bell drives on Thursday, as he tries to extend his record to a staggering six-straight preliminary wins and hopefully get back on top on Saturday.
Ryan Bernal (Hollister, Calif.)
A three-time Chili Bowl main event starter, Bernal is arguably one of the most underrated top tier drivers in the building. Along with his top ten effort last year, his 2018 charge from 23rd-to-5th with Clauson-Marshall comes to mind as one of his most impressive outings. He's again with Californian Matt Wood, driving an Elk Grove Ford, NOS Energy Drink, Spike/SR-11 No. 87W in Monday's preliminary.
Alex Bright (Collegeville, Penn.)
With legendary owner Andy Bondio sitting out this year, Bright's tenth attempt at Chili Bowl will be his first with Tom Malloy and Jerome Rodella. A breakthrough preliminary winner on Tuesday in 2016, Bright's CBN career-best remains a fourth-place finish in Saturday's finale from 2014. Aboard a King/Ed Pink Toyota No. 25X, he'll run Wednesday's preliminary next week.
Tyler Courtney (Indianapolis, Ind.)
Since aligning with Clauson-Marshall in 2017, Sunshine has been a force in Tulsa every single year. The Tuesday '17 winner has never finished worse than sixth on his preliminary night over the last four years and has an average finish of 8.75 in Saturday's main event. He'll rock the NOS Energy Drink TURBO colors on his Spike/SR-11 No. 7C when he runs Monday.
Zach Daum (Pocahontas, Ill.)
Since becoming a father, this multi-time POWRi National Midget champion has slowed his role behind the wheel but made sure to finish his ride for the Chili Bowl. In eight main event starts, Daum owns four top ten finishes with a career-best of 3rd in 2016. After one year on Monday, he's moving his Eagle/Toyota No. 5D back to Tuesday's preliminary, where he's won before in 2010 and locked-in on five occasions.
Shane Golobic (Fremont, Calif.)
A consistent man in every matter, Golobic is one of seven drivers to qualify for every preliminary feature since 2010 and he's got the third-longest active streak of consecutive main event appearances at five straight. Next week, he'll contest Tuesday's preliminary aboard his familiar Matt Wood Racing No. 17W Spike/SR-11 with branding from NOS Energy Drink and Elk Grove Ford.
Justin Grant (Ione, Calif.)
If you're into trends, the past tells us that JG should win his Friday preliminary and finish third in Saturday's main event. It's what he did when he debuted with Clauson-Marshall in 2017, then again when he debuted with RAMS Racing in 2019, and now he debuts with RMS in 2021. The reigning USAC Silver Crown Champion hopes to keep that streak alive in Friday's show with a brand-new NOS Energy Drink, Spike/Toyota No. 2J at his disposal.
David Gravel (Watertown, Conn.)
Joining Grant in the loaded RMS stable is this World of Outlaws superstar making his seventh attempt at Chili Bowl. In all six of his previous runs, Gravel has qualified for every preliminary feature, but still only has one main event appearance in 2019 to show for it. Joining the fold from FMR, Gravel will go on Monday night next week with Rusty Kunz preparing his Spike/Toyota No. 1D.
Blake Hahn (Sapulpa, Okla.)
Grandson to Chili Bowl founder, Emmett Hahn, Blake has now made a name for himself inside the Tulsa Expo. Along with his eight Golden Drillers from the Tulsa Shootout, the younger Hahn has three Chili Bowl main event appearances, with his best run coming last year in eighth-place. He's locked and loaded for another run next week starting on Monday in the Bullet/Toyota No. 52.
Chase Johnson (Penngrove, Calif.)
Another underrated top market contender, Johnson was one of the last of the elite picked up for this year's Chili Bowl. A late-season goodbye from Malloy and Rodella left him available for Tulsa, and it wasn't until late December when Pennsylvania ace Sean Michael gave him the call. A former top ten finisher in the main event ('18), Johnson will look for his next best run starting in Tuesday's prelim aboard the Spike/Esslinger No. 72.
Tucker Klaasmeyer (Paola, Kans.)
Quietly piecing together back-to-back top five preliminary finishes, Klaasmeyer has sneakily risen into contention in Saturday's Chili Bowl finale. After a year of sprint car racing, he'll return to Tulsa next week in Friday's preliminary show. The Kansan is maintaining his relationship with Keith Kunz and Pete Willoughby, driving the Bullet/Toyota No. 27.
Buddy Kofoid (Penngrove, Calif.)
Arguably the most promising young teenager on the block, Buddy is said to be the best thing since Bell and Larson took the world by storm. At 19-years-old, he's the hottest commodity within the Keith Kunz camp and has the potential to really make a splash this week. The reigning Chili Bowl Rookie of the Year goes for his second main event in as many years when he tackles Thursday's prelim in the Mobil1 Bullet/Toyota No. 67.
Kyle Larson (Elk Grove, Calif.)
For the first time ever, Kyle Larson can say he is the DEFENDING Chili Bowl Midget Nationals champion. After 13 heartbreaking attempts, Yung Money finally broke through in 2020 with a monumental victory over CBell to win his first-career Golden Driller. H returns next week as the favorite following his 46-win season. His run to go back-to-back begins on Tuesday in the MAVTV, JVI Group, King/Toyota No. 01 with Paul Silva in his pit.
C.J. Leary (Greenfield, Ind.)
Driving for NASCAR star Alex Bowman, Leary rolls into Chili Bowl with one of the nicest pieces in the pit area. The former USAC National Sprint Car champion contests his preliminary night on Monday aboard the Valvoline sponsored Stewart/SR-11 No. 55V. He'll be chasing his fifth main event appearance over the last six years.
Jason McDougal (Broken Arrow, Okla.)
Qualifying for his first-career Chili Bowl main event appearance last year, J-Mac is back with the team that led him there: Klatt Enterprises. A disappointing loss in the Tulsa Shootout's A-Class feature is motivating the local hero even more, as he gets set for Thursday's preliminary in the Beast/Chevrolet No. 4B.
Cannon McIntosh (Bixby, Okla.)
Storming onto the scene at 17-years-old, McIntosh made his name worldwide with his performance at last year's Chili Bowl. Not only did he outlast Courtney and Pickens to win on Monday, but he trailed Larson and Bell on Saturday to become the youngest podium finisher in history. After a strong USAC and POWRi campaign, he's back in the Keith Kunz Bullet/Toyota No. 71K and looking for his first taste of gold.
Thomas Meseraull (San Jose, Calif.)
T-Mez offered one of the most captivating storylines off-track at last year's Chili Bowl. He locked-in on Thursday, drove back to Indiana, flights were delayed on Saturday, missed the pole shuffle, and got a police escort from the airport to the Expo to barely make it for the main event. Back in a potent RMS Racing Spike/Toyota No. 7X this year, we'll see if T-Mez can steal our hearts again.
Daryn Pittman (Owasso, Okla.)
With a spectacular full-time World of Outlaws career behind him, one trophy still eludes the local Oklahoma native: the Golden Driller. Of his seven Chili Bowl main event appearances, he came none closer than 2017, when he was the first runner-up in Bell's maiden triumph. He hasn't been back in the big dance since but hopes to change that starting with Friday's prelim in his self-owned Spike/Mopar No. 21.
Aaron Reutzel (Clute, Tex.)
Before his World of Outlaws run begins in February, the 3x All Stars Circuit of Champions king goes after his fifth attempt at the Chili Bowl. He turned heads last year with his preliminary effort, leading laps and then charging from 24th-to-3rd after a lap traffic incident. He's switching over to Friday's show this year aboard the CB Industries, Spike/Toyota No. 87.
Gio Scelzi (Fresno, Calif.)
A former Chili Bowl Rookie of the Year in 2018, Hot Sauce has yet to make a main event appearance since that run with Clauson-Marshall. Switching to CB Industries, he fell just short in the B-Main last year, sending him back even hungrier in 2021. His preliminary run aboard the Spike/Toyota No. 84 will come in Wednesday's program.
Logan Seavey (Sutter, Calif.)
Teaming with Swindell SpeedLab for the second year, Seavey is back in the seat of the Spike/SR-11 No. 39 with unfinished business to attend to. In their debut together last year, Seavey recorded his career-best Chili Bowl run with a fourth-place run in Saturday's finale. They'll stick to Thursday night's preliminary in hopes of adding a tenth Golden Driller to the Swindell legacy.
Brad Sweet (Grass Valley, Calif.)
On the heels of his second-straight World of Outlaws title, Sweet could join Swindell ('97-'98) as the only drivers in history to immediately follow a WoO championship with a Chili Bowl crown. He's been close a handful of times, finishing inside the top ten in all five of his main event appearances. The Big Cat returns with Rusty Kunz in his corner as they tackle Wednesday's show in the RMS, Spike/Toyota No. 1R.
Sammy Swindell (Germantown, Tenn.)
The undisputed king of Chili Bowl, Slammin' Sammy's five Golden Drillers is still unmatched to this day. He proved last year by racing into his 25th main event that he's still got it, too. Qualifying on Wednesday night next week, he'll have an Esslinger back under the hood of his Spike No. 1 with a sixth Golden Driller on his mind.
Tanner Thorson (Minden, Nev.)
He ended 2020 as the hottest midget driver in the nation, with 14-straight top ten finishes and an average finish of 3.4. However, a shake-up in rides has sent him away from Malloy and Rodella to Oklahoma's Dave Mac Motorsports. In order to back up his thrilling Friday night preliminary win from last year, Thorson will have to do it with nothing but practice laps aboard his new Healing Tree, Spike/Toyota No. 08.
Chris Windom (Canton, Ill.)
Fresh off sealing the Triple Crown championship with his USAC National Midget title, Windom enters the 2021 Chili Bowl with his best shot yet at a Golden Driller. Armed with a CB Industries, NOS Energy Drink, Spike/Toyota No. 89, The Bear goes for his eighth career main event appearance and it all starts in Monday's preliminary.
Zeb Wise (Angola, Ind.)
One of the best drivers in the building without a Chili Bowl main event appearance, 18-year-old Zeb hopes to change that this year. In his two attempts, one with Clauson-Marshall and one with Keith Kunz, he's shown plenty of speed, but lacked the luck that's necessary in Tulsa. Next week, he makes his first attempt at Thursday night with a new team in Matt Wood Racing's Spike/SR-11 No. 37W.
Along with those 30, there's a whole bundle of others that can legitimately contend for the Golden Driller. Expect to see names like Briscoe, Moles, McCreadie, Macedo, Taylor, Coons, Faccinto, Pursley, Eliason, Bodine, Hess, Stratton, Welch, Carrick, Yeley, Neuman, Boyles, Carber, Copeland, Axsom, Thomas, Shuman, Swanson, Felker, Hafertepe, Buckwalter, Bacon, Stenhouse, Schuerenberg, Gardner, Kahne, McCarthy, Love, and more in contention.
The action begins in Tulsa, Oklahoma on Monday with morning practice followed by the first preliminary night that evening. You can watch every prelim night and Saturday's alphabet soup until the C-Main live on FloRacing.