2021 Lucas Oil Tulsa Shootout
Notable Stats From The Lucas Oil Tulsa Shootout
Notable Stats From The Lucas Oil Tulsa Shootout
Before this year's Lucas Oil Tulsa Shootout gets underway, let's review some of the most noteworthy statistical finds from the "Mecca of Micros."
Dec 29, 2020
by FloRacing Staff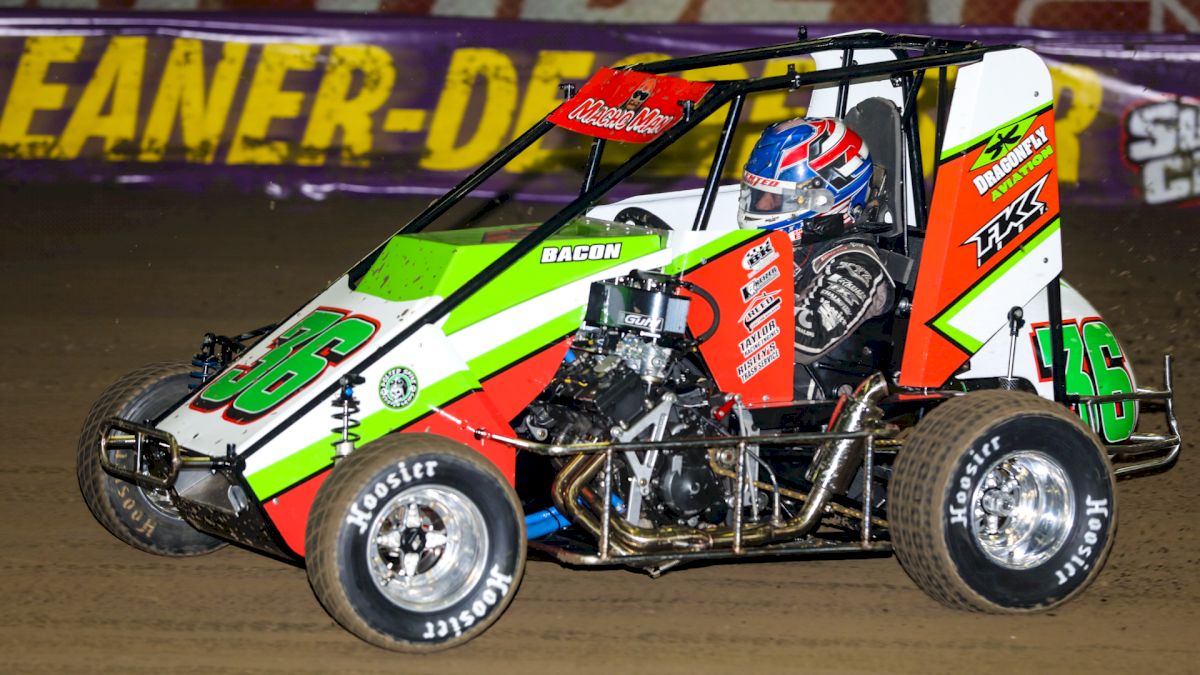 Before the 36th annual Lucas Oil Tulsa Shootout fires off this week, let's review some of the most noteworthy statistical finds from the "Mecca of Micros."
Watch the Lucas Oil Tulsa Shootout LIVE on FloRacing
ENTRY EXPLOSION: Since becoming a micro-based event in 2011, car counts at the Tulsa Shootout have skyrocketed. That year in '11, they welcomed 715 entries; last year in 2020, they nearly doubled that total with a staggering record of 1,384 entries. In fact, five of the last six events have boasted four-figure numbers.
Amazingly enough, the '20 Tulsa Shootout (35th annual) broke almost every record imaginable with numbers including 333 cars in Stock Non-Wing, 309 cars in A-Class, 306 cars in Outlaw Non-Wing, 224 cars in Winged Outlaw, 112 cars in Restricted, and 69 cars in Jr. Sprints.
DRILLER DYNASTY: Most notably, Blake Hahn – grandson to Shootout and Chili Bowl founder, Emmett Hahn – has amassed a collection of eight Golden Drillers between the classes of Winged Outlaw, Outlaw Non-Wing, ECOtec Midgets, and 600cc Modifieds.
Strictly on the micro sprint side, no man has matched the late, great Donnie Ray Crawford. The Broken Arrow, Okla. legend gathered up six of the iconic trophies before his tragic passing amidst the prime of his career in 2012. DRC's legacy includes four Stock Non-Wing crowns ('03, '05, '06, '07) and two A-Class wins ('07, '10).
FEATURE STARTS: In the Internet Era ('03 – Present), more than 600 drivers have qualified for at least one of the primary main events at the Tulsa Shootout. Of those 600, only 31 racers have competed in ten or more features.
Boiling it down even further, an exclusive group of five legends top the list with 25+ feature starts. Currently, we've got a three-way tie for the lead with Chris Andrews, Brady Bacon and Frank Flud all gridlocked at 28 main event appearances. Behind them at 25 starts is Kevin Bayer and Scott Sawyer.
QUADRUPLE DUTY: When Outlaw Non-Wing was added in 2011, triple duty became a thing of the past and quadruple duty entered the limelight. Over the past decade, hundreds have attempted all four of the primary Stock/Outlaw classes in one event, but only 11 have succeeded in starting every main event in a single night.
It's a laundry list of stars headlined by Chris Andrews ('13, '18), Zeb Wise ('17, '19), Nate Lauderbaugh ('11), Tyler Walton ('16), Jake Hagopian ('17), Tyler Courtney ('17), Frank Flud ('17), Christopher Bell ('18), Cole Bodine ('18), Jason McDougal ('18), and Kyle Spence ('20).
QUADRUPLE CROWN: Whereas the USAC Silver Crown, Sprints and Midgets have the Triple Crown, the Tulsa Shootout has the Quadruple Crown for titles in the primary four divisions of Winged Outlaw, Outlaw Non-Wing, Stock Non-Wing, and A-Class.
Entering this week, three active drivers could become the first in Tulsa Shootout history to achieve this feat. Brady Bacon ('04 A-Class, '08 & '16 Winged Outlaw, '20 Outlaw Non-Wing), Kevin Bayer ('95 & '05 A-Class, '08 Winged Outlaw, '12 Stock Non-Wing), and Jason McDougal ('18 A-Class, '18 Outlaw Non-Wing, '18 Stock Non-Wing) each need only one piece of the puzzle.
NEW CLASS, NO PROB: Only three men in history have scored a micro sprint title at the Tulsa Shootout and backed it up in a different class the following year. The newest addition to that group came just last year, and enters 2021 with the potential to be the first-ever to win three different over three years.
The first achievement came back in '06 – '07, when Jerrod Wilson won A-Class followed by Outlaw and Donnie Ray Crawford topped Stock Non-Wing then A-Class. In '19, Kyle Spence of Bear, Del. earned the Stock Non-Wing win and backed that up with a '20 title in A-Class.
DOUBLE UP: Only five men have scored not one, but two Golden Drillers in a single night of micro sprints at the Tulsa Shootout.
The list is headlined by Donnie Ray Crawford ('07 A-Class & Stock Non-Wing), Blake Hahn ('11 Winged Outlaw & Outlaw Non-Wing), Frank Flud ('14 Winged Outlaw & Stock Non-Wing), and Trey Marcham ('15 Outlaw Non-Wing & Stock Non-Wing).
TRIPLE THREAT: While a select crowd has doubled down, one man stands alone as the only driver in Tulsa Shootout history to lay claim to three Golden Drillers in a single night of micro sprint racing.
That jaw-dropping accomplishment came in 2018 when Jason McDougal stunned the world with his three Driller night. The Broken Arrow, Okla. 20-year old banked back-to-back-to-back victories in the Stock Non-Wing, Outlaw Non-Wing, and A-Class divisions; forever solidifying his place in the record books.
PASSING MASTER: In 2009, Riley Adair performed more passes in a single night of main events than anyone else in the 35-year history of the Tulsa Shootout. In total, the local Tulsa native advanced a staggering 52 positions across three features.
He went 21st-to-3rd with a podium in Winged Outlaw, then ran 22nd-to-5th for an A-Class top five, and capped his magical night with an unforgettable 18th-to-1st charge to win the Stock Non-Wing title with a last-lap pass over Brady Bacon.
WORST-TO-FIRST: Often just a saying, Joe B. Miller brought this phrase to life in 2017. The Millersville, Mo. native didn't just make any charge through the field, he literally passed every single car from the dead last starting position to win his first-career Golden Driller.
He went from 24th-to-5th in the opening 36 laps, then managed to make it to second with ten laps remaining in the 55-lapper. He capitalized on a late-race restart and stole the lead from Gary Taylor with two laps left, and the rest is history.
STATE-BY-STATE: As usual, the Tulsa Shootout is largely dominated by the host state of Oklahoma and the invading swarm of California natives. Over the last decade, Oklahoma & California have combined to win 75% (30-for-40) of the primary four Stock/Outlaw classes.
The Sooner State leads the way with 19 titles followed by California with an additional 11. The other six states to be represented in victory lane are Missouri (3), Indiana (2), Delaware (2), Pennsylvania (1), Washington (1), and Kansas (1).
DRILLER DOUBLE: Countless drivers have attempted both the Tulsa Shootout and later gone on to race the Chili Bowl Midget Nationals; but only four drivers have claimed a Golden Driller at the Shootout and then added to their collected with a prestigious Chili Bowl title.
The elite list is headed by Christopher Bell, Bryan Clauson, Kyle Larson and Kevin Swindell. Bell & Clauson both accomplished this feat with Winged Outlaw micro sprint wins, while Swindell found his Shootout success in flat karts, and Larson did his in the outlaw kart ranks.
YOUNG STARS: The younger teenage titans have soared beyond belief over the final few years, not only rising to contention, but re-writing the record books as the youngest winners in event history.
In 2015, Gio Scelzi won the A-Class feature to top Brady Bacon as the youngest champion of a primary division at the Tulsa Shootout at 13 years, 1 month. Just last year, at 15-years-old, Emerson Axsom became the youngest winner in the Winged Outlaw division.
GIRL POWER: A trio of different female winners have broken through over the last decade at the Tulsa Shootout. Each have come in the Restricted division, but of late, there presence in the primary classes has certainly risen.
Those three champions include California's Dahnelynn McKay in 2012-13, Oklahoma's Kaylee Bryson in 2015 and California's Jade Avedisian in 2020.