2021 Lucas Oil Tulsa Shootout
30 Favorites To Watch At The Lucas Oil Tulsa Shootout
30 Favorites To Watch At The Lucas Oil Tulsa Shootout
With more than 1,200 entries stacked into one building for five days, the Lucas Oil Tulsa Shootout is one of the most hotly contested battles in the world.
Dec 28, 2020
by FloRacing Staff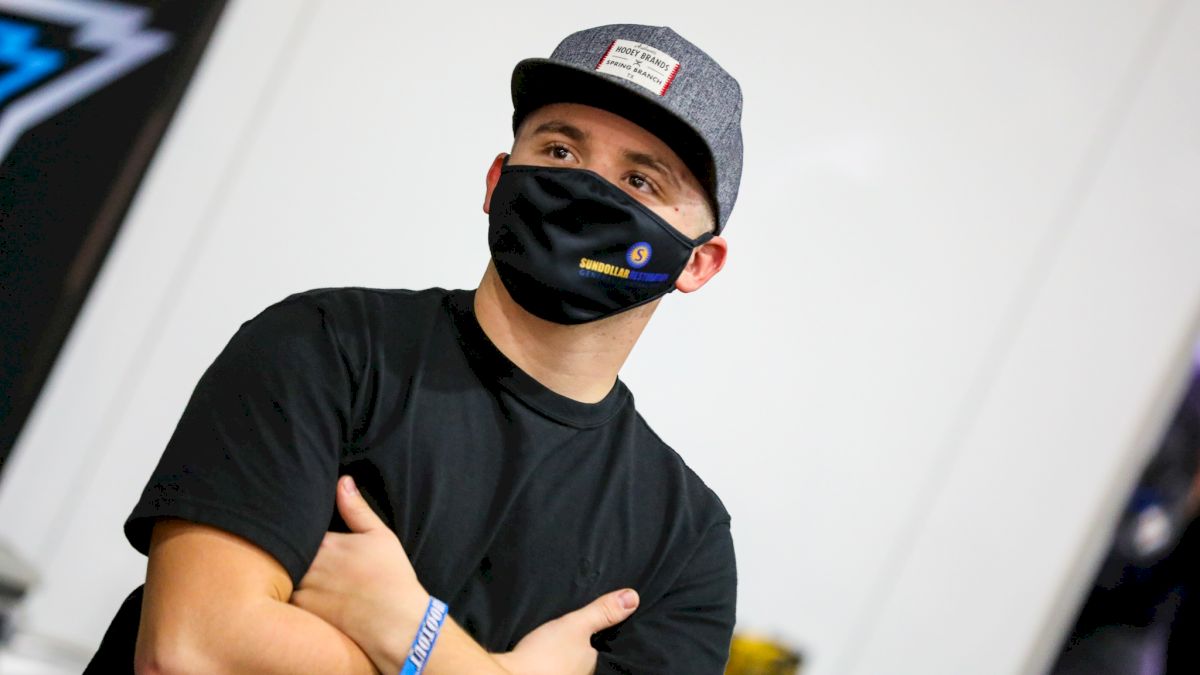 With more than 1,200 entries stacked into one building for five days, the race for a Golden Driller at the Lucas Oil Tulsa Shootout is one of the most hotly contested battles in the entire world. Drivers from coast-to-coast pour into Tulsa, Oklahoma for a New Year's celebration unlike any other.
It's the Mecca of Micros, and the list of true contenders runs on forever. There are your betting favorites with a collection of Drillers, your rising stars with endless potential, and your dark horses ready to shine in the moment and shock the world.
Watch the live broadcast of the 2021 Lucas Oil Tulsa Shootout on FloRacing
With the 36th annual Lucas Oil Tulsa Shootout airing on FloRacing this week, we decided to take a look at 30 of the most notable favorites to keep your eye in the primary divisions of Winged Outlaw, Outlaw Non-Wing, Stock Non-Wing, and A-Class.
Let's take a look at some of the top dogs in attendance:
Chris Andrews (Tulsa, Oklahoma)
Teamed up with longtime car owner Justin Blevins, Andrews will again attempt quadruple duty this week. The former champion of '10 Stock Non-Wing, '13 Outlaw Non-Wing, and '16 Stock Non-Wing is chasing his fourth-career Golden Driller; and hoping to secure the record for most feature starts (28 right now) in Internet Era.
Jade Avedisian (California)
This 15-year-old sensation has dropped jaws and opened eyes with her breakthrough $20,000 victory at Sweet Springs' John Hinck Championship this July. She already has a Golden Driller with a Restricted triumph last year, but now enters quadruple duty for the first time aboard her Driven Performance No. 14J.
Emerson Axsom (Franklin, Ind.)
His title last year, which made him the youngest winner (15-years-old) in division history, came aboard his own D1 No. 42. This year, however, he is switching to the hot ticket with Ten-J Chassis. Before his Chili Bowl Nationals debut with Petry Motorsports, the Indiana kid guides the No. 10J in all four classes this week.
As usual, this USAC Sprint Car champion drives the Sawyer Chassis No. 21H for longtime family friends TKH Motorsports in the Outlaw classes, and also runs a No. 36B entry in the stock divisions. Bacon enters as the defending Outlaw Non-Wing champion with additional Shootout wins in A-Class ('04) and Winged Outlaw ('08, '16).
Kevin Bayer (Bixby, Okla.)
Sticking to the winged classes this year, Bayer enters the Shootout as a candidate in Winged Outlaw and A-Class aboard his pair of No. 91K entries. A four-time micro champion, KB's titles span 17 years with wins in A-Class ('95, 05), Winged Outlaw ('09), and most recently Stock Non-Wing ('12). Just last year, he qualified for three of the four features with a best result of 10th in A-Class.
Between his NASCAR Cup Series gig and pursuit of a fourth Chili Bowl Nationals crown in January, CBell has a lot on his plate these days. He still loves returning to his roots at the Tulsa Shootout, though. He already has a Winged Outlaw ('18) title, but will be chasing four more Golden Drillers this week in quadruple duty with his Sawyer Chassis No. 21 entries.
Nathan Benson (Concordia, Mo.)
This four-time POWRi Micro champion ('13–'16) has accomplished plenty in his career, but still desperately dreams of the Golden Driller. He was oh-so-close in '14, finishing second to Tucker Worth by a few feet thanks to a last-corner slide job in A-Class. This year, he'll focus on the Winged Outlaw division in his No. 2B with his promising son, Garrett Benson, also racing in A-Class.
Gavan Boschele (Mooresville, N.C.)
At 13-years-old, the future is nothing but bright for this Swindell SpeedLab prodigy. He's already racked up noteworthy deals with sponsors Motorsport Games and Drydene Performance Products supporting his D1 No. 5K. His impressive runs at Millbridge Speedway will propel him into his first attempt at quadruple duty at the Shootout.
Back in quadruple duty with his Hyper Racing No. 20, Bright enters as one of four defending champions hoping to repeat. Last year, he outran Daison Pursley for his first-career Golden Driller in Stock Non-Wing. If he can do it again, he'd be only the second driver in division history to go back-to-back along with Donnie Ray Crawford ('05–'07).
Kaylee Bryson (Muskogee, Okla.)
She already knows what it takes to win a Golden Driller, topping the Restricted division in 2015. Now, she's moving up the ranks and facing quadruple duty aboard her No. 11B machine. Her Tulsa Shootout attempt comes two weeks prior to her Chili Bowl Nationals shot with powerhouse Keith Kunz Motorsports.
Brian Carber (Pipersville, Penn.)
Stealing headlines with his triumph at Millbridge's KKM Giveback Classic in November, Carber has a Chili Bowl seat with Keith Kunz, but first has duties to attend to at the Tulsa Shootout. Another quadruple duty runner in his No. 41C, he'll be looking to improve on his Shootout career-best of fourth place in last year's A-Class feature.
Michael Faccinto (Hanford, Calif.)
A two-time Tulsa Shootout king, Faccinto owns a pair of Golden Drillers from his wins in A-Class ('13) and Winged Outlaw ('15). It's noteworthy his previous titles came with Pace Chassis and then CS9 Chassis. He's now piloting a pair of D1 machines, will that switch lead him to a third triumph?
Frank Flud (Pryor, Okla.)
Frank Flud is without a doubt in contention for most dominant micro sprint driver of the past decade. With that said, his three micro sprint Golden Drillers is surprising, because without bad luck he should have more. The Okie hopes to end his dry spell this week aboard his Driven Midwest entries and add to his collection which includes Stock Non-Wing ('14, '17) and Winged Outlaw ('14) wins.
Frank Galusha (Lincoln, Neb.)
For being one of the strongest drivers in the nation – wins at CA Speedweek, High Banks Hustle, Show-Me Showdown & more – Frankie G's success inside the Expo has been minimal. His most noteworthy of four feature starts at the Tulsa Shootout is a ninth-place run in Winged Outlaw ('13). He'll keep his focus on that headlining class this week with his No. 12K ride.
Jake Hagopian (Fresno, Calif.)
The man behind Driven Performance's nationwide dynasty, Hagopian, will stick strictly to the winged classes of A-Class and Winged Outlaw this week. By rule, he was awarded the Golden Driller in '19 A-Class, but fell just short in a torrid battle with Ben Worth for the Winged Outlaw win that year. Leaving the CA Speedweek champion and High Banks Hustler winner all the hungrier for his special moment in Tulsa Expo victory lane.
Blake Hahn (Tulsa, Okla.)
An eight-time Golden Driller winner, Hahn's most iconic Shootout scores came when he swept Winged Outlaw and Outlaw Non-Wing in '11. The ASCS Sprint Car star is teaming up with Ten-J Chassis again this week, competing in the same two classes which he swept just a decade ago. Can he do it again?
Harley Hollan (Broken Arrow, Okla.)
A two-time POWRi Micro champion, Harley brings in the confidence from his podium place in last year's Winged Outlaw finale. His career-best Tulsa Shootout finish remains his '08 runner-up to Brady Bacon in the headlining class. Competing in three classes this week, he'll try and bag his first-career Golden Driller.
Dylan Kadous (Topeka, Kans.)
Time and time again, DK has been on the verge of winning a micro sprint crown jewel. The High Banks Hustle and Tulsa Shootout have both been within his grasp, but lady luck has not been on his side. Back with TKH Motorsports, Kadous will partner Bacon and Key as he drives the No. 21L in both Outlaw divisions this week with hopes of a breakthrough first-career victory in Tulsa.
Kameron Key (Warrensburg, Mo.)
Since teaming with TKH Motorsports, Key's stock in the micro sprint market has skyrocketed with High Banks Hustle and Show-Me Showdown titles to his name. The Missourian will look to keep the momentum rolling this week with quadruple duty offering him four chances at his first taste of Shootout stardom.
Forever written in the history books, J-Mac's three Golden Drillers in one night back in '18 will never be forgotten. Since then, though, he's struggled at the Shootout with only three starts in eight attempts, earning an average finish of 22.2. Back in his family-owned Factor One No. 73 house car, McDougal tackles quadruple duty this week hoping for his next slice of history.
Joe B. Miller (Millersville, Mo.)
Along with McDougal, Joe B. has his own astonishing record in Tulsa that lives forever. His 24th-to-1st Winged Outlaw win in '17 will never be topped. Since then, he's still been extremely consistent with six top ten runs in his last seven Shootout features, including two podium visits. He'll put his Hyper Racing No. 151 through quadruple duty again this week.
Daison Pursley (Locust Grove, Okla.)
A micro sprint graduate turned rising star in the national midget ranks, Pursley is coming back to his roots with an iconic car owner this week. He'll run quadruple duty in the Bullet-By-Sawyer No. 71K, giving Keith Kunz – eight-time Chili Bowl champion – his first attempt at the Tulsa Shootout. The pairing has already been lethal in limited micro starts together, but now we see what they can do on the grand stage where Pursley almost snagged a Golden Driller last year.
KJ Snow (Fresno, Calif.)
This lovable California kid has started at least one Shootout feature for the past six years, highlighted by his '15 Outlaw Non-Wing podium and fourth-place effort in '19 Winged Outlaw. Switching over to D1 Chassis, KJ will be among the many doing quadruple duty this week with his first Golden Driller in mind.
Kyle Spence (Bear, Del.)
For each of the last two years, Kyle Spence has left Tulsa with a Golden Driller in hand. He's the only man that can say that. He proved his '19 Stock Non-Wing photo finish wasn't a fluke by dominating A-Class in '20. Now, the Hyper Racing stud is back in '21 aiming for a third Tulsa Shootout crown in as many years with quadruple duty on his plate.
Gary Taylor (Snohomish, Wash.)
Aligned with Jon Farrell of Farrell Frameworks, GT continues pursuit of his first Golden Driller since his '09 A-Class triumph. The duo was moments away from topping Winged Outlaw in '17, but Joe B's magical run spoiled their night. With Kevin Thomas Jr. as teammate this year, Taylor will again be one to watch in the two Outlaw divisions at the Tulsa Shootout.
Ryan Timms (Oklahoma City, Okla.)
After a Tulsa Shootout title in the Jr. Sprint ranks in '18, Timms recorded back-to-back podiums in the Restricted division. Now, he's moving up to attempt quadruple duty in the four Stock/Outlaw classes in his No. 5T. This run for the Golden Driller comes before the teenager joins CB Industries for a POWRi National Midget campaign.
Ben Worth (Coalinga, Calif.)
The '19 Winged Outlaw champion, Worth's incredible win came in one of the best races in recent memory at the Tulsa Shootout. Continuing his relationship with Ten-J Chassis, he's back with the budding manufacture and will attempt the two Outlaw classes this week in his No. 41J.
TJ Smith (Fresno, Calif.)
The non-wing king of California, Smith has dominated the topless game for years on the west coast. He's had some success in his trips to Tulsa, most notably when he bagged back-to-back top fives in '15-'16 in the Stock Non-Wing Class. Per usual, he's entered for the two non-wing divisions this week at the Shootout.
Brandon Rose (Kokomo, Ind.)
The Kokomo Komet is a legend in his native Indiana land, but still dreams of his first feel of a Golden Driller. He came close in '16, charging to fourth-place finish in the Stock Non-Wing feature. He'll contest a trio of classes this week in his No. 2G.
Down under with the International Midget Series last year, Zeb finally gets his chance to defend his '19 Outlaw Non-Wing title this week. The '20 All Stars Circuit of Champions Rookie of the Year is reuniting with the team that got him that Golden Driller, Ten-J Chassis. He'll stick to the two Outlaw classes at the Shootout before going for a Chili Bowl title with Matt Wood Racing in January.