2021 Lucas Oil Tulsa Shootout
Magical Moments From Lucas Oil Tulsa Shootout History
Magical Moments From Lucas Oil Tulsa Shootout History
Don't be fooled; the Lucas Oil Chili Bowl Midget Nationals isn't the only event capable of producing iconic moments inside the Tulsa Expo.
Dec 27, 2020
by FloRacing Staff
Don't be fooled; the Lucas Oil Chili Bowl Midget Nationals isn't the only event capable of producing iconic moments inside the Tulsa Expo.
In fact, the Lucas Oil Tulsa Shootout has actually been doing it longer than Chili Bowl.
Founded by Emmett Hahn in 1986, the Shootout is Chili Bowl's older cousin; leading the way for the Super Bowl of Midget Racing to be established one year later in 1987.
Whereas Chili Bowl has Page & P.J. battling Andy in '94, Clauson snapping the Swindell streak in '14, and Larson's monumental breakthrough in '20; the Shootout has provided countless phenomenal feats in their own right.
Watch the Tulsa Shootout LIVE on FloRacing
There was McDougal's astounding three Driller night, Joe B's shocking win from dead last, Gio's record-setting run, and so much more.
With the 36th annual Lucas Oil Tulsa Shootout right around the corner, let's take a look at some of the most incredible performances in recent memory at the 'Mecca of Micros.'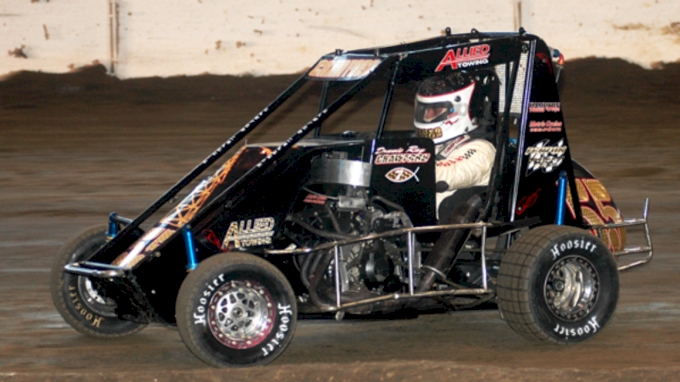 Donnie Ray driving his iconic No. 55
In '07, Donnie Ray Crawford of Broken Arrow, Okla. kickstarted one of the most impressive Expo runs of all-time with a near Shootout sweep.
He went wire-to-wire in the Non-Wing class, besting Kevin Bayer for his first Golden Driller of the night. Then, he outlasted the likes of 3x All Stars Circuit of Champions king Aaron Reutzel and Chili Bowl sensation Jonathan Beason to lead from start-to-finish in the A-Class division. His run for a clean sweep ended in the final feature, but it was still close, as Donnie Ray finished second to Jerrod Wilson in the Winged Outlaw main event.
Results of 1st, 1st, 2nd. Remarkable. His average finish of 1.3 is still the best of all-time in the category of drivers with three or more starts in one night.
In '09, Riley Adair of Tulsa, Okla. rattled off a ridiculously hard charging night, headlined by one of the most memorable finishes in Shootout history.
He rallied from 21st-to-3rd in the Winged Outlaw feature and also ran from 22nd-to-5th in the A-Class race, but his crowning moment came in Non-Wing. The local ace stormed from 18th to challenge USAC Sprint Car champion Brady Bacon in the closing laps. After trading several sliders, it came down to the final circuit as the duo ran wheel-to-wheel and collided in turn three. Bacon went spinning; Adair survived to win; and the crowd went bananas.
In total, Riley advanced a whopping 52 positions across three features. It's still the most in Tulsa Shootout history to this day.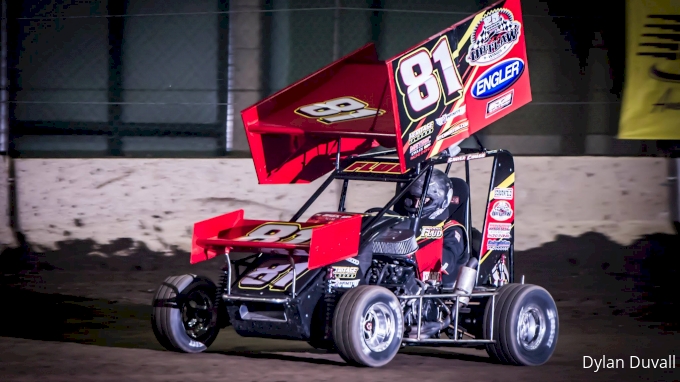 Flud in action at the Tulsa Expo
Turning to '14, Frank Flud of Pryor, Okla. made his first mark on the Tulsa Shootout history books in a big way. The eventual micro sprint superstar won not one, but two Golden Drillers all the way from the 17th starting position.
He capitalized on the misfortune of leaders Jordan Herrman and Jeffrey Newell to inherit the lead in Stock Non-Wing, leading the final laps for his first-career Shootout title. Seven races later, he did again. Charging to the lead of the Winged Outlaw main event on lap 41, and then outrunning All Stars Circuit of Champions racer Cory Eliason for another win.
He's still the only driver to win a pair of Shootout titles from that far back, in the same night.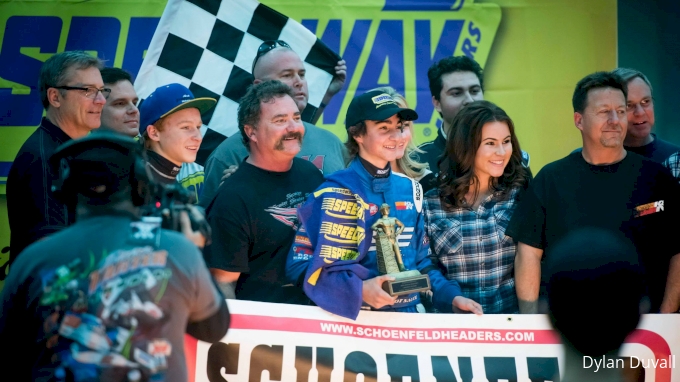 Gio & family celebrate in victory lane
One year later in '15, Gio Scelzi rewrote the record books, as we're accustomed to. Before he was the youngest winner in World of Outlaws Sprint Car Series history, Knoxville Raceway history, and Williams Grove Speedway history, Gio was the youngest champ in Tulsa Shootout history.
His achievement came in the Winged A-Class feature, driving his family-owned Pace Chassis No. 41 with dad Gary Scelzi (NHRA champion) and brother Dominic Scelzi (ASCoC winner) on the wrenches. He led from flag-to-flag and led every lap over POWRi legend Joe B. Miller, scoring a Golden Driller to take back to Fresno, Calif.
At the age of 13 years, 1 month and 6 days, Gio topped Brady Bacon's former record to become the youngest winner of a Stock/Outlaw feature at the Tulsa Shootout. It still stands to this day.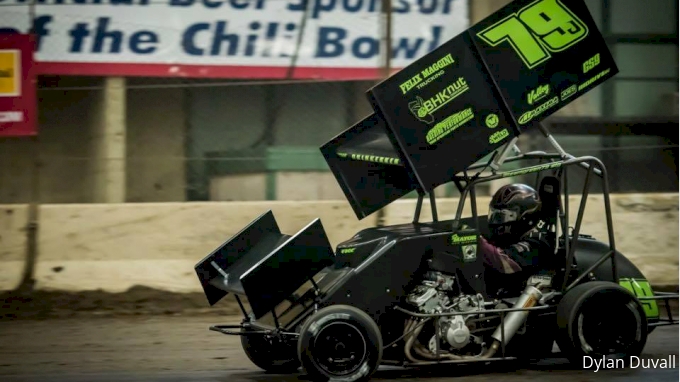 J-Rock wheeling the No. 79J
That same year, Jerrod Wilson of Skiatook, Okla. was writing one of the magnificent, fairytale comebacks in Shootout history. Already a legend with multiple titles to his name, J-Rock had nothing left to prove, but wanted to do it for himself.
United with California's Team Green in a CS9 Chassis No. 79J, Wilson put it on the pole of the Winged Outlaw main event. Before the green flag dropped, it was already the story of the week. He went on to lead 30+ laps, but sour mechanical issues stripped him of the lead and damaged his dreams of a fifth Golden Driller.
His teammate Michael Faccinto ultimately grabbed the win, but J-Rock's touching comeback was still a gripping headline that fans remember all these years later.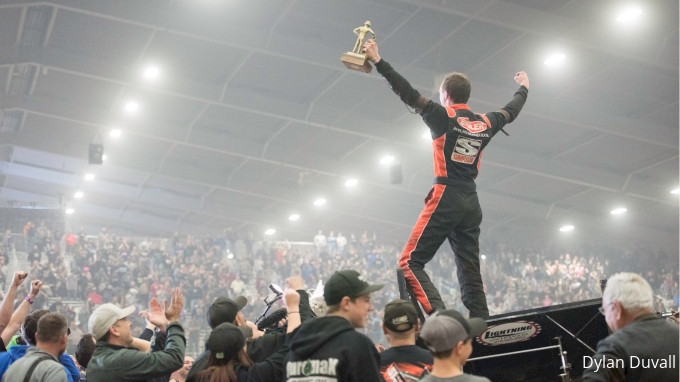 Joe B's unforgettable celebration
In '17, the unthinkable happened. Winning from dead last? No way, not gonna happen. Joe B. Miller had other plans though.
The Millersville, Mo. Native started at the tail (24th) of the Winged Outlaw finale and made his way into the top five by lap 36. He drove by Chili Bowl champion Christopher Bell on lap 45 to take second. The final restart behind former Shootout winner Gary Taylor gave him the opportunity he needed. Seizing the moment with a turn three slider, Joe B. slid his Hyper Racing No. 151 by and led the final two circuits of the 55-lapper.
It was Joe B's first-career Golden Driller and he erupted with screams during a wing stand that simply shocked the Tulsa Expo crowd. It was never done before, and it hasn't been done since.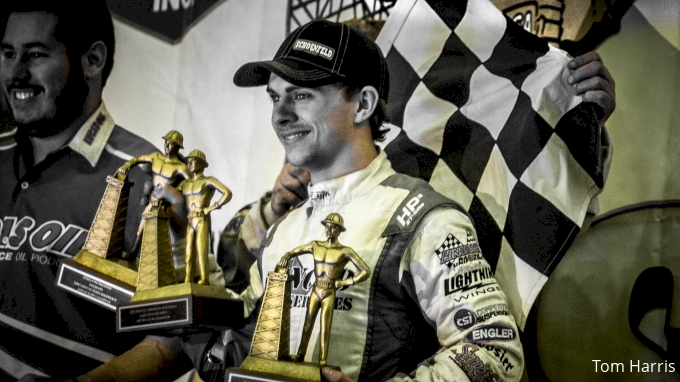 Not one, not two, but three Golden Drillers for J-Mac
The next year in '18, Jason McDougal of Broken Arrow, Okla. stole every headline in America. Starting in the front two rows of all four main events, J-Mac ensued to build a collection of Golden Drillers.
He started the evening by winning both the Stock Non-Wing and Outlaw Non-Wing features over Christopher Bell, and followed that with his third-straight Golden Driller in A-Class over Ayrton Gennetten. He had a shot to sweep all four, but engine woes while running inside the top five of Winged Outlaw shot down his perfect night aboard the Factor One No. 73.
Nonetheless, it was the stuff of legends. The picture of McDougal, at 20-years-old then, holding THREE Golden Drillers with no room to spare is mind-boggling. His performance was the talk of town and eventually led him to opportunities in Indiana with USAC Midgets and Sprint Cars.
He's the only driver 35 years of the Tulsa Shootout to win three micro sprint titles in one night.
This week, we'll find out if anyone else can provide the next unforgettable moment in Tulsa Shootout history.