Kyle Larson's 2020 Lucas Oil Chili Bowl breakthrough was significant on countless levels.
Not only did it kickstart his earth-shattering season, which saw him tear across dirt tracks nationwide with 46 wins to his credit; but it marked his crowning moment in a building, a town, and an event that had seemed so painfully out-of-reach to him over the years.
13 long, aching years that is. Nine, oh-so-close main events. And finally, one glorious Golden Driller.
Time and time again, Larson was poised to top it all. Yet time and time again, his hopes were dashed, and he left empty-handed; until 2020, that is.
The passion he displayed post-race last January was simply overwhelming. When he climbed out of the car and reached for the skies, it was as if he had the entire world in his hands. The pure relief in his voice; the genuine smile he couldn't stop flashing; the tears rolling down his face. That night in Tulsa, everyone was a Kyle Larson fan.
It was a moment forever frozen in Lucas Oil Chili Bowl Midget Nationals history.
But how did he get there? Let's look back on Larson's journey to the Chili Bowl mountaintop.
Watch the 2021 Lucas Oil Chili Bowl Nationals January 11-16 LIVE on FloRacing.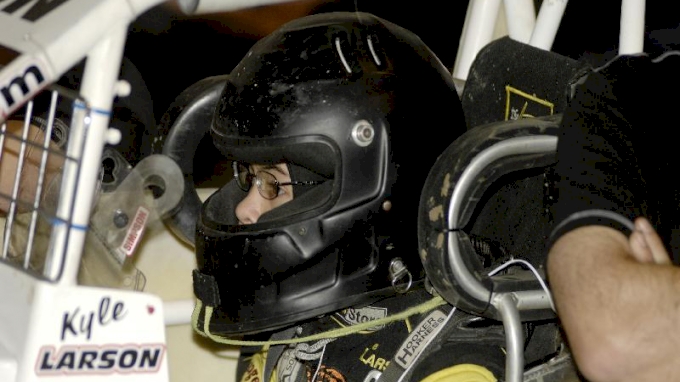 At 15, Kyle makes his Lucas Oil Chili Bowl debut in 2008.
2008: Where It All Began
The journey started in 2008, when a wide-eyed, 15-year-old Kyle strolled into the Tulsa Expo Center with an opportunity to drive Cliff Blackwell's No. 27.
He finished fourth in his Friday heat race behind Jeff Bland Jr., Travis Rilat and Darren Hagen. Ultimately, he ended his preliminary program in the B-Main, which sent him to the F-Main in Saturday's finale.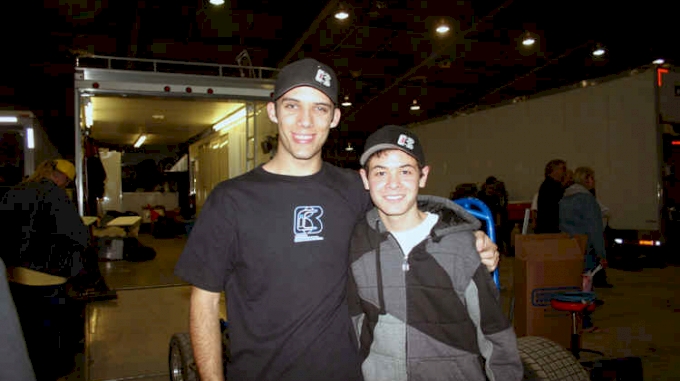 Kyle's chance opportunity in 2009 created a relationship with Bryan Clauson.
2009: Surprise Entrant
Larson's 2009 ride is certainly the most interesting of all 13 attempts. In town as a spectator, the 16-year-old received a phone call from friend Kevin Swindell to report to Bryan Clauson's pit area ASAP.
Once there, he realized that he was being offered a last-minute ride by Corey Tucker, a Team Penske Car Chief and Clauson's partner at the time. Jerry Higbie Jr. suffered a severe case of food poisoning and couldn't compete, so Larson got the nod. He borrowed equipment from Chad Boat, Clauson, Swindell, and more just to get in the car. Then, the kid put on a show.
He went seventh-to-third in his heat race, then eighth-to-sixth in his qualifier, finished second in the B-Main, and qualified for his preliminary feature. He gradually moved up from 19th on the start, but a lap five incident with nowhere to go ended his night with a DNF. Come Saturday, his run was halted in the D-Main.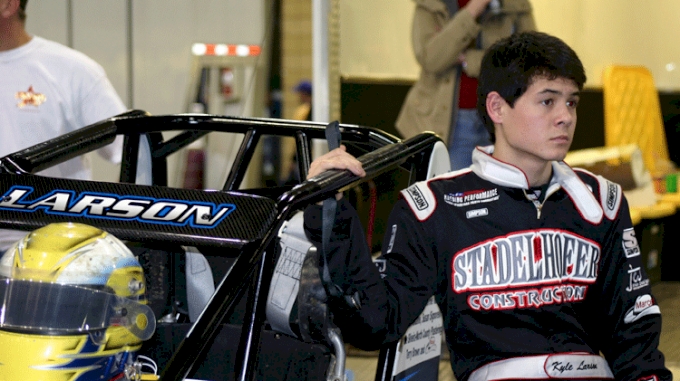 In 2010, Kyle was a feature starter with Bryan Clauson, Inc. and Corey Tucker.
2010: First Main Event
At 17-years-old, his best shot yet at the Lucas Oil Chili Bowl came in 2010. Returning with Corey Tucker and Bryan Clauson, Inc. in a Spike/Esslinger No. 39I, the high school senior was on rails from the start.
He finished fifth in his preliminary feature. Winning his Saturday B-Main over stars like Thomas Meseraull, Daniel Adler, Chris Windom, Mike Hess and Bobby East, Larson had punched his ticket into his first career Lucas Oil Chili Bowl main event, where he would finish the 50-lapper with a solid top ten effort.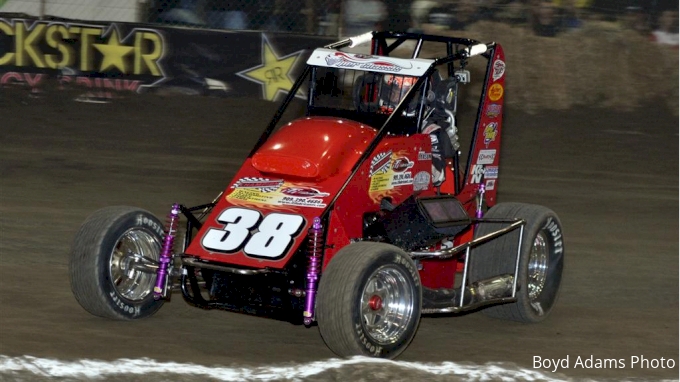 The only picture to surface of Kyle before his wicked flip in 2011.
2011: Blessing In Disguise
The 18-year-old rising star out of Elk Grove, Calif., gassed it up from the get-go and was on the move in his preliminary heat race until a vicious flip ended his week right there and then. He didn't participate in Saturday's program and, as he likes to remind people, he technically finished DEAD LAST in the Lucas Oil Chili Bowl that year.
The blessing though? Listen to Keith Kunz or Pete Willoughby tell the story about where they found Larson: it was that heat race when he flipped. Pete, the silent partner to Keith's midget dynasty, was blown away by Kyle's drive and told Keith that they had found their next project. Boy, did they hit the jackpot.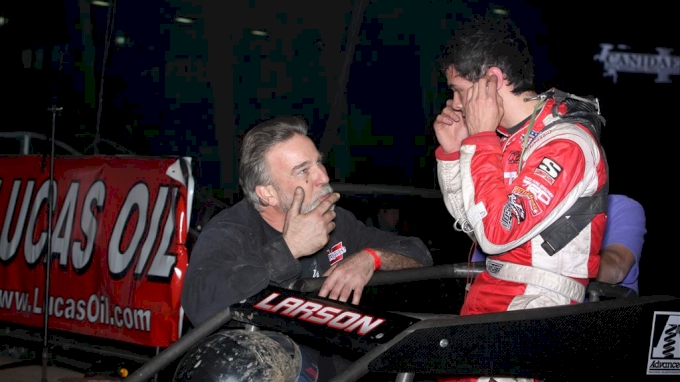 Kyle and Keith began a successful eight-year Lucas Oil Chili Bowl run in 2012.
2012: Kyle Meet Keith
In 2012, Larson made the first of eight consecutive attempts at the Lucas Oil Chili Bowl with the Toyota-backed powerhouse of Keith Kunz Motorsports. The relationship immediately took off. He drove by Kevin Ramey on lap six and never looked back on Tuesday, topping his first career preliminary feature.
Starting on the outside pole of the 55-lap finale, Larson fell to fourth on the start as he dared the outside groove in his No. 67 entry. He slowly recovered and got back to finish third, a career-best result for "Yung Money," but it left him wanting more… Wanting to beat the Swindell's.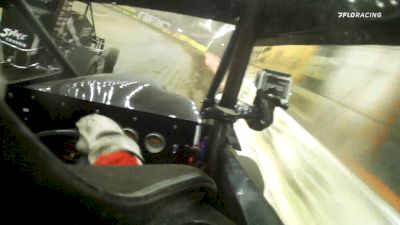 Unlock this video, live events, and more with a subscription!
Get Started
Already a subscriber? Log In
Kyle slices and dices with Kevin and Sammy Swindell during the 2013 Saturday finale.
2013: Larson vs. The Swindells
This was Larson's best shot ever at stopping the Swindell dynasty. He again controlled Tuesday's preliminary after sliding by Brady Bacon for the win on lap 19 and secured his seat in Saturday's showdown. It was Kevin Swindell on pole, Sammy Swindell outside, and Kyle behind them. A recipe for magic, right? Yep. What followed was one of the greatest duels the event has ever seen.
They swapped slider after slider, they nearly went three-wide, they banged it off the fence, they collided a few times, and most importantly, they brought the crowd to their feet and nearly blew the roof off the Tulsa Expo Center.
Ultimately, Kyle controlled laps 13-17, but a turn three slider gone wrong sent his No. 67 spinning and stalled backwards. Just as quickly as he tossed his hands up in disbelief, his first real chance at a Golden Driller had slipped through his hands. He ended in 21st and left hungrier than ever.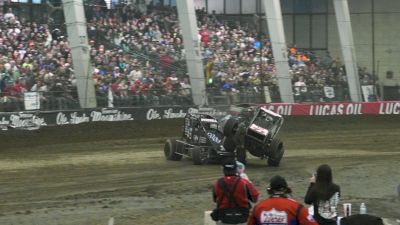 Unlock this video, live events, and more with a subscription!
Get Started
Already a subscriber? Log In
Kyle's 2014 finale included a tangle with Sammy Swindell and a blown engine, all in the span of a few laps.
2014: Up In Smoke
The Cartwheel by Target car came out in 2014 for Larson's seventh attempt at the Lucas Oil Chili Bowl. His two-year streak of Tuesday triumphs was snapped when a poor qualifier relegated him to start 16th in the preliminary feature. He recovered with a fifth-place finish and went on to transfer to Saturday's main event through the B-Main.
Charging from 15th-to-fifth at halfway, it appeared as if Larson would have a shot at catching Clauson and Christopher Bell out front. However, his Tulsa trouble continued when his motor let go and poured out a heap of smoke. It was another disappointing Saturday night.

Kyle spins running 3rd early in 2015's Saturday main event.
2015: Spin Cycle
Fresh off his 2014 NASCAR Cup Series Rookie of the Year campaign, Larson came back to Tulsa in 2015 determined to get that Driller.
It started off rough on Tuesday, but quickly became magical. A heat race wreck relegated him to the C-Main where he went sixth-to-first, then the B-Main where he went 13th-to-first, and he capped it off by going 17th-to-first to win his preliminary night.
Running third early in Saturday's 55-lap main event, Larson looked ready to challenge Bryan Clauson out front, but one small error in turn one sent his No. 71K spinning. He rallied back through the field to finish seventh, but he was six spots shy of where he wanted.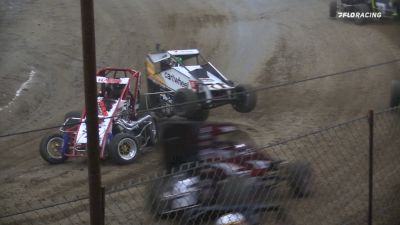 Unlock this video, live events, and more with a subscription!
Get Started
Already a subscriber? Log In
An unfortunate tangle with a lapped car on Tuesday mired Larson deep in the field on Saturday.
2016: Fast Cars & Bad Luck
He was good again this year, earning high point honors on Tuesday and streaking away from the pole position. He led 11 laps before, out of nowhere, a spinning lapper struck his No. 71K and forced him to a halt. He went tailback and recovered to run ninth in the feature, slotting him in the B-Main on Saturday.
Qualifying for the main event through a fifth-place B-Main run, Larson started the 55-lapper in 22nd, the farthest spot back in his career. He proved just how good he was estimated to be that week with a monumental 22nd-to-fifth bid for just his second top-five finish in Tulsa.
Kyle's 2017 Lucas Oil Chili Bowl could not recover from a preliminary feature crash.

2017: Flipped Out
After five consecutive years in the big show, Larson missed his first main event since 2011 this year. Battling with Tyler Courtney for the lead in Tuesday's preliminary feature, Larson got over the edge in his Parker Store No. 71K and went for a wild flip down the track in turn three. He left with a 21st-place finish.
He tried to mount a charge in Saturday's alphabet soup, but it all came to an end after he missed the C-Main transfer going from 18th-to-fourth.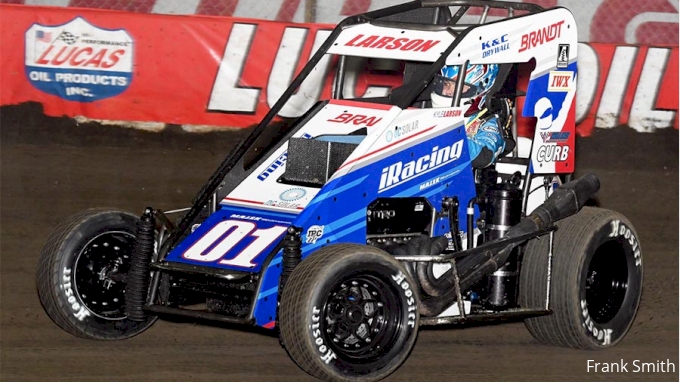 Kyle looked poised to finally win his first golden driller in 2018.
2018: The Engine Heard Round The World
Driving for his father Mike Larson in an iRacing sponsored No. 01 prepared by Keith Kunz, Kyle entered 2018 with new life. He was dominant on Tuesday and ran away with another preliminary win, then he won the Pole Shuffle for his first career pole position at the Lucas Oil Chili Bowl.
He led the opening nine laps of Saturday's finale before Bell passed him to lead the next 16. Larson fought back in traffic and capitalized with a masterful move to take command back on lap 26, just shy of halfway. He was calm, cool, and collected as he paced his No. 01 out front, but as it always seemed, doom was awaiting.
On lap 42, just 13 laps away from a Golden Driller, Larson's motor expired and went up in smoke. He pulled into the infield and relinquished the lead to Bell, who ultimately won the title. It was the most deafening sound of a midget motor blowing up that you'd ever heard. In the end, Larson was left wondering what could've been.
Christopher Bell sneaks past on the final lap to steal the 2019 driller.

2019: Last Lap Nightmares
He had spun, he had flipped, he had blown motors, what hadn't happened to prevent Kyle from winning the Lucas Oil Chili Bowl at this point? This had to be his year, right? Yeah, no…
With McDonald's donning the No. 01, Larson topped Tuesday night and started fourth in Saturday's grand finale. He worked his way to the lead on lap 21 and never looked back, until the last lap. He built a sizable advantage and it appeared like he was finally going to conquer his Tulsa demons, and then the worst happened.
Missing the bottom in turn one, Larson opened the door and Bell walked right through. Taking the lead on the very final lap and surviving one last shot at the checkered, Bell successfully stole the Golden Driller.
Larson finished second. The look on his face was pure dejection. He admitted it was the worst loss of his life. It took days to even stop thinking about it. How do you come back from that crushing defeat?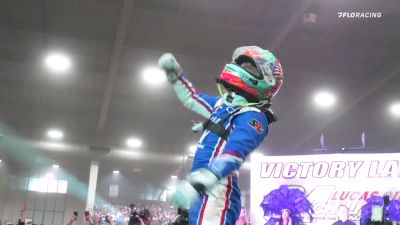 Unlock this video, live events, and more with a subscription!
Get Started
Already a subscriber? Log In
Kyle was overcome with emotion after his first Lucas Oil Chili Bowl victory.

2020: At Long Last
Inspired to make a change, Kyle came back to Tulsa in his own midget, a Lucas Oil sponsored King Chassis powered by Toyota with sprint car guru, Paul Silva, wrenching on the No. 01.
On Tuesday, he won his heat race, then his qualifier, and then led all 30 laps of the preliminary feature.
He started third in the feature, passed Tanner Thorson for second on lap 15, and slid right by Bell to take the lead on lap 39. Larson led the final 16 laps with ease; no mistakes, no errors, no bad luck, nothing could stop him this night.
Scoring the Lucas Oil Chili Bowl Midget Nationals championship, Larson finally secured the elusive Golden Driller. His screams of relief amidst an emotional cage stand sent shockwaves throughout the Tulsa Expo.
Watch the 2021 Lucas Oil Chili Bowl Nationals January 11-16 LIVE on FloRacing.