2021 Lucas Oil Tulsa Shootout
Quadruple Duty: The Tulsa Shootout Phenomenon
Quadruple Duty: The Tulsa Shootout Phenomenon
Making one feature at the Tulsa Shootout is impressive enough. Four features, though? That's historic.
Dec 3, 2020
by FloRacing Staff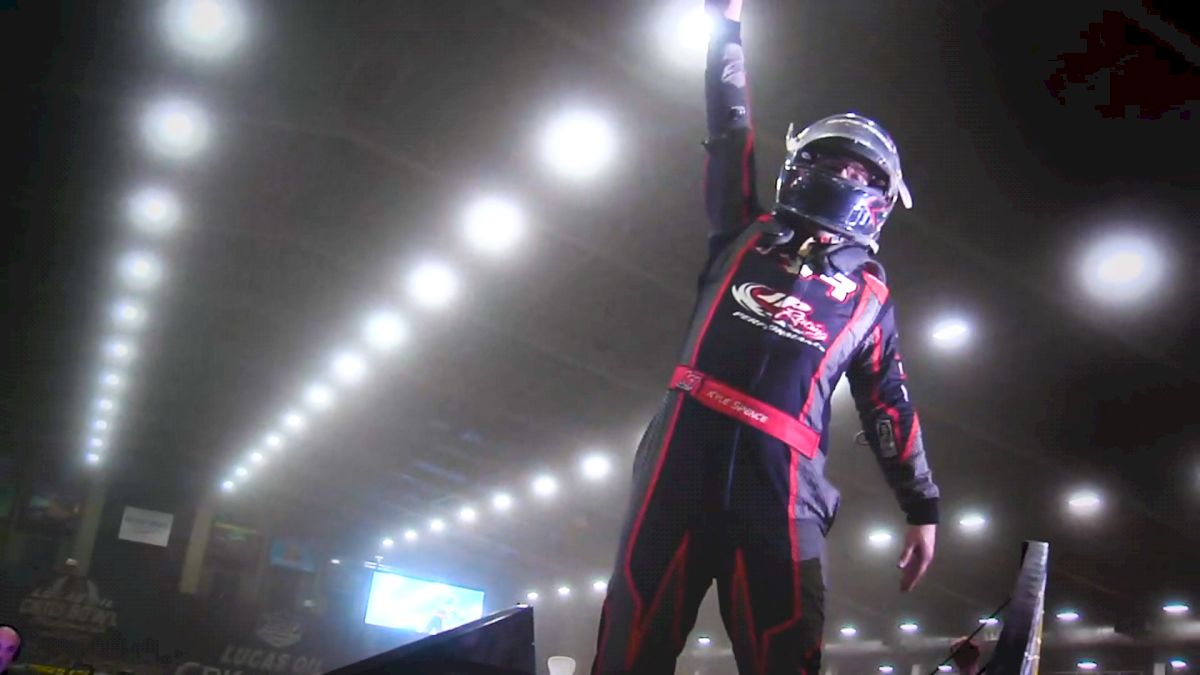 Making one feature at the Tulsa Shootout is impressive enough. Four features, though? That's historic.
Since the addition of the Outlaw Non-Wing division in 2011, the famed quadruple duty has evolved into a statistical rarity at the Mecca of Micros.
The Shootout is headlined by four premier classes: Winged Outlaw, Outlaw Non-Wing, A-Class, and Stock Non-Wing. Whereas 300+ entries at the Chili Bowl Midget Nationals vie for only one title, at the Shootout drivers can have one, two, three, four or more chances at fulfilling their Golden Driller dreams against more than 1,000+ competitors from coast-to-coast. Watch the Tulsa Shootout LIVE on FloRacing Dec. 30, 2020 - Jan. 2, 2021.
In the ten years this accomplishment has been possible, hundreds upon hundreds of racers have attempted to do the four-by-four. However, only 11 of the most elite micro sprint icons have actually completed the task.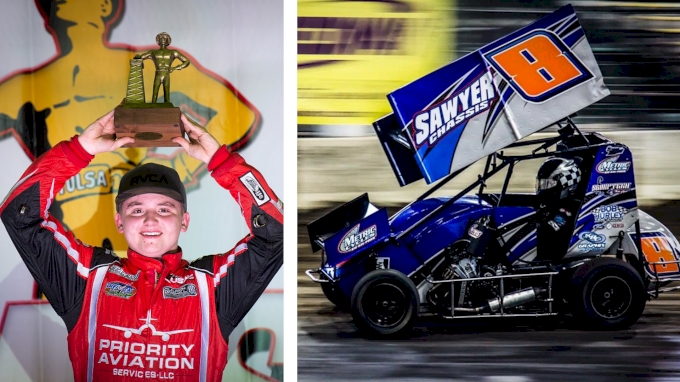 Wise and Andrews are the only two to ever start all four Stock/Outlaw features on two different occasions. (Mike Spivey Photo)
It's a who's who of micro sprint racing: Chris Andrews, Christopher Bell, Cole Bodine, Tyler Courtney, Frank Flud, Jake Hagopian, Nate Lauderbaugh, Jason McDougal, Kyle Spence, Tyler Walton, and Zeb Wise.
You want to get even more exclusive? Only two of those 11 men have ever done it twice: Andrews and Wise.
Within that group are a handful of some of the best performances in Tulsa Shootout history. In fact, six of those 11 were able to capture Golden Drillers while pulling quadruple duty.
Andrews was the 2013 Outlaw Non-Wing titlist; Flud was the 2017 Stock Non-Wing king; McDougal mastered three classes in 2018, while Bell topped a wild '18 Winged Outlaw finale; Wise worked a dominant 2019 Outlaw Non-Wing feature; and Spence scored the 2020 A-Class victory.
Jason McDougal famously captured three of the four features in 2018.
Compared to contesting a preliminary night and Saturday's big dance at the Chili Bowl, quadruple duty runners at the Tulsa Shootout get no rest. It's a non-stop grind from Wednesday's opening heat races until Saturday's daunting slate of back-to-back-to-back-to-back features.
Often contested with two cars – Stock and Outlaw – quadruple duty wears you down, but also builds you up with more track time than any of your competitors. A perfect run without any need for a B-Main or Last Chance Qualifier would give you four heat races (32 total laps) and four qualifiers (40 laps) all before the features begin.
Saturday, or Driller Day, is when the real hustle begins.
In a matter of hours, these guys will race in four features at 130 total laps. There's no time to go back to your pit, adjustments are made at the top of the ramp. Teams are frantically pulling wings off, changing tires, swapping shocks, adding fuel, and so much more in the staging area while drivers get a brief moment to catch their breath and then go back to battle.
The meticulous work of watching these guys carve through traffic to gain passing points in qualifiers is one thing, but the controlled chaos that is quadruple duty come feature time is a marvel itself.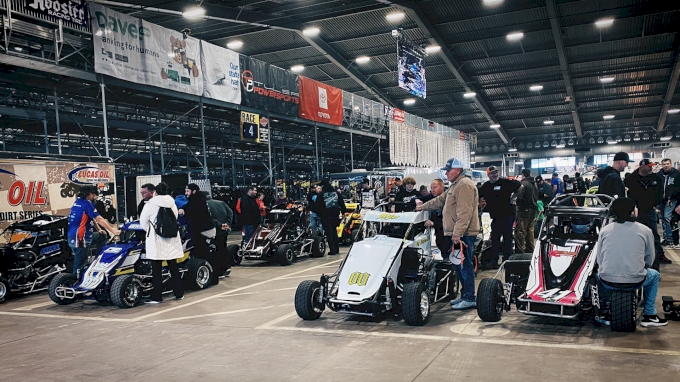 Staging AKA the top of the ramp is a hotspot for thrashing in between races.
At the moment, 78 drivers are currently signed-up for quadruple duty between Winged Outlaw, Outlaw Non-Wing, Stock Non-Wing, and A-Class at this year's 36th annual Tulsa Shootout.
The event officially begins on Wednesday, December 30 with heat races hitting the Tulsa Expo Raceway. Racing action continues on Thursday and Friday, before concluding on Saturday, January 2, 2021 with seven Golden Drillers being handed out.