2021 Lucas Oil Chili Bowl Nationals
Done Deal, Micro Racer Brian Carber Is Going To Lucas Oil Chili Bowl
Done Deal, Micro Racer Brian Carber Is Going To Lucas Oil Chili Bowl
Brian Carber turned down a ride at the Chili Bowl, but will still get the chance!
Nov 18, 2020
by Tyler Burnett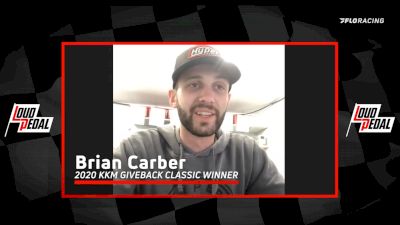 Unlock this video, live events, and more with a subscription!
Get Started
Already a subscriber? Log In
In a rare, once-in-a-lifetime opportunity, talented micro racer Brian Carber will race in the Lucas Oil Chili Bowl Nationals, after turning down a ride with Keith Kunz Motorsports post-checkers at the KKM Giveback Classic At Millbridge, a micro series event that awarded the winner either a ride at the Lucas Oil Chili Bowl or $10,000 dollars on top of the winner's sum. Carber decided the money would further his racing next season in the micros by taking the additional $10,000 dollar check.
"I never thought I was going to win, and when they asked me, I was extremely torn," Carber said. "I really did want to drive it (KKM's Lucas Oil Chili Bowl ride), but I'm not the type of person to go and put myself in a position to fail. I don't like to lose."
This morning, FloRacing confirmed with Keith Kunz Racing that Carber will be in a KKM midget at the Lucas Oil Chili Bowl Nationals. The money raised via a GoFundMe that was making its rounds on Facebook, was enough to land the full-time micro racer a seat in one of the most coveted rides for the past decade at the Tulsa Expo Center.
Carber is a native of Pipersville, Pennsylvania, and is part of a close-knit PA micro community that has seen a ton of talented race car drivers race at the Lucas Oil Chili Bowl Midget Nationals, including Alex Bright, who finished second in the Giveback Classic, and has been a contender for a Golden Driller for many years in Tulsa. He works at Hyper Racing, a team that has dominated in recent years during the Lucas Oil Tulsa Shootout.
"I'm usually not the type of person to accept something like this," Carber said. "But we got in contact with Keith and he gave us his support, told us to do what we can, and he just wanted to see me out there, which is cool."
Carber's brother is a front-end mechanic on the no. 9 NAPA Chevrolet in the NASCAR Cup Series, for this year's champion Chase Elliott.
In Victory Lane of the Giveback Classic, a torn Carber told Keith that it was nothing personal. When Carber turned down the ride and took the money, Kunz responded by saying, "If you change your mind, call me."
In a KKM Giveback Classic FloRacing piece from the event, Kunz said "I think whoever wins this event will be able to step in really well. That's the thing about this race, these micro guys are super talented."
Brian Carber has proven he can win at the micro level, and will get a shot in January to show the world. He has never sat in a midget car in his life, and it's safe to say, this is a once-in-a-lifetime opportunity. Watch the Lucas Oil Chili Bowl Midget Nationals on FloRacing.