2020 Intercontinental Classic at Eldora Speedway
Eldora Notes: One Bad Corner Ruins Fergy's Weekend
Eldora Notes: One Bad Corner Ruins Fergy's Weekend
The first 30 laps of Saturday's 67-lap Intercontinental Classic feature at Eldora Speedway went almost exactly as Chris Ferguson had planned.
Sep 13, 2020
by Joshua Joiner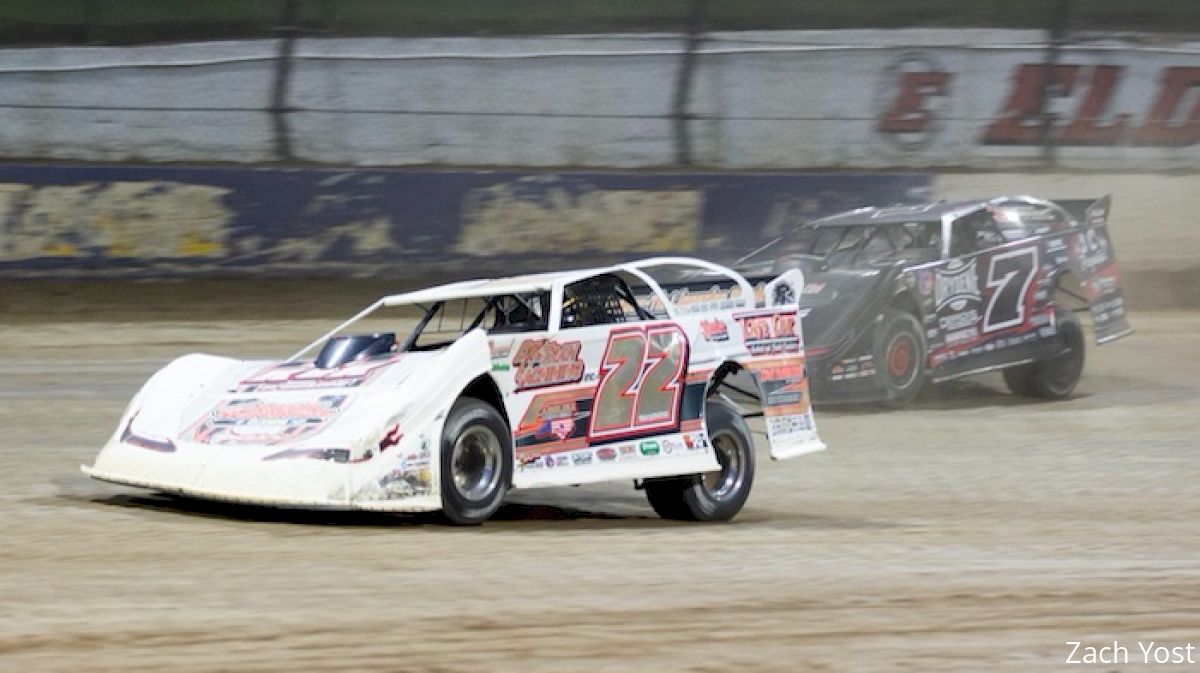 Unlock this article, live events, and more with a subscription!
Get Started
Already a subscriber? Log In
The first 30 laps of Saturday's 67-lap Intercontinental Classic feature at Eldora Speedway went almost exactly as Chris Ferguson had planned.
Starting from the pole of the 67-lap race, Ferguson, 30, of Mount Holly, N.C., kept himself within striking distance of leader Kyle Strickler of Mooresville, N.C., while taking care to save his tires and equipment. He even avoided near disaster on lap two when Strickler's aggressive bid for lead nearly caused contact between the two drivers.
But just when Ferguson was getting ready to turn up the pressure and attempt to retake the top spot from Strickler, things went off script.
View full coverage from the Eldora Intercontinental Classic Finale
Restarting second on lap 30, Ferguson saw his hopes of a long-awaited Eldora breakthrough go awry when he jumped the cushion getting into turn one and dropped all the way to 14th. Ferguson recovered to finish fifth in the 67-lap race, but settling for another top five was little consolation for a driver who had his heart set on victory.
"I was just kind of on cruise sitting pretty good there and just had one mistake on a restart. It sucks because we had one of the fastest cars on the track and didn't take advantage of it," said Ferguson, who ended his Eldora trip with a pair of top-five finishes in the three weekend features. "I was just kind of cruising them first 20 laps and I could stay within five car lengths of him not even driving hard. So I knew if I just kept my tires under me I'd be OK. I was just kind of waiting to see what happened, then that restart just killed us.
"We've got a really good piece here, especially for the long runs and it showed again tonight. It's just frustrating to not win. I don't know. I don't think I've ever been this frustrated with myself. Just disappointed."
The rally to salvage a top-five finish in the race won by Jonathan Davenport of Blairsville, Ga., after Strickler suffered a flat tire on the final lap only compounded Ferguson's frustration as he considered what might have been if the race had been the usual 100 laps instead of the 67-lap distance that was used to differentiate this year's Dream and World 100 replacement events from the traditional crown jewels that we're postponed and replaced due to coronavirus restrictions.
"We really had a fast car and was driving through the middle and passed like 10 freaking cars," Ferguson said. "If it's 100 laps I think we have enough time to get back up there, especially with what ended up happening to Strickler. I would've loved for it to have been a 100-lapper. But what can you do?"
The fifth-place result gives Ferguson three top-five finishes in the past four major events held at Eldora. It's also his seventh top-five finish in a crown jewel or national touring race going back to his fifth-place finish at Eldora's Steam Invitation in June. While he has one victory among those races, a $12,000 Lucas Oil Late Model Dirt Series triumph in July's Diamond Nationals at Lucas Oil Speedway, Ferguson is growing more and more frustrated with each near-miss.
"It's frustrating because it's not just here. The North-South, Port Royal, the Show-Me, the Stream. All those races we were right there and just needed a few moves or breaks to go our way and we could've won," Ferguson said. "It sucks because all these guys have won them big races and we're just right on the verge and haven't done it yet. We run good enough to have one of those wins or more, but we don't have nothing to show for it. It's frustrating. I mean, you have to be happy to be competitive in all those races, but we want to win one of these crown jewel races. No doubt about it."
Babb salvages solid weekend
When an opening-lap tangle with Josh Richards knocked him out of his heat race on Saturday, Shannon Babb of Moweaqua, Ill., thought his promising weekend at Eldora was heading for a disappointing end as he faced the prospect of starting from the tail of a consolation race.
But it turned out that Babb's weekend still had life when he emerged as the top driver in the weekend points tally that didn't transfer through a heat race, giving him a provisional and the 18th starting spot.
Babb made good on the opportunity, rallying to finish third. The podium result, which followed his first-ever Eldora feature win during Friday's preliminary night feature, was Babb's best finish an a major Eldora race since his runner-up finish in the 2006 World 100.
"We had every right in the world to be mad because what happened in our heat race was uncalled for," Babb said. "We kept our heads up and my crew never gave up. Everyone jumped in there and pounded it out and we got her back out there. They got it back together and we were able to capitalize on having two good nights to be able to get a provisional."
Along with saving his weekend by giving him a provisional, Babb's solid first two nights at Eldora help prove Saturday's impressive rally was no fluke. For the first time in years, the veteran Babb was back among the fastest cars all weekend in a major Eldora event, giving him hope that things are headed in the right direction for his program.
"I'm just really pleased with the outcome after all of that," Babb said. "We didn't even get a chance to work on our setup at all for the feature. We threw the same tires on it and went right back out. Put gas in it and that was it. But it was still very drivable. I had a really good car.
"I think we were good all weekend really. I feel like these (Bloomquist Race Cars) have improved a lot. I know I did and (chassis builder) Scott (Bloomquist, who finished seventh in Saturday's feature) looked like he was back to his old self. I think we are where we need to be at right now."
Feger's missed opportunity
Enjoying one of his best seasons in recent memory, Jason Feger of Bloomington, Ill., had hoped his recent success would translate to improved performance at Eldora.
It appeared as though that may be the case as he ran second behind Chris Ferguson early in his heat race on Saturday, but luck had other plans. A broken driveshaft caused Feger to retire from the 15-lap prelim after just three laps, ending his Eldora weekend.
"The slip yoke snapped. I've had it happen before, and we were on some pretty rough tracks last week and it was pretty had on it here Thursday," Feger said. "It's just one of those items that's been in there for a while and we should've changed out.
"It's frustrating because you don't get them opportunities very often. Ferguson was really good and passed me, but he's been one of the best cars here all weekend. I think we could've ran second to him in that heat, and then who knows what happens if we're in the feature. I don't know if we had a car to win, but I know we had a good car all weekend. Just sucks not to get the chance to race."
Feger, who has whose solid summer included a pair of $10,000 DIRTcar Summer Nationals wins and a $5,000 MARS win over Labor Day weekend, was looking forward to the chance to add a strong Eldora finish to his season's stats.
"This is probably the last time we'll run against the best of the best this year and it's Eldora," Feger said. "You want to run good no matter what, but we've been really good lately and been in contention in a lots of places. It's just frustrating to be running good and be at a race like this, then run good all weekend for it to end like that."
No luck for Pierce
Former World 100 winner Bobby Pierce of Oakwood, I'll., had a disappointing weekend at Eldora trip an 11th-place finish in Friday's preliminary feature making the highest point of his weekend. He failed to qualify for Thursday's race and made an early exit from Saturday's feature with mechanical problems.
"We definitely weren't the best car, but we also didn't have any luck go our way at all this weekend," Pierce, who ended up 22nd in Saturday's final rundown, said of his subpar performance. "When you're not the best car, you need at least a little bit of luck and I had no luck. At least not good luck."
The only time luck seemed to be at all in Pierce's favor was in his consolation race, when he only narrowly transferred into Saturday's feature after a late caution gave him a chance to charge into a transfer spot.
"I guess I did have a little bit of luck in that one," Pierce said. "A few guys messed up a bit and we had a caution that we really needed. I was just sitting in fifth trying to catch those last two guys and that caution really helped me out. But that was pretty much all the good luck we got."
Erb's engine hangs on
Dennis Erb Jr.'s prospects for a positive night appeared to be hanging by a thread when he arrived at his trailer after a fifth-place heat finish with his XR1 Rocket car trailing significant smoke. The machine's hood immediately was removed and Erb, his crew chief Heather Lyne and engine builder Vic Hill began working to cool down the powerplant and replenish its lost oil supply.
Hill said the main oil line on Erb's motor had come loose, draining much of its oil. He offered a "fingers crossed" signal when asked if the engine would survive in the feature, which Erb gained entry to thanks to a points provisional
Erb, 47, of Carpentersville, Ill., certainly had his motor's health on his mind when he took the green flag from the 17th starting spot.
"I mean, you just want to make sure that everything's looking good, the gauges are good, the motor's sounding good," Erb said. "As long as everything was going good there, we just kept marching forward."
Indeed he did, chugging along the inside lane to crack the top 10 on lap 17 and reach fifth on lap 62. He didn't have quite enough speed to drive all the way to the front, but claimed a fourth-place finish after gaining one spot on the final lap when leader Kyle Strickler slowed with a blown right-rear tire.
"Our car was working pretty good," said Erb, who registered his first top-five finish in a marquee Eldora event finale since 2016 when he won the Dream and finished second in the World 100. "It worked good last night and fired off really good. It got a little loose at the end, but we was able to get up in there and make a run at it." — Kevin Kovac
Odds and ends
Two drivers recorded top-five finishes in Eldora's Stream Invitational and Intercontinental Classic finales: Tim McCreadie of Watertown, N.Y. (first, second) and Chris Ferguson of Mount Holly, N.C. (fifth in both races). … Scott Bloomquist of Mooresburg, Tenn., who didn't qualify for all three Stream weekend features and missed Thursday's Intercontinental opener as well after struggling with a battery issue, salvaged his trip with a seventh-place finish after starting 19th. He briefly snuck into fifth following the final restart on lap 59 but couldn't stay there; he said he needed a long green-flag run to get going. … Pre-race favorite Brandon Overton of Evans, Ga., appeared to be in position to make a second-half run at the $50,000 prize when he moved his David Wells-owned car into fifth place on lap 33, but fell out of the top five following a lap-36 restart and ultimately faded to finish 12th. … Brandon Sheppard of New Berlin, Ill., had fallen from the back end of the top 10 to 16th when he slowed on lap 29 with a blown right-rear tire. He barely made it back out for the restart — his crew changed the left-rear tire as well because it had a chunk missing from its tread — and managed to rally for a 10th-place finish. … Kent Robinson of Bloomington, Ind., was on the verge of breaking into the top 10 from his 20th starting spot when he broke an engine on lap 59. He speculated afterward that his season might be over because of the powerplant loss. … Jimmy Owens of Newport, Tenn., was the first retiree from the feature, pulling off on lap six with apparent engine trouble. It was a rough weekend for Owens, who parked his primary car after finishing second in a Thursday heat and discovering motor maladies and had to change the engine in his second machine following more problems in Friday's 30-lapper. He absorbed DNFs in five of the six features contested this season at Eldora. … Veteran Jerry Bowersock of Wapakoneta, Ohio, accepted a last-minute invitation to join the Intercontinental Classic field and made the most of it, rallying from a last-row heat starting spot on Saturday to transfer through a B-main and finish 15th in the headliner.