Unlock this article, live events, and more with a subscription!
Get Started
Already a subscriber? Log In
NEW RICHMOND, Wis. (Aug. 8) — Brandon Overton was the winner of Saturday night's 33rd annual USA Nationals at Cedar Lake Speedway. Tyler Erb, though, made himself the story of the crown jewel World of Outlaws Morton Buildings Late Model Series event.
With an over-the-top reaction to a late-race scrape with Bobby Pierce that sent him spinning out of fifth place, Erb single-handedly brought a temporary halt to the 100-lap feature, triggered a frenzy in the grandstands and pit area and earned himself an immediate disqualification from the race and likely more serious repercussions with the WoO and DIRTcar organizations.
What Erb, 23, of New Waverly, Texas, did after his tangle with his fellow 23-year-old driver from Oakwood, Ill. — using his car to angrily retaliate against Pierce multiple times on the track, driving away from the scene when both Pierce's father, Bob, and WoO technical director Kenney Kenneda were leaning into his cockpit trying stop him from further movement and causing the series official to go tumbling onto the ground — shocked everyone watching the race and set social media ablaze. It also contributed to an early end to the feature for Pierce, who was black-flagged and sent to the pits because his father's participation in the incident violated the track rule prohibiting team members from going onto the racetrack.
But while the Lucas Oil Late Model Dirt Series regular offered some contrite post-race words, he directed none toward the subject of his ire.
"I do need to apologize to Kenny and Cedar Lake Speedway and all the fans because they got to see an ugly side of racing," Erb said in an interview with DirtonDirt.com pit reporter Dustin Jarrett conducted outside the pit area because Erb's Best Performance Motorsports team was ordered to leave the premises. "But truth be told, we're in an open locker room, we have no privacy, and some point in time, this Bobby Pierce is gonna get his ass whupped — and I hope it's me, I really do."
For Erb, his attack on Pierce was the culmination of repeated encounters he's experienced with Pierce in recent years that simply left him boiling over in frustration when contact from Pierce caused him to spin from contention on lap 85 of Saturday's A-main. He seemed to understand that his actions would be perceived as going too far, but he remained defiant in defending how he handled the situation.
Erb pinned the blame for his twirl squarely on Pierce, who was attempting to crack the top five after starting at the back of the 28-car field — he forfeited his scheduled 22nd-place starting spot because he reported late to the staging area before the race — when he clipped the rearend of Erb's car entering turn three.
"We fired off and the car was really good," said Erb, who started seventh. "I had the bottom (lane) and I feel like I was running the best race I possibly could. On that one restart (Rick) Eckert got by me (for third), but I raced with Billy Moyer (for fourth) for 35 laps, left him a lane every single lap, never touched him — and me and him have had run-ins in the past. That's the type of respect that we all have. We all respect our equipment. I've worked on this thing. I've changed the gears. I've f——— done everything on this thing, and that's the problem.
"So when I was trying to work Billy, trying to work Billy, trying not to crash him but still maintain my line, I got punted in the ass once (by Pierce) and I was like, 'Man, maybe I need to speed up here a little bit,' so I started speeding up. (Then) I come off of (turn) two (on lap 85), and I mean, this son of a bitch was in the chip when he spun me out … which is fine and dandy."
Pierce later disputed Erb's version of the precipitating tangle.
"It started I-don't-know-how-many laps before it happened," Pierce said while standing in the pit area in street clothes long after he was scored as the 17th-place finisher and the initially raucous crowd of fans had largely dissipated. "I let him know I was there. He kept using up the whole racetrack, so I gave him a bump, just to let him know I was there, gave him another one, and that (contact that resulted in Erb spinning) was like the third or fourth one and that was the lightest one of all of 'em.
"He still wouldn't give me a lane, and somehow he spun out. I don't know how he spun out. It really was not that much. I was just trying to get him to move out of my lane. He kept using the whole racetrack, which is fine, but that's why I gave him a bump 10 laps before that.
"Nothing was intentional. Like I said, I don't even know how he spun out but he did, and when he did I knew, just the way his brain works, he was gonna retaliate," he added. "I mean, I shouldn't expect anything — racing is racing, but I shouldn't have to expect anything — but I didn't know it was quite gonna be that much."
During the ensuing caution period, Erb drove up through the pack with fire in his eyes as he searched for Pierce.
"I had two thoughts who it might be (the driver who hit him), and I saw on the board it was Bobby so I just …" Erb said, his voice trailing off for a moment. "You know, racing's a very humbling, honest sport, and at that point in the night he took away the chance for me to make any money, so the only intention I had out there was to stop Bobby on the racetrack so he couldn't finish the race and be the one mother f—— that's gonna whup his ass.
"Because (Tim) McCreadie's tried to crash him, a million people have tried to crash him (in retaliation). The problem is, they're so f—— stupid that they don't make this mother f—— get out there and work on that thing or go build a clip or f—— go get a job and pay for any of this s—. And that's the worst part about the whole deal."
Erb found Pierce between turns one and two and directed his car at Pierce's No. 32.
"I got him in the left rear and I'm like, 'Damn, I hope he gets a flat,' and he rolled right past me," Erb said. "I'm telling you, that thing's a tank. That's one thing I'll give Bob (the elder Pierce) — I have nothing against Bob and anybody on his crew. I mean, hat's off to his crew guys because they work harder than anybody in the f—— pits. They have to to keep up with that mother f——."
Erb chased after Pierce into turn two, where he made another attempt to hit the Midwesterner but ended up spinning around himself. Then Pierce sped up to escape Erb and drove past the entire field — only to encounter Erb once again when he reached turns one and two. Erb had driven the opposite direction around the track and inched toward Pierce until the two young drivers came to a stop nose-to-nose as the rest of the field scattered to avoid them.
"My main thing was I was trying to stop him," Erb said. "When we rolled to a stop I was trying to get just enough to where he couldn't back up, couldn't do nothing. I shut my motor off and and I said, 'Hey, get out. Get out of the car. It's time. You need to get out of this car right now,' and he wouldn't do it."
Refiring his car, Erb stepped on the gas and drove up onto the nose of Pierce's machine. He did it twice, pushing Pierce backwards in the process. When Erb came off Pierce's hood the second time he was greeted by the elder Pierce, who had run onto the track and grabbed at Erb in the cockpit in an effort to stop him from continuing to ram his son. Also on the scene was Kenneda, who tried to restrain Bob Pierce while also reaching into Erb's car to hit its kill switch.
"Anything after that, they (series officials) told me on the Raceceiver (one-way radio), 'Get off, get off,' so I was trying to get off the racetrack," Erb said.
When Erb stepped on the gas, however, both Pierce and Kenneda still had their arms in his cockpit. Pierce was able to yank his arm out when he felt Erb throttling up — though his left foot was run over by Erb's left-front tire and he later said it was swollen and sore as a result — but Kenneda couldn't quite entirely remove his in time. Kenneda was sent sprawling onto the ground near the inside berm between turns one and two but fortunately didn't suffer injuries more severe than a nasty cut on his left thumb, some lacerations under his right shoulder and a bump on the head.
Erb drove off and pulled his car into the middle of the infield, where he stopped and climbed out. Soon both Kenneda and WoO director Casey Shuman reached him and heated words were exchanged.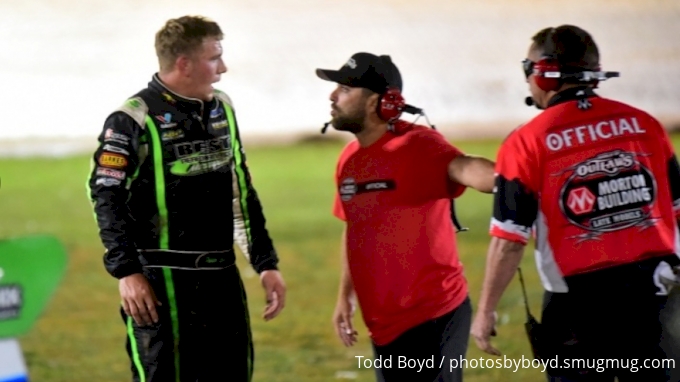 "I'm basically telling him to get out of here — he needs to go load his stuff up and go home," Shuman said of his interaction with Erb. "I don't want to hear any of his excuses or anything that he was trying to say at the time. He was gonna go drive the thing back to the trailer and I just took his steering wheel and walked off with it because he wasn't getting in that car again.
"I said they can tow it back, but he ain't driving that thing anymore. It didn't matter what he had to say. He had to get his stuff and he needed to leave."
A wrecker did indeed hook up to Erb's car and hauled it back to the pit area. Erb sat angrily on the back of the tow truck as it passed in front of the homestretch grandstand, which lit up with a loud roar that seemed largely negative towards him. Shuman also rode back to the pit area and directed track security officials to restrain the crowd that began gathering around Erb's trailer so the Randall Edwards-led team could pack up their equipment and receive an escort off the grounds. The Best Performance hauler departed with catcalls directed toward it by fans.
Pierce, meanwhile, was inundated by a swarm of fans after the race ended and the pit area was opened. The partisan gathering even changed, "Bobby! Bobby!" at one point while Pierce did a video interview with Jarrett.
Still calm and collected when he spoke about the incident later, Pierce could only shake his head in exasperation over the turn of events. He was very critical of Erb's reaction.
"I mean, all in all, that could've been a situation where someone was seriously hurt or killed," Pierce said. "Not just because it happened to me, but I don't want to be racing out there with someone that hasn't matured in the head enough for them to do all that.
"I think he needs, at the minimum, a ban from World Racing Group (the parent company of WoO and DIRTcar) and Cedar Lake Speedway. He's putting everyone in danger, and that's the biggest thing they try to work on is keeping everyone safe.
"I just don't think he's mature enough, and he's driving that car for that team … I mean, all his life he's drove aggressive. I've drove aggressive. But I work on my own shit and I pay for my own stuff. He don't. And so for him to do a deal like that and turn it into a demo derby … I mean, it's just ridiculous. I don't know if he thinks it's like WWE or something with race cars, but just a lot of disrespect.
"Maybe if he owned all that stuff he'd be more appreciative of it like I am," he continued. "That's what happens when you race for a team and that's what happens when your parents just have all the money in the world — I guess you never care for your stuff and never care for anybody else, and that's just the way his mind works. A guy like that doesn't need to be racing with us."
Pierce noted that Erb was involved in run-ins with several drivers over the course of the USA Nationals weekend. He conceded that he had been in some Cedar Lake scrapes himself as well — most notably contact with Ricky Weiss of Headingley, Manitoba, on the last lap of a Saturday B-main that allowed him to gain the final transfer spot — and has experienced plenty of controversial incidents during his career, but he tries to keep his composure rather than retaliate like Erb did.
"For the amount he did, you'd think I just completely ran through him, so yeah, I would have no comment if I came face-to-face with him," Pierce said. "I'm not a drama-stirrer. I don't want any of that. I just want to race and do my thing and I don't want any of that.
"I never retaliated for anything in how long. I've matured. Simple thing like that. As much as he did, you'd think I just went over there and flipped him over like he did to Gordy (Gundaker, who rolled in a Friday heat after contact from Erb for which Gundaker later absolved Erb of blame) or just completely spun him out bluntly like he did to (Ryan) Gustin (in a Thursday heat). He runs over everyone, and I know people will say that about me sometimes, but, like, it's just different. For someone to retaliate like that when they get it back … and I didn't do it intentionally. It was just a racing deal. Like it's a love tap, it's a bump to let you know I'm there.
"At the end of the day, it kind of sucks for all of us.," he added. "He spun me out at (Indiana's) Plymouth (Speedway at the start of July 14's DIRTcar Summer Nationals event), so I didn't feel about (Saturday's incident), but it wasn't intentional."
In Erb's mind, Pierce's hit was anything but unintentional.
"At the f—— Stream (at Eldora Speedway in Rossburg, Ohio, on June 6), he f—— doored me," Erb said, continuing to punctuate his comments with expletives. "Last year at the World he run into me. So it's been a long time coming and building up. I hate that it went down that way. I am. I'm truly sorry to Kenny Kenneda … I'm gonna call him on the way home, and Shuman and all the World of Outlaws, because that's not how their series operates. I know the code of conduct. I do. 100 percent.
I mean, if the Outlaws bans me I understand, and I am sorry for Kenny. But where Kenny made a mistake is he let that old man run on the racetrack, gonna whup my ass and this and that. And you could hear it plain as day — anybody around (at the scene) will tell you — I told Bobby, 'Get out of the car. It's time for you to get out of the car. We're putting on a show for the fans. You want to crash me and put on a show?' I was gonna put on a show. I was gonna whup his f—— ass up and down that racetrack. I'll do it here, do it at a truck stop, anywhere he wants to do it.
"So I'm glad that they escorted him off the track too because that's what he needed to happen. They took my steering wheel away … I'm telling you, that guy was not gonna win that race. There was no chance in hell he was gonna win that race … I had one intention, and that was to f— up Bobby.
"And until he gets it through his head that you can not run into mother f—— like that, he's gonna have an issue for the rest of his life," he added. "Because any race that he's in, that I'm in, and this mother f——— is close to me, he will not win the race. From here on out."
Calling his future shot with Pierce might not help Erb's case as he faces sanctions from at least the WoO and DIRTcar, but the aggressive driver and loud personality pulled no punches.
"I woke up this morning and this was not what I envisioned," Erb said. "It just sucks. I feel like I've been running the smartest races I could possibly run, and this isn't the type of s— … I feel like as I've matured and I've gotten to be a better racer and everything like that, and it just sucks that you race with a guy like that that he can't even tell you what gear's in his car. And it's upsetting. You can ask any racer here — the fans, some are mad, some love you, some hate you, (but) I guess that's the shit that's Scott (Bloomquist) has been talking about his whole life.
"Anybody who's here that thinks less of me, that's fine. In time they'll all understand. This is my passion, this is what I love to do, this is how I make a living, and so when a guy messes with your livelihood, you can can only do what you feel right, and that's I felt was right at the time."
Erb's actions will cost him, though. As Shuman related, Erb's full disqualification from the race won't be his only penalty.
"Everyone will find out Monday, but there's more to come, yes," Shuman said, referring to an expected announcement of suspensions and fines that will be levied on Erb. "I tell everyone, there's people that come up nightly that have an issue or are upset about something. This is a very emotional sport and I understand that. I mean, I did it for a very long time (as an open-wheel racer) and I've been that guy, but that's just over the top and it's not gonna be tolerated."