2020 Southern Nationals at I-75 Raceway
Lucrative Races Thriving With East Tennessee Co-Op
Lucrative Races Thriving With East Tennessee Co-Op
East Tennessee has long been a hotbed for Late Model racing, with standout drivers and events hailing from that region of the Volunteer State.
Jul 14, 2020
by Robert Holman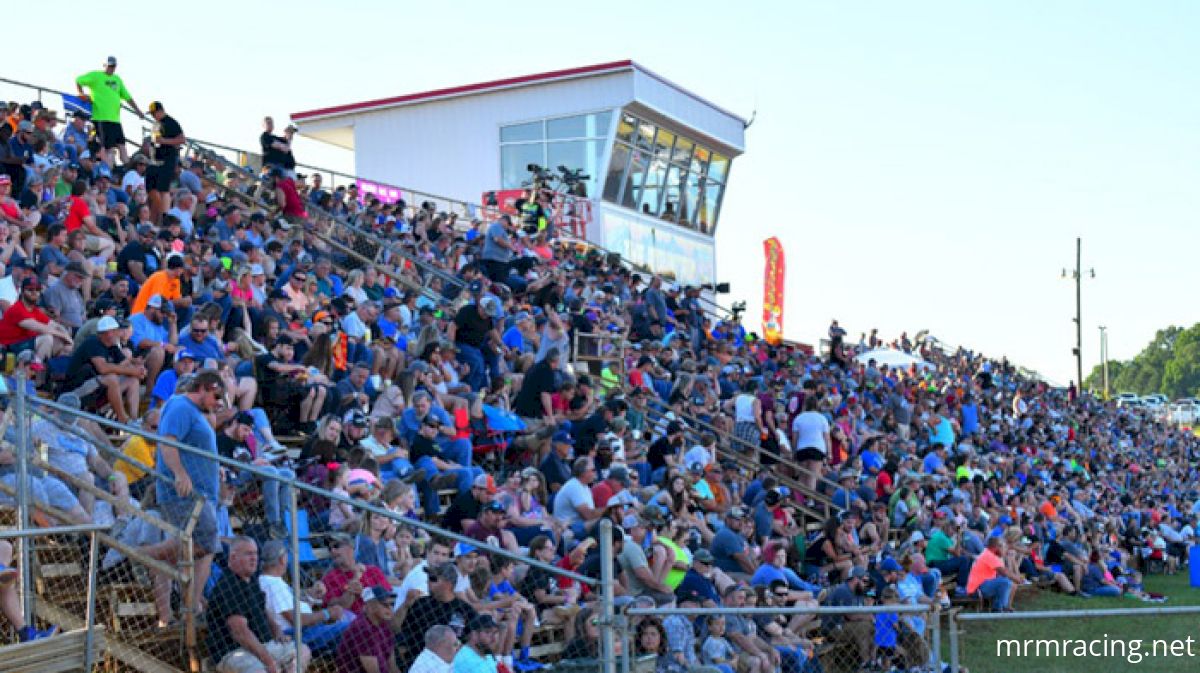 There's gold in them thar hills.
When Mark Twain's character Col. Mulberry Sellers muttered that phrase in the 1892 novel "The American Claimant," it was thought that Twain himself had originally heard a similar description of the hills of North Georgia near the end of the state's gold rush.
As timeless as the phrase has become, there's no way for Twain to have known it would also be an apt description for Late Model racing in the hills of East Tennessee more than 125 years later. But so it is.
East Tennessee has long been a hotbed for Late Model racing, with both high-profile events and standout drivers hailing from that region of the Volunteer State. But this season — in part thanks to a slew of rescheduled events in reaction to the Covid-19 pandemic as well as mutual cooperation between four tracks — drivers in that corner of the state are getting a chance to compete for purses featuring a five-figure winner's share nearly twice a month.
Since March 7, there have been eight events in East Tennessee paying at least $10,000-to-win. Promoters at Seymour's 411 Motor Speedway, Maryville's Smoky Mountain Speedway, Bulls Gap's Volunteer Speedway and Tazewell Speedway have joined forces. The result is a tantalizing special event slate providing area racers plenty of incentive to stick close to home.
"It's really like it was back in the day," said Dale McDowell, one of 35 drivers competing in Friday's $10,053-to-win Schaeffer's Southern Nationals Series race at Smoky Mountain. "That's one thing that actually hurt me when I was younger and I needed to get out traveling, is we had so many successful good racetracks in the area that there was big races all the time.
"At one point in time, (Volunteer Speedway in) Bulls Gap had one $10,000 (-to-win Late Model race) a month on their schedule and I think it was non-sanctioned. It was just their race, one $10,000 a month. But the stands were packed out all the time and it was actually feasible for them to do something like that."
The unusual circumstances of 2020 — many other states have had more restrictions on track openings or crowd sizes — have provided Tennessee promoters a perfect storm and they've done their best to take advantage. Almost a week to the day after the $12,000-to-win World of Outlaws Morton Buildings Late Model Series event at Smoky Mountain on March 7, America was thrust into a nationwide shutdown because of the coronavirus pandemic. By the time things began to slowly reopen and 411 Motor Speedway hosted a $10,052-to-win Schaeffer's Iron-Man Series event on May 25, drivers and fans alike were clamoring to attend a race.
"Obviously I think the race schedule has been altered from everything that's gone on this year, so the tracks have actually had good turnouts, you know, when they've done these events," McDowell said. "Everybody's kind of scheduled everything in and really, it makes a difference. Normally there's not as many. But with everything that's been going on, race fans have really supported it and all these racetracks have done well with the events they've had."
Among the March World of Outlaws race and Memorial Day's Iron-Man race, there was a $10,000-to-win Iron-Man-Southern Nationals co-sanctioned event at Tazewell on May 30. Then there were four in June: a $15,000-to-win Lucas Oil Late Model Dirt Series event at Smoky Mountain; a pair of $10,000-to-win World of Outlaws races at Volunteer; and a $12,000-to-win Lucas Oil Series race at 411.
It's almost made it impossible for racers in the area to consider driving anywhere else.
"We always like to chase points to prove to yourself that you can win and can do it and can run a whole deal," said Cory Hedgecock of Loudon, Tenn. "But it's really hard to do so when you're gonna drive by a $10,000 (to-win) tonight to go to Florence. You know (Smoky Mountain) is 30 minutes from my house and Florence is three or four hours. And it's constant (in East Tennessee) and we've got all three race cars, Crates, Limiteds and Supers. Every weekend we can run for some good money around here and we just don't have to travel."
The Schaeffer's Southern Nationals Series opening weekend doubleheader provided drivers two more shots at a five-figure win. Even considering Saturday's race at Wythe Raceway in Rural Retreat, Va., was 200 miles from Smoky Mountain, the sprawling half-mile 60 miles across the Tennessee-Virginia border was plenty close enough to be lumped with the rest of the big money races in the area. And while the Ray Cook-promoted series will dip into Georgia for four events July 16-19, the tour returns to East Tennessee to close out the series July 24 at 411 and July 25 at Tazewell, with both races paying $10,053-to-win.
It's enough to keep teams like Shane McDowell Racing home. Shane — Dale McDowell's younger brother — co-owns the team with his wife Sara. While Shane serves as his older brother's crew chief, he's also the team's chief bean counter. While they plan to skip the lesser-paying midweek Southern Nationals events, they also plan to forego a trip to Nebraska's I-80 Speedway for the Lucas Oil-sanctioned Silver Dollar Nationals in order to stay closer to home and compete at 411 and Tazewell on July 24-25.
"I've said before that we are very fortunate," Shane McDowell said. "We'd like to be at I-80 (for the Lucas Oil Series events on July 23-25). We think we can compete with those guys, but we've got $10,000-to-win races at 411 and Tazewell that weekend. When we go on trips like that, we like to be able to make a circle, (hitting) other events on the way or on the way back home."
Dale McDowell, who lives 165 miles away from his brother's Mooresburg, Tenn., shop in Chickamauga, Ga., just across the state line from Chattanooga, said he understands his brother's process of deciding where and when they will race.
"Obviously it's expensive to travel, so Shane will look at it from a car owner's standpoint and see how much a mile it costs to run up and down the road and how long we're gonna be gone and things like that," the Hall of Fame driver said. "So, it's good. It's good for us to be able to run some of these races and not have to travel, although I enjoy (traveling occasionally). I hate we're missing some of the other races that we're gonna be missing, but it's just hard ... especially in our situation, it's just hard to drive by something that's right there within a couple hour radius and go somewhere that's way off."
Along with all the five-figure events, there are a number of $5,000-to-win shows on the calendar as well. The World of Outlaws are set to return to the area with a $10,000-to-win race at 411 on Oct. 3 and the Southern All Stars will be at Smoky Mountain on Oct. 16-17 for a $3,000 opener and a $7,000-to-win finale.
Toss in the $5,000-to-win events that dot the slate from mid-August through November — as well as the recently announced $15,000-to-win Crate Late Model race at Volunteer on Nov. 14 — and it's easy to see why Late Model racing is thriving in the region.
"There's no doubt in my mind — and I full-fledged (believe) this and I think most people would agree with this — it is the hardest to win a Late Model race in East Tennessee. And I strongly believe that," Hedgecock said. "Now I'm not saying that it's maybe not harder to go to Florida and outrun Kyle Bronson, but there's just the one Kyle Bronson. Here you have to outrun Dale (McDowell), you have to outrun Brandon Overton, you know, all the people that are just consistently good and fast.
"There's just more of those fast guys in East Tennessee, so you've gotta race more of them. I think it's really hard and I think it makes us a better racer. We want to get out and run more races, but it's kind of a screwed up year. We're just trying to get back up on our feet and win some money."
Dale McDowell said the opportunities are there because the promoters are looking at the big picture.
"One thing that I applaud the promoters for doing is that all these guys are working together," Dale said. "Roger (Sellers) and the guys (at Smoky Mountain) are working with Bulls Gap and Tazewell and 411. So if you take Smoky Mountain, Mitch McCarter at 411, Landon (Stallard) at Bulls Gap and Gary (Hall) and them at Tazewell, if they're working together somewhat when they have specials ... I don't think they're staying completely off of each other, but on their specials they're kinda rotating around, which I think the sport has needed.
"I tried to do that when I was affiliated with Boyd's (Speedway) down there (in Ringgold, Ga.), but just really couldn't get the guys to work together like that. They always wanted to compete and I think that's hurt the crowd a little bit. Now when they do these, that's a big part of their success with having these, is because if they have a big Late Model race at Tazewell, then these other three tracks aren't going to have a big Late Model race that night.
"I think that's a key to it. It makes it convenient for us. When I was younger, man I was ready to hit the road and go, but now, if they've got something close to home, it makes it quite nice."