2020 Tri-State Speedway | USAC Sprints
The Storylines: The Showdown at Tri-State
The Storylines: The Showdown at Tri-State
Here are the storylines to keep an eye on as we get back to business this Sunday with the USAC AMSOIL National Sprint Cars at Tri-State Speedway.
Jun 13, 2020
by Richie Murray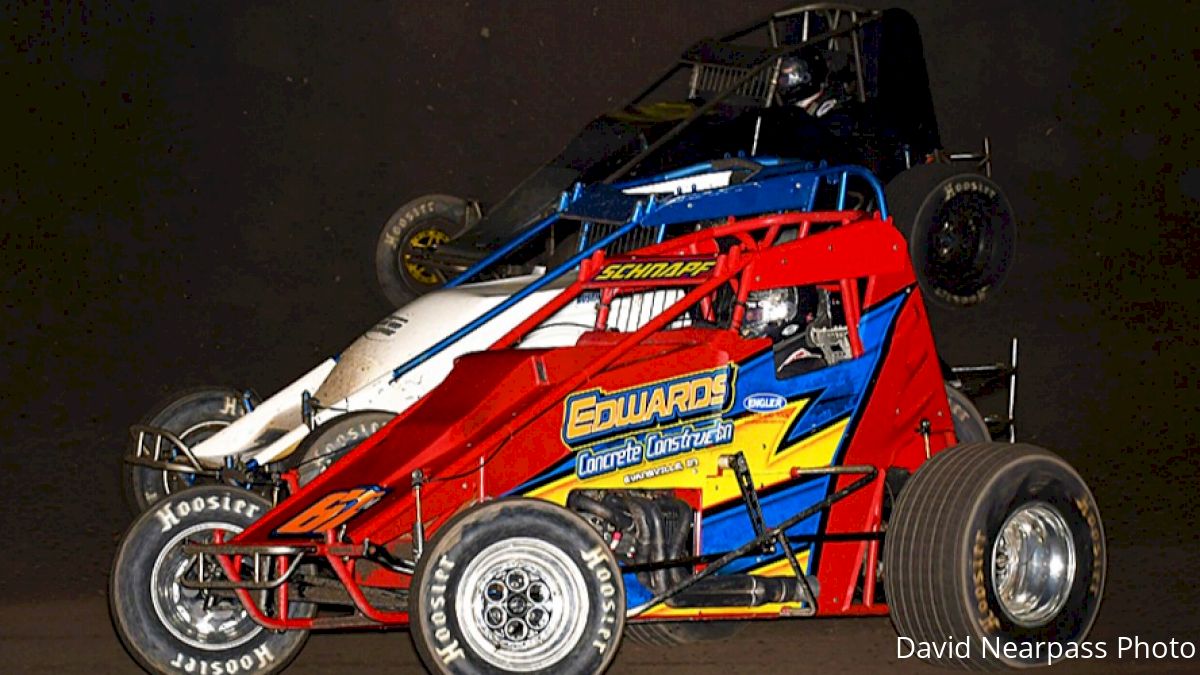 Onward to the racetrack we go once again as the USAC AMSOIL National Sprint Car season begins to get back into full swing, this time for the 44th occasion at Tri-State Speedway in Haubstadt, Ind. this Sunday, June 14, for "The Showdown," co-sanctioned by the Midwest Sprint Car Series.
Watch "The Showdown" at Tri-State for the USAC National Sprint Cars LIVE on FloRacing

CUMMINS AGAIN?
At press time, every sprint car conversation about Tri-State Speedway begins and ends with Kyle Cummins and if he can keep his incredible streak going at the quarter-mile dirt oval. Firstly, he won an incomprehensible seven-in-a-row at the track in 2019, sweeping the full slate of sprint car events at Tri-State throughout the year, including both USAC stops. No driver has ever won three-in-a-row with USAC at TSS.
Secondly, with another victory on Sunday, the Princeton, Ind. driver would equal Kevin Thomas Jr. and Daron Clayton as the winningest driver in USAC competition at TSS with five wins.
THERE'S NO DOUBTING THOMAS
Speaking of Thomas, with already five USAC wins at Tri-State to his credit, twice in 2013, one in 2017, and twice again in 2018, a win would elevate him to the sole spot atop that list. However, the Cullman, Ala. had a tough going with the USAC Sprints one year ago, missing the transfer in July and having to go through the semi to make last fall's feature, collecting finishes of 16th and 14th. Uncharacteristic, but the odds are in his favor to get back on track this coming Sunday.
GRANT EN FUEGO
Justin Grant has never won a USAC AMSOIL National Sprint Car feature at TSS, but the confidence is overflowing for the Ione, Calif. native entering Sunday's race after sweeping both USAC Sprint events last weekend at Iowa's 34 Raceway and Missouri's Federated Auto Parts Raceway at I-55, leading 59 out of a possible 60 laps in the two features. Just before that, Grant had also won the most recent USAC NOS Energy Drink National Midget feature in late May at Port City Raceway in Okla.
RUBLE UNDER THE RADAR
One driver to keep an eye on Sunday is Kendall Ruble. The Vincennes, Ind. native is a veteran of only five career USAC AMSOIL National Sprint Car starts. In 2019, Ruble was impressive in both of his USAC outings at Tri-State, finishing 8th in July and a 4th in September.
Similarly under the radar, but who made his presence felt last summer was Stephen Schnapf (Evansville, Ind.), who had his best USAC ride of his career last July at TSS, winning his heat, and led 26 of 30 laps before finishing in the runner-up spot behind Cummins.
Perhaps a new winner could emerge from here at Tri-State, a place that has produced four first-time USAC Sprint winners: Daron Clayton (2006), Hunter Schuerenberg (2008), Blake Fitzpatrick (2010) and Carson Short (2016).
TMEZ REDEMPTION
Thomas Meseraull, driving his own No. 00 in this Sunday's USAC Sprint event, might be seeking a bit of Tri-State Speedway redemption after last October's USAC NOS Energy Drink National Midget feature at TSS where he was a show. Putting on a show is standard operation for the San Jose, Calif. native, but he led three laps and was battling for the lead late when an incident ended his bid for a win and relegated him to an 8th place finish.
#30 TAKE TWO
Last weekend's USAC AMSOIL National Sprint Car return was supposed to be C.J. Leary's personal return to his family-owned No. 30. However, a fence-clearing flip a non-USAC show the night prior to the first of two USAC events mangled that machine, forcing him to find a last-minute ride in the KO Motorsports No. 5K for the weekend's USAC slate. For KO, the Greenfield, Ind. driver held serve to finish runner-up at 34 Raceway and 6th at I-55. His most recent occasions in the No. 30 at TSS resulted in a near-win in September of 2018, leading a race-high 35 of the 40 laps, and he was also victorious three times with MSCS in 2018 with the car at Tri-State, capturing the Sprint Stampede, the Hoosier Sprint Nationals and the Harvest Cup.
KNOCKING ON THE DOOR
Leary has been all but in victory lane in USAC AMSOIL National Sprint Car competition in 2020 with finishes of 3rd, 7th, 2nd and 6th in four starts. Others aiming to break through after solid finishes in recent outings are Chris Windom (Canton, Ill.), one of only two drivers to finish in the top-five in all four races along with Justin Grant. Windom, a 2017 Tri-State USAC Sprint winner, has alternated between 5th, 2nd, 5th and 2nd place finishes in the four races. Logan Seavey (Sutter, Calif.) has finishes of 7th, 3rd and 6th thus far while 2016 Tri-State USAC Sprint victor Chase Stockon from nearby Fort Branch, Ind. has been 6th, 4th and 10th thus far in 2020.
BALLOU VELVETY SMOOTH IN USAC RETURN
Robert Ballou showed very little evidence of any rust in his first USAC action of the year last weekend, one calendar year following a devastating arm injury that had sidelined him since June of 2019. The 2015 USAC AMSOIL National Sprint Car driver and owner champ from Rocklin, Calif. was 7th last Saturday at 34 Raceway and stepped it up even further to a 3rd place finish Sunday at Federated Auto Parts Raceway at I-55.
Heading into Sunday's race, Ballou is one of nine past USAC Sprint winners at TSS who are entered in the 48-car field: Brady Bacon (Broken Arrow, Okla.), Cummins, Dave Darland (Lincoln, Ind.), B. Short, C. Short, Stockon, Thomas and Windom.
A SHORT STORY
Four drivers have won consecutive USAC AMSOIL National Sprint Car features at Tri-State Speedway entering this Sunday night's race: Kruseman (2004-05), Clayton (2006-07), Thomas (2013 & 17-18) and Brady Short (2015), who also owns the 30-lap USAC track record at TSS. Carson Short (Marion, Ill.), no relation to Brady, was a TSS winner in 2016, the monumental 10,000th race in USAC's history. Neither driver has won with USAC since 2016, and both aim to change that here soon.