2020 Paragon Speedway | Indiana Midget Week
USAC Western Champs Coming to Indiana Midget Week
USAC Western Champs Coming to Indiana Midget Week
Texas-based Iron Dome-Moonshine Motorsports is bringing a pair of USAC Western champions to compete at Indiana Midget Week June 16-21.
Jun 12, 2020
by Richie Murray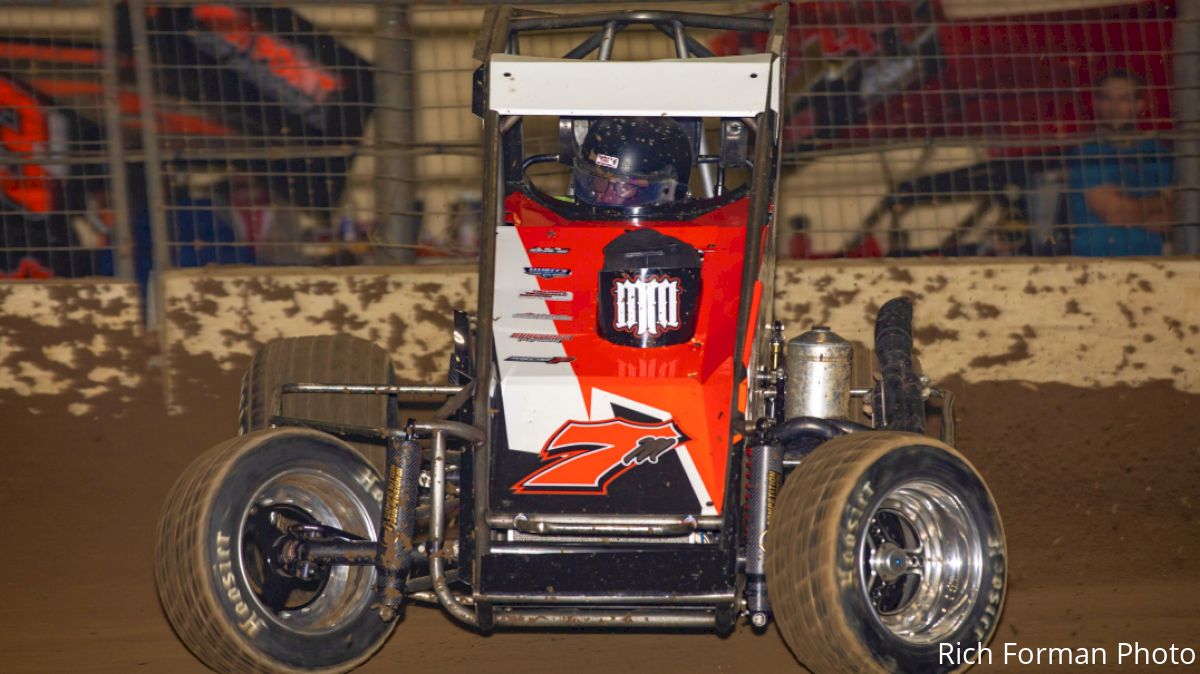 Texas-based Iron Dome-Moonshine Motorsports is bringing a pair of USAC Western driving champions in Ronnie Gardner and Brody Roa to compete in the 16th edition of Indiana Midget Week June 16-21.
Iron Dome's Kevin Ramey and Moonshine Motorsports' Taylor Courtney, identical twin brother 2018 USAC AMSOIL National Sprint Car and 2019 USAC NOS Energy Drink National Midget driving champion Tyler Courtney, will have the two standouts throughout the entirety of the week, which consist of six races in a six-night span at five different racetracks in the Hoosier state.
Garden Grove, Calif. driver Roa will pilot the team's No. 7m, a homebuilt creation affectionately known as "Dolly." This year will mark Roa's first Indiana Midget Week appearance after annually making the trek east to compete in Indiana Sprint Week nearly every year since 2014. Roa, who competed for the team at this year's Chili Bowl, possesses a 2009 USAC California Ford Focus Dirt Midget title, a 2016 USAC West Coast Sprint championship and, most recently, a 2019 champ with the USAC Southwest Sprint Cars.
Ronnie Gardner, originally from Riverside, Calif. but now residing in Brownsburg, Ind., will be competing in the team's CS9 chassis, car number 7R. Gardner drove for the same team at March's Shamrock Classic at the Southern Illinois Center in Du Quoin. He's a five-time USAC Western States Midget champion and is the only driver to win that title in five consecutive years, which he did between 2013 and 2017. His 23 career USAC Western States Midget feature wins rank 4th all-time.
"(I'm) looking forward to coming back to Indiana," Taylor Courtney stated in a Facebook post. "It's been at least seven years since I have participated in (Indiana) Midget Week. (It's the) first time fielding our own cars in these events as well. I have high hopes and am excited to see people who I used to see every day/weekend."
First up is the 3/8-mile of Paragon Speedway, located just a little less than an hour southwest of Indianapolis, which will make its debut on the Indiana Midget Week schedule by hosting its first USAC NOS Energy Drink National Midget race since 1985 and its first USAC-sanctioned race of any kind since 1998.
Following the opener at Paragon, on Wednesday, June 17, the series travels northbound to the quarter-mile Gas City I-69 Speedway, whose origins with the IMW series date to the inaugural year in 2005. Next, on Thursday, June 18 and Friday, June 19, Lincoln Park Speedway in Putnamville joins the IMW docket for the 11th straight year.
The three-eighths of a mile Lawrenceburg Speedway, which hosted the very first IMW event in 2005, serves as the penultimate race of the mini-series on Saturday, June 20. The 2020 IMW finale at Kokomo Speedway comes to the quarter mile venue on Sunday, June 21, which first hosted USAC Midget racing in USAC's inaugural season of 1956.
All six Indiana Midget Week events will also feature local sprint car racing as part of the racing festivities. All nights of the IMW, along with all USAC National events in 2020, will be live on FloRacing.
Competitor entry for all of Indiana Midget Week is now open, including for Sprint Cars as well at https://usacracing.ticketspice.com/2020-midget-week-entry-for-competitors. Fields at each venue will be capped at 48 USAC NOS Energy Drink National Midgets and 45 Sprint Cars.
Tickets are now on sale at www.usactickets.com for the June 16-21 Indiana Midget Week featuring the USAC NOS Energy Drink National Midgets. All USAC events held during June in Indiana will follow state guidelines, limiting seating capacity to 50 percent at all venues. These tickets are expected to sell fast and will only be available online at www.usactickets.com while they last.
There, you will be provided the option to upgrade to a pit pass. You will also have the option to purchase tickets for the full week of Indiana Midget Week events.
On the screen, there will also be a space to reserve children's tickets. All children's ticket prices will be based on each track's policies. Children's tickets will count toward the capacity level and we can keep track of all the numbers to stay within the 50 percent capacity guideline.
There's also an option to order an Indiana Midget Week shirt that you can pick up at one of the Indiana Midget Week events you are attending.
2020 INDIANA MIDGET WEEK SCHEDULE:
Tue., June 16: Paragon Speedway – Paragon, Indiana
Wed., June 17: Gas City I-69 Speedway – Gas City, Indiana
Thu., June 18: Lincoln Park Speedway – Putnamville, Indiana
Fri., June 19: Lincoln Park Speedway – Putnamville, Indiana
Sat., June 20: Lawrenceburg Speedway – Lawrenceburg, Indiana
Sun., June 21: Kokomo Speedway – Kokomo, Indiana