Create a free account to unlock this article!
Get Started
Already a subscriber? Log In
Anybody aiming to win a Late Model feature at 411 Motor Speedway has to outrun home-track standout Cory Hedgecock. No one could do it at Monday night's Scott Sexton Memorial.
Starting outside the front row, the Loudon, Tenn., driver led all 52 laps of the eighth annual event for a $10,052 payday on the Schaeffer's Iron-Man Late Model Series. Hedgecock fended off a brief challenge from first-time 411 visitor Colten Burdette of Parkersburg, W.Va., with a dozen laps to go and pulled away to win by nearly two seconds.
Watch the feature replay from the Scott Sexton Memorial: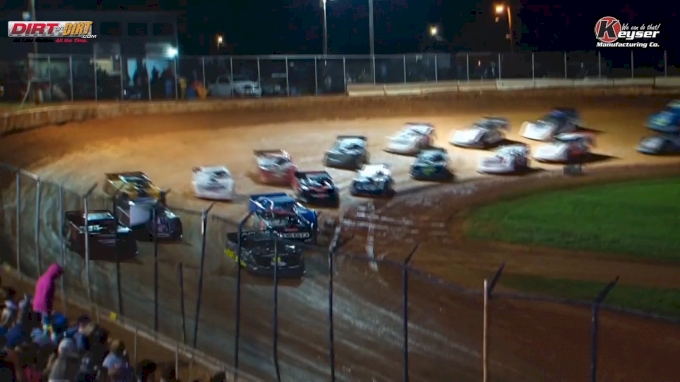 Unlock this video, live events, and more with a subscription!
Get Started
Already a subscriber? Log In
"Man, I'm tickled to death," Hedgecock said in victory lane. "This is the (richest) win of my career, so we can't wait to go somewhere next week."
The fifth-starting Burdette was second followed by polesitter Jason Hiett of Oxford, Ala., who held the second spot until Burdette took the position for good on the 34th lap. Scott James of Bright, Ind., and Kyle Hardy of Stephens City, Va., rounded out the top five in the Memorial Day event.
Hedgecock wasn't challenged in the first half of the race and his only tense moment before Burdette's charge came on the 32nd lap when Donald McIntosh slowed in front of the leaders before retiring.
Cruising mainly in the high groove, Hedgecock turned up the wick and dropped lower on the track when the inside-running Burdette closed in on the leader with about 15 laps remaining. Burdette's challenge was over almost as quickly as it began with Hedgecock pulling back out to win comfortably at the 3/8-mile oval near Knoxville.
"We were good up top and everything. Dad finally kept telling me to come down. I saw (Burdette) down there every once in a while, and knew I was in trouble for a moment," said Hedgecock, a 2018 World of Outlaws Morton Buildings Late Model Series winner at 411. "I'm glad he told me to go down and everything … the car was great and I can't thank my guys enough. An awesome race."
Burdette was glad to make a race of it, but wasn't surprised when Hedgecock lengthened his lead in the closing laps.
"I think he started getting comfortable and cruising a little bit until I got to him," Burdette said "This place has been good to my brother (K.C. Burdette) over the years, and I've never been here, and this is a pretty cool place. And an awesome crowd tonight — I think everybody's tired of this staying-at-home stuff and ready to see some racing — but we had a really good car. I can't complain. We had a bad last showing and I think we've got a rear end going out.
"I figure if we can run with Cory here, we can run with anybody, because every video I see, he's up front. So we're pretty happy with it."
Hiett held the second spot most of the race, but couldn't keep up with the leaders in the late stages.
"It's a good night. We had a little bad luck the last few weekends, but this weekend we ran second at Thunderhill (Raceway Park in Summertown, Tenn.) and then third tonight. But with these guys, this is their home track, so I think we've come three or four times here. Great race for us.
"I could keep up with Cory in the beginning, and then when the top (groove) started blowing off, I started losing some ground. (After Burdette took second), I never was as good as they was after that, on the top or bottom. Great run for us and we'll take a third and try again next time."
Hear from the top three after the $10,052 feature at 411 Motor Speedway: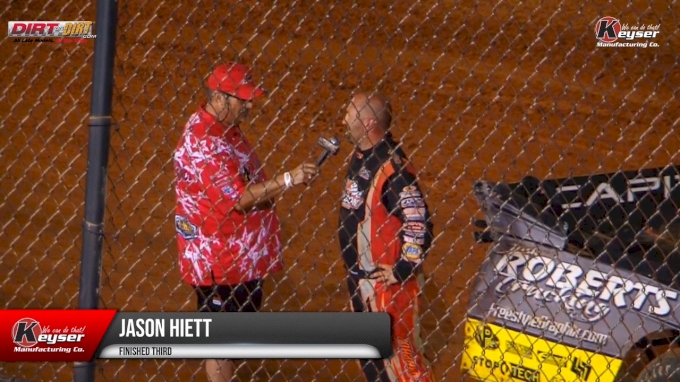 Unlock this video, live events, and more with a subscription!
Get Started
Already a subscriber? Log In
Dale McDowell of Chickamauga, Ga., the only previous Scott Sexton Memorial winner, started inside the second row but never threatened before dropping to the infield and retiring after 24 laps.
Four caution flags slowed the action, the most serious when Zack Dohm ended up facing the wrong direction in turn four after a scramble on a lap-nine restart.
Donald McIntosh slowed for a lap-32 caution, Ryan King spun in turn four while running seventh on the 18th lap while the first caution appeared when Jensen Ford slowed on the ninth lap and retired.