Brady Bacon took no chances on his cool down lap following Saturday night's USAC AMSOIL National Sprint Car Winter Dirt Games XI victory at Bubba Raceway Park.
Following a mishap during his heat race that saw him drop from a surefire win to having to transfer through the semi in order to qualify for the feature, Bacon was once again the class of the field, driving from 9th to 1st to capture his second consecutive series main event win in as many nights at the 3/8-mile D-shaped dirt track in Ocala, Fla.
All the meanwhile, the Broken Arrow, Oklahoma native was adamant to make sure a victory wasn't going to slip through his fingers twice in one night.
"We made an extra lap in the feature. I wasn't going to stop until we knew it was over," Bacon exclaimed.
Watch all the action from 2020 Winter Dirt Games | USAC National Sprint Cars!
For you see, earlier Saturday evening during his heat race, Bacon was fully in charge, dominating the preliminary event until the final lap when his car began to slow dramatically. Was something amiss mechanically with his ride, many pondered.
However, as it turned out, Bacon thought he saw the flagman waving the white. As he came around the stripe the next time, he saw another flag waving and assumed it was the checkered. As it turned out, that flag was, in fact, the white. Bacon let off the gas on the actual last lap, assuming the race was over, and dropped from 1st to 8th as his competitors drove by him to knock him out from a potential second row starting spot.
Watch the full feature from night #2: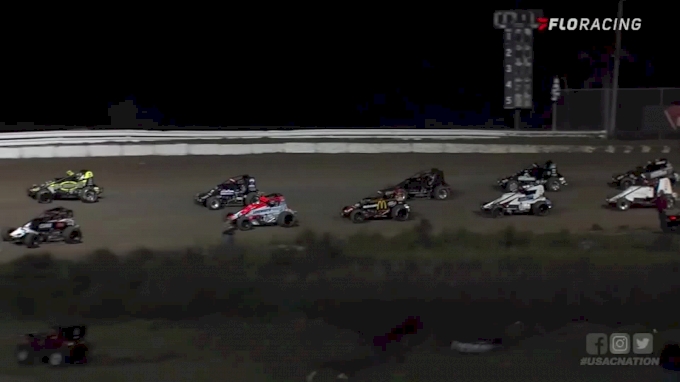 Unlock this video, live events, and more with a subscription!
Get Started
Already a subscriber? Log In
As a result, Bacon was forced to transfer through the semi-feature, which he won, then rolled off from the 9th starting spot in the 30-lap feature – the same position he started from in his victory just 24 hours prior.
On paper, Saturday's results were a carbon copy of Friday's – a mesmerizing charge to the front that began from the inside of the fifth row. However, with the way all the elements transpired for Bacon, he wouldn't have it any other way en route to his 31st career USAC National Sprint Car feature win and his fourth career Winter Dirt Games sprint car score, tying him for second with Bryan Clauson and one behind Damion Gardner.
"It might've been a blessing in disguise running that B-Main because I ran the bottom in one and two once and I thought it was really good, so I just moved off of it," Bacon explained. "I didn't want to show my hand too much and I didn't want people to see that the bottom was fast."
"It was a lot slicker in the feature," Bacon continued. "But we were able to sneak around there and get a little grip down the back straightaway when everyone else was way up by the fence. It didn't feel like it was going to work because I felt like I was going like 2 mph, but then, all of a sudden, at the end of the back straightaway, I'd be beside or ahead of them. It was a little unconventional, especially for here, but it worked."
That's just how it unfolded for Bacon in a two-lap spurt that saw him slip underneath Chris Windom for second on lap 12 in turn three, then repeated the same move the very next lap in the same spot on Chase Stockon, who had commandeered the opening 12 laps from his outside front row starting position.
Hear from the top finishers: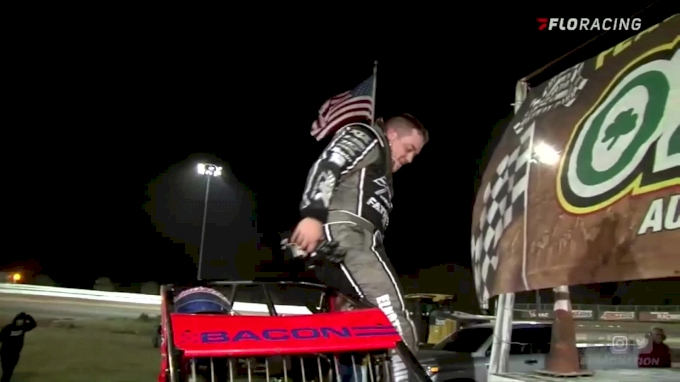 As Bacon jetted out to a 2.5 second lead in the waning laps, Windom and resurgent pole sitter Logan Seavey were involved in an intense grapple in which Seavey threw multiple sliders at Windom to no avail as Windom staved off the 2018 USAC NOS Energy Drink National Midget champ for the position.
With three laps remaining, 14th running Katlynn Leer banged her right rear tire off the outside wall and flipped wildly down the front straightaway to bring out the feature event's lone red flag and final stoppage, thus erasing Bacon's advantage and setting up a three-lap dash for the win in which the two-time series champ had one of two ways to go.
Watch all the action from 2020 Winter Dirt Games | USAC National Sprint Cars!
"I was kind of torn whether to run the top or bottom," Bacon admitted. "I knew the top was probably a little faster, but I would have left a big window open for someone to slide me, and he did. But I was able to cross him over and survive. Thankfully, we just had a really good car tonight and we're able to overcome any obstacle that was thrown at us."
Windom successfully dove to the bottom and slid by Bacon in turn one on laps 28 and 29, but Bacon lowered the boom and tucked in at the exit of turn four, taking a lower entry into the first turn on the final lap to essentially shut the door on Windom's chances for victory and finish off a three-car-length margin of victory ahead of Windom, Seavey and Stockon with Justin Grant rounding out the top-five.