It took Brady Bacon 27 starts over a span of 13 years to reach victory lane for the first time at California's Perris Auto Speedway on Thursday night.
It took just 24 hours for him to capture his second on Friday at night two of the 24th annual Budweiser Oval Nationals presented by All Coast Construction.
The Broken Arrow, Okla. native delivered again on the southern California half-mile dirt oval for the second-straight night. He became the first driver to repeat a USAC AMSOIL National Sprint Car victory on back-to-back nights since he accomplished this feat in July at Iowa's Knoxville Raceway. He's also the only driver to do so this season.
Watch Oval Nationals Live | Full Entries | Schedule | Results
Nov. 7-9 | 9am ET
The two-time USAC AMSOIL National Sprint Car champion in 2014 and 2016 had to do it in a different style with a changed racing surface from the previous night. Yet still preserved and persevered as he lead all 30 laps in the process to score his sixth series win of 2019. It was also the 29th of his career, moving him past Levi Jones and J.J. Yeley and into a tie with Robert Ballou for 13th all-time.
"Last night was more my style of track than the one tonight which was something I don't necessarily excel at," Bacon admitted. "It was really rewarding, so I believe we're prepared for whatever tomorrow night throws at us. I'm proud of my guys for working hard. We weren't very good the last time we came here last year. We put our heads together and remembered as much as we could and put it with what we learned this year and it's obviously a pretty good package."
Watch all of Friday night's action: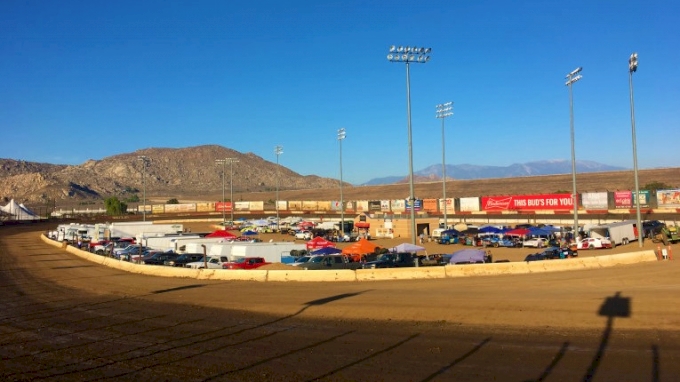 Unlock this video, live events, and more with a subscription!
Get Started
Already a subscriber? Log In
Bacon was originally slated to start 3rd on the grid, but a wild opening lap sequence would ultimately play into his favor. After the initial start was called back, the ensuing complete restart saw outside front row starter Tyler Courtney rip to the lead while pole sitter Damion Gardner slotted into second.
Exiting turn two, seven-time USAC/CRA champ Gardner ramped the K-Rail, went up to the billboards, landed on his left side wheels, then bounced backward to a stop on the back straightaway. Steve Hix clipped Gardner's front end with his right rear wheel. This brought an end to the night for Hix and forced Gardner to the work area where repairs were made before sending him back into the fray, albeit four laps down when he returned.
The outside front row spot vacated by Gardner moved Bacon to the outside of the front row. Bacon got the upper hand on Courtney on the first try before a three-car melee between turns three and four involved fast qualifier Chris Windom, National point leader C.J. Leary and Jace Vander Weerd.
Vander Weerd restarted while Leary took on new left rear rubber on his damaged mount in the work area. Windom, however, was not able to resume.
Watch Oval Nationals Live | Full Entries | Schedule | Results
Nov. 7-9 | 9am ET
The third complete restart was a charm with Grant diving to the bottom and going three-wide alongside Courtney and Bacon down the front straight with Grant poking ahead in going into turn one briefly. But Bacon blasted off the top to secure the lead exiting the second turn.
Grant was Bacon's closest pursuant throughout the 30-lap race where he maintained a presence about two ti three car lengths back of Bacon on the topside. Bacon ably pushed forward to a near one-second advantage at the halfway point with lapped traffic drawing closer.
On the 18th lap, an opportunity presented itself for Grant as Bacon installed his navigational tactics on the lapped car of Bill Rose. Bacon was briefly caught up, and while Grant was able to reel in and catch Bacon, he wasn't in the position to perform the pick and roll past both.
The track was quickening down the stretch with both Bacon and Grant reeling off their fastest laps of the race on the white flag lap. Bacon corralled the lapped car of Hunter Schuerenberg in the waning laps, but could only stay stride-for-stride with him as Schuerenberg logged his fastest laps as well. The narrow strip of rubber right through the middle proved succulent and any mistake that pushed a driver out of the groove could prove costly track position wise.
"I tried to start feeling around, but the rubber was getting so heavy," Bacon explained. "I figured if I couldn't pass a lapped car, they probably couldn't pass me, and I just tried not to slip up out of the rubber or anything. I tried entering above it and turning down to try and get a run, but it was just so narrow, you had to stay in the rubber the whole time. We took care of our tires and our car was hooked up, so I wasn't spinning (the tires). We had plenty left, which is a testament to how hard they've been working and hopefully we can continue this the rest of the year."
Watch Oval Nationals Live | Full Entries | Schedule | Results
Nov. 7-9 | 9am ET
Bacon finished it off flawlessly, leading laps one through 30 for the second night in a row en route to a 0.649 second victory over Grant, Courtney, Chase Stockon and top USAC/CRA finisher Austin Williams in fifth.
Bacon, along with Courtney, Grant, Richard Vander Weerd, C.J. Leary and Chase Stockon accumulated enough points over the first two nights to lock themselves into Saturday night's feature event where they will occupy the first three rows in the starting lineup. The lineup will be determined following the Super Six Dash.