Create a free account to unlock this article!
Get Started
Already a subscriber? Log In
Throughout the entire 2019 Super DIRTcar Series season, Mat Williamson has been one of the hottest drivers. He added a big victory to his collection in Sunday's Billy Whittaker Cars 200 at Oswego Speedway to conclude Super DIRT Week.
Watch the full replay of the Billy Whittaker Cars 200
Williamson began the race from the outside of the front row, and maintained track position throughout much of the event. Over the course of the 200 laps, the No. 88 car led the most laps (91), taking the checkered flag with a lead of 6.333 seconds ahead of second place.
"Wow, what a dream season," Williamson said post-race. "I really wanted this one. Our strategy was perfect, we got the lead and we were still there at the end."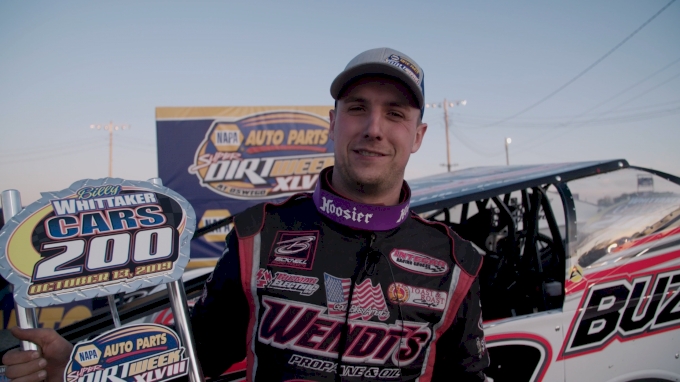 Create a free account to unlock this video!
Get Started
Already a subscriber? Log In
By winning, Williamson was awarded $50,000, joining just Stewart Friesen as the only Canadians to win the 200-lap race. Earlier this season, Williamson and the No. 88 team earned $100,000 by winning the anniversary race at Orange County Fair Speedway.
Tim Fuller, who was running fourth with less than a handful of laps remaining, took the checkered flag in second. "The Jet," Brett Hearn placed third, his best finish since the 200-lap event moved to Oswego in 2017. Ryan Goodwin and Jimmy Phelps rounded out the top five.
Despite finishing 13th, Anthony Perrego shined. The No. 18 car led 83 laps in the first half of the event, before running out of fuel on the final lap running inside the top five.
The race was caution-filled, as the yellow flag was waved 22 times. The biggest pileup came on a lap 121 incident entering turn 3 when there was roughly a 10-car pileup. Alan Johnson ended upside down, finishing the race in 32nd.
Some of the pre-race favorites failed to get good finishes, with the likes of Matt Sheppard placing 31st and Larry Wright 40th, both having separate issues throughout the event. On the flip side, Friesen won the hard charger award, moving up the scoring pylon 25 positions from the start of the race to finish sixth.
By winning, Williamson claimed his third trophy in the past month, also winning at Brewerton Speedway and Mohawk International Raceway. The series will have five nights off before heading off to Brockville, Ontario, Canada, for a race at Brockville Ontario Speedway. Erick Rudolph is the defending winner of the event, he placed 21st, the first car off the lead lap on Sunday.