For as long as 26-year-old Larry Wight of Phoenix, N.Y., can remember, this time of year — this stretch of October leading into Columbus Day — has meant one thing: attending NAPA Super Dirt Week.
Watch 2019 Super DIRT Week XLVIII LIVE!
Throughout Wight's childhood, he would usually be allowed to "take the week off from school" to attend the Super DIRT Week activities when they were held at the famed one-mile New York State Fairgrounds oval in Syracuse, N.Y. His parents, John and Laura, began sponsoring, through their Gypsum Express trucking company, drivers that competed in the DIRTcar big-block modified division's annual extravaganza in the late '90s and in the 2000s became high-profile team owners, and little Larry was always right there by their sides for the biggest event of the year.
Hear what Wight had to say after claiming the win last year: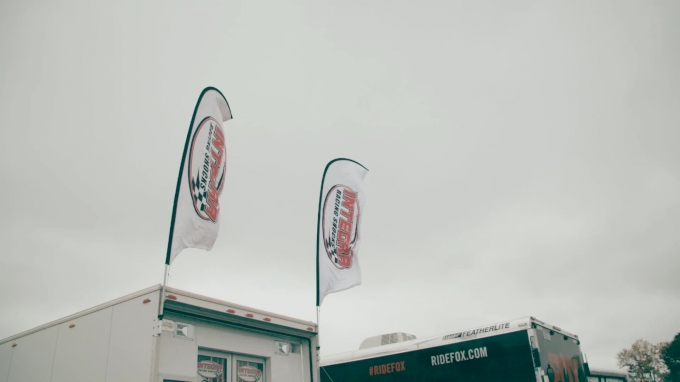 "When I got old enough I'd help out (Gypsum Racing drivers) Pat (Ward), Roger (Phelps), Billy (Decker), Ryan (Phelps)," Wight recalled of his Super DIRT Weeks past. "I helped out Vinnie Vitale one year doing radio (spotting) for him when I was 14, 15 (years old). Every year, I was there at Syracuse."
Wight even experienced the thrill of victory in the 200-lap big-block modified spectacular at the Syracuse Mile, joining his parents and Gypsum Racing team members on the winner's stage in 2005 when Decker captured the race driving for the Wights.
Those fond memories Wight made growing up at Super DIRT Week — and, beginning in 2008, competing in the Mile's big-block modified action himself after launching his own driving career as a fresh-faced teenager — added an extra layer of significance to what he accomplished one year ago. Wight joined the group of big-block modified immortals by claiming the $50,000 top prize in last year's Billy Whitaker Cars 200 at Oswego (N.Y.) Speedway, the track that took over as the home of Super DIRT Week in 2016 following the closing of the venerable Syracuse Mile.
As Wight looks to defend his victory in DIRTcar big-block modified racing's most prestigious event this week at Oswego — practice sessions on Wednesday kick off the Super DIRT Week festivities that conclude with Sunday's 48th annual Billy Whitaker Cars 200 streamed live by FloRacing.com — the joy of 2018 remains with him.
"It's definitely exciting to go back to that race after winning it," Wight said. "That whole week is when everybody really gets to come together in the modified world and show everyone what they got, whether they're from upstate New York — everybody we normally race with — or some of the Jersey and PA guys who come up."
Wight beat them all last year, combining equal parts speed and smarts to come out on top. He pitted for fuel and new tires on lap 73 of the 200-lap grind and charged back through the field to ultimately grab the lead on lap 180 from Jimmy Phelps of Baldwinsville, N.Y., and then outrun five-time event winner Stewart Friesen, a native of Niagara-on-the-Lake, Ontario, who now lives in Sprakers, N.Y., to the finish.
"We kind of ran our own strategy between the tires and the fuel," Wight said. "We knew, after about the first 50 laps of that race, we had a car that could race up through traffic, so it allowed us to pit late and race our way back up through and we took advantage of Jimmy Phelps trying to go the whole race on one tank of fuel."
Standing on the roof of his winning No. 99L — a number he took at the start of his career in recognition of the influence former New York driver Roger Phelps had on his interest in racing — with his father/car owner during last year's victory lane ceremonies at Oswego was a moment Wight will never forget. It also felt like it was a decade in the making after Wight had spent exactly 10 years chasing Super DIRT Week glory.
Watch 2019 Super DIRT Week XLVIII LIVE!
"I was in contention to win that thing a couple times at the Mile," said Wight, whose eight consecutive starts in the 200 at Syracuse from 2008 (when he was still a couple weeks from his 16th birthday) through the Finale at the Fairgrounds in '15 were highlighted by his runner-up finish in the 2013 event. "We were able to put it on the pole for qualifying the last year there (in '15) but while we were leading it (on lap 46) we ended up breaking a quick-change rearend on it (eliminating him from the race).
"I would've loved to have gotten (a 200 win) there (at Syracuse), but we're proud to get it at Oswego."
As a veteran (albeit a young one) of Super DIRT Week at both Syracuse and Oswego, Wight knows there are differences in the event between the two facilities. But while Oswego is still building toward matching the legendary Syracuse atmosphere and history, Wight asserted that the on-track competition at the Big O has already established itself as top-notch.
"It was definitely a different feeling at Syracuse because it used to be everybody partied in the infield at night after the races, but I think it's progressively getting better and better every year at Oswego," Wight commented. "They're doing a ton of work to the grounds there, to the camping areas, to make everything nicer, adding hookups and all that, and I think they're getting just as many people to bring campers (as Syracuse had).
"But the one thing that I really like there (at Oswego) is the racing itself is far better than anything at the Mile. You don't have the speeds, but rather than follow-the-leader on a rubber (grooved) track, you've got four-wide racing the whole time."
Wight is actually also part of the team that makes Oswego's multi-groove racing possible. His father's Gypsum Express trucking company works with the World Racing Group to provide equipment used in laying down the clay surface on Oswego's pavement in the weeks leading up to Super DIRT Week, and Wight was there at the track during the change-over process.
"I was running the dump truck hauling all the clay on, and bouncing from that to the payloader, dozer, whatever needed to be done," Wight said. "(Former upstate New York track promoter) Eric Kingsley, he's been up there doing all the track prep, getting it tightened up and making sure that all the soft spots out of it.
Watch 2019 Super DIRT Week XLVIII LIVE!
"Just being as big of a part of it as we are with putting the clay down and all the track prep, it definitely gives us a lot of pride over how the race has been very successful. The crowd counts have been huge, the car counts have been huge, and the racing has gotten better and better. I don't think anybody really anticipated to see a car race around Oswego right up against the wall. I mean, the place is so wide to begin with, so it really gives us five, six lanes of racing.
"Hopefully," he added, "that thing just keeps on growing and growing and stays at Oswego."
And Wight would love to become the first driver to win the Billy Whitaker 200 twice at its new home. He enters Super DIRT Week with a brand-new Bicknell Chassis car and plenty of momentum; he won track titles this season at both of the central New York tracks owned by his father — Brewerton Speedway (big-block championship) and Fulton Speedway (358-modified crown) — and on the big-block Super DIRTcar Series he owns two triumphs and sits third in the points standings.
"I don't know if we feel like we have a better shot this year," said Wight, whose busy Super DIRT Week will also include competition in Oswego's Salute to the Troops 358-Modified 150 and satellite 358-modified events at Utica-Rome Speedway in Vernon, N.Y. (Tuesday), Weedsport (N.Y.) Speedway (Wednesday) and Brewerton (Thursday) and big-block and 360 sprint car races Saturday at Fulton. "But we definitely have the confidence level because we've won the race."