2018 Super DIRTcar Series Heroes Remembered 100
Erick Rudolph Is Back With The Super DIRTcar Series—This Time To Stay
Erick Rudolph Is Back With The Super DIRTcar Series—This Time To Stay
Erick Rudolph is making his second attempt to run full-time with the Super DIRTcar Series, beginning Memorial Day at the Heroes Remembered 100.
May 24, 2018
by Clayton Johns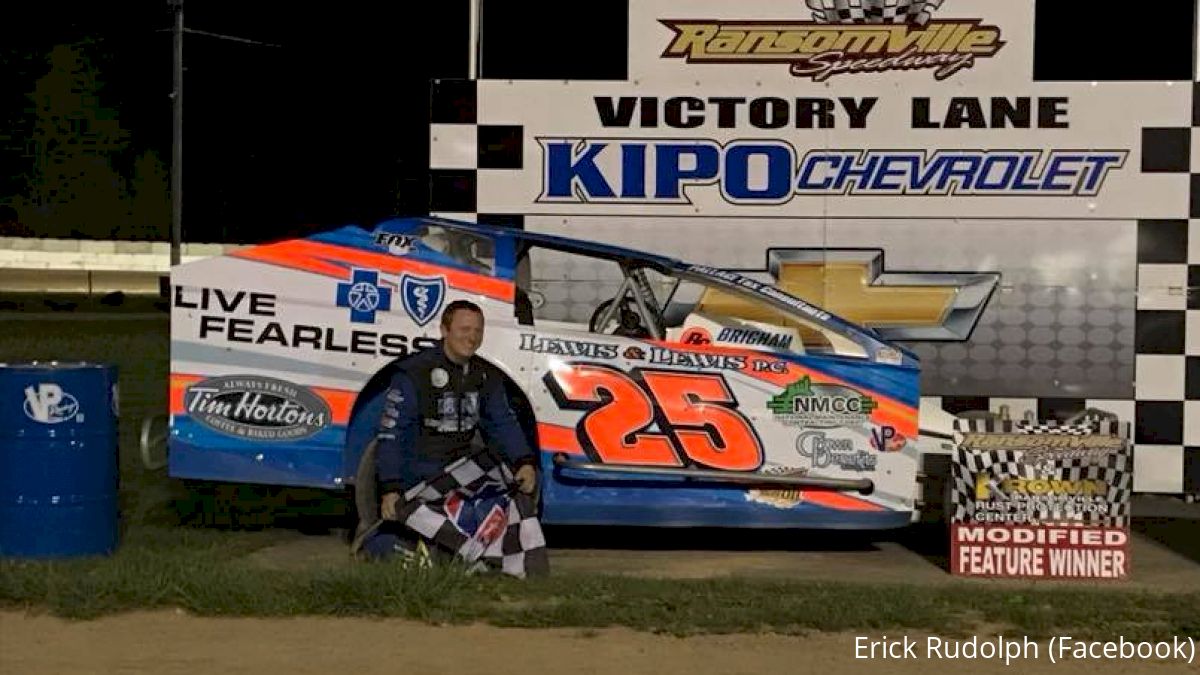 When the Super DIRTcar Series season finally gets underway on Memorial Day with the Heroes Remembered 100 at Weedsport Speedway in New York, Erick Rudolph will be in the field. And for every series race after that in 2018.
The 26-year-old native of Ransomville, NY, is making his second attempt to run full-time with the Super DIRTcar Series, which is starting a full month later than it was scheduled to after rain washed out races at Fulton and Bridgeport speedways. He last competed as a tour regular in 2014 at just 22 years old. The series' offseason decision to eliminate DIRTcar home track points as part of the championship was a big reason Rudolph decided to tackle the entire tour this year, he said.
"I don't think we'd be doing it if there was still home track points," Rudolph admitted. "The grind to run every Saturday was tough for us because you had to be there every Saturday. If you fall behind now, you can take a Saturday night off to catch up if you need to."
Monday, May 28 | 6 PM EDT
That's not to say Rudolph will be competing exclusively with the Super DIRTcar Series. It's quite the opposite, actually. Between his Big-Block and Small-Block/358 Modified action, he'll be plenty busy, said Rudolph, who finished second in Ransomville Speedway's 358 Modified standings last season.
"It's a rough schedule, but it'll be around 90 races or so," Rudolph said. "I'll be at Ransomville weekly, and then after that, it's just going to be where the schedule fits and where we decide we want to be at."
When Rudolph competed on the tour full-time in 2014, it was behind the wheel of the Mike Payne-owned No. 7z. This year, Rudolph will tackle the tour behind the wheel of his family-owned No. 25 Bicknell Chassis with Bob Bruneau Engine Research power plants under the hood and carry primary support from Opti-Coat, Blue Cross Blue Shield, and Mohawk Northeast.
Rudolph is eager to test the team he has assembled for the tour. Led by his father and crew chief Charlie Rudolph as well as Chris Murphy and Rich Chauvin, the team works together like a well-oiled machine after wrenching as a group for the past few seasons.
"This team that I have here, the guys that work with me and my father, we've been working together for that much longer so I think as a team we're more in tune as well," said Rudolph, comparing his current outfit to the 2014 group.
The team has also put a lot of work into ensuring the No. 25 is prepared for the rigors of the series and running competitively at 90 events.
"Equipment-wise, along with the cars, the engines, and our tow package, we have a good deal going here," Rudolph said. "We have the sponsor money and we're just really excited to do it and accept the challenges along the way. They have the stiffest competition there is, but I think we can do well."
Chief among that competition is defending series champion Matt Sheppard, whom Rudolph admitted he expects to be the class of the field and the single toughest challenge on the tour.
"Matt Sheppard is pretty good right now," Rudolph said. "I'm sure we're going to give him a run for his money at as many (races) as we can. I have a lot of confidence in our team. I think it's likely we can get a couple wins this year as well."
A couple of wins on the toughest Big-Block Modified tour in the country would double Rudolph's current win total with the series. His most recent win was at Brockville Ontario Speedway in October 2016, a little more than two years after his first victory came in a triumph at Quebec's Autodrome Drummond on July 22, 2014, aboard the Payne car.
So, can Rudolph get his first series win on U.S. soil this season? Rudolph doesn't like to set goals but rather take things one race at a time—literally. One qualifying session, one heat race, one redraw, and then one feature race at a time. But he certainly believes he has the tools to get it done, and he's confident in his growth both on and off the track since he last tackled the tour full-time.
"I'm a lot more experienced at different tracks and I'm probably a little bit more mature of a driver now than I might have been back then," Rudolph said. "I had some success back then too, but I think maybe my skills are a little sharper and mostly my knowledge on the cars (is better)."
That experience will come in handy throughout the season when Rudolph visits a handful of tracks he has only seen once or will be seeing for the first time.
"I always enjoy going to different races and places I haven't been before," Rudolph said. "I'm looking forward to going back up to Quebec. I haven't been there in years. Airborne (in Plattsburgh, NY) I've never been to and there's a few others I've never been to, so it's always exciting going to new places."
Rudolph is off to a strong start at the tracks he knows. He's earned a Big-Block victory at Tyler County Speedway (WV) before grabbing the win on opening night at Ransomville on May 11. It doesn't seem Rudolph will have any shortage of things to get excited about this season. Especially if he can steal a checkered flag on the tour. Or two.