By Tony Veneziano
---
Bryan Clauson once told Max McGhee that to get better in a non-wing sprint car and to progress in the sport he needed to climb aboard a winged sprint car. Over the last year or so, McGhee has been doing exactly that.
The plan for the native of Camby, IN, this season is to race with the Arctic Cat All Star Circuit of Champions. McGhee will open the 2018 season with the series at Bubba Raceway Park in Ocala, FL, on Feb. 1-3 and then compete at Volusia Speedway Park in nearby Barberville less than a week later.
"The main goal was just to get seat time," McGhee said. "It's a completely different program with the people and how things work. My goal, which I got accomplished, was to get all the seat time I could. The pay scale on the winged side is a win-win as well. I think the winged stuff is a lot more competitive, with the people you are racing against, even on a local level. It's tough to go to a track in Ohio and beat the locals."
McGhee cut his teeth racing non-wing sprint cars on the bullrings in his home state of Indiana. He is a past winner in weekly competition at Lincoln Park Speedway and Kokomo Speedway.
McGhee finished just outside of the top 10 in the USAC National Sprint Car Series standings in 2016, despite not competing in every race.
In 26 starts that year, he picked up 12 top 10 finishes, with four of those being top five showings. McGhee was fastest in time trials twice and led a handful of laps in feature racing competition. In 2017, he made just six starts with USAC as he began to focus more on winged sprint car endeavors.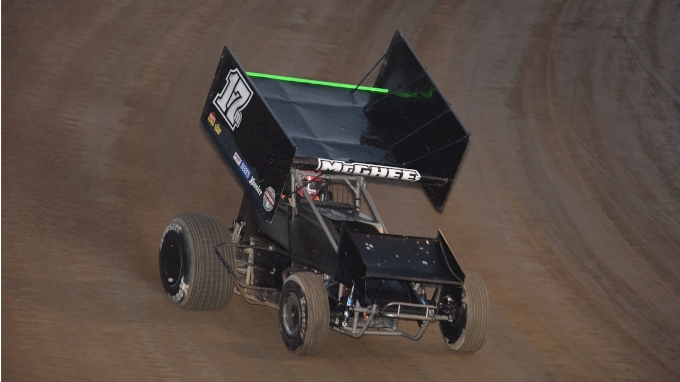 (Photo by Paul Arch)
"You take a track like Knoxville (Raceway) in a winged car and you don't really outdrive a guy, you out-momentum him, with how smooth you are," McGhee said. "In a non-wing car, typically, once it comes the end of the night, you can outdrive someone, stay on two wheels and look the coolest and usually that's fast. On the winged side, it's more about momentum and keeping the car straight and smooth.
"I have run the winged car mostly with the Outlaws, and when you run with those guys, if you don't keep it straight or tuck your elbows, that's a tenth of a second. With how the format is, lining straight up you have to qualify well, because that is your whole night there. I definitely had to learn the hard way that any little mistake will ruin your night. One of the biggest differences is that you can get away with a lot of things in a non-wing car that you can't in a winged car."
Turning the wrenches for McGhee this season will be his brother Sam, who is just 18 years old. The pair has worked together in the past in the non-wing sprint car realm. After racing apart the last couple of years, they are reunited for the 2018 winged sprint car campaign.
"With our program, there is no reason we shouldn't run well and win some races."
Sam McGhee had a great deal of success last year on the USAC circuit with Justin Grant, as the pair finished second in points, winning four races. Recently, the team that McGhee owned last year was named the "Team of the Year" by the North American Sprint Car Poll, which is an awards program through the National Sprint Car Hall of Fame in Knoxville, Iowa.
"I know that he is doing everything he can to give me the best car," Max McGhee said. "For his age, it's phenomenal what he is capable of. You don't have to worry about the little things, because he has taken care of that stuff. With how young we both are, it makes it a cool, underdog, root-for-us kind of deal. Working with family makes it even more special. Being back together now, after having a couple of years doing other things, I think will be great for both of us. I'm excited for it."
McGhee made about 10 appearances last season with the World of Outlaws Craftsman Sprint Car Series, including making the trip to Central Pennsylvania for the National Open at the famed Williams Grove Speedway. For that event, he had to borrow a trailer and had just one crew member, one car, and very limited spare parts, which endeared him to the passionate Pennsylvania fan base.
McGhee earned his best career finish in the World of Outlaws Craftsman Sprint Car Series last year at Hartford Speedway in the "Battle of Michigan," crossing the line 14th.
The young driver also competed with the Arctic Cat All Star Circuit of Champions twice in 2017. He raced at the historic Angell Park Speedway in Wisconsin in an event co-sanctioned by the Bumper to Bumper Interstate Racing Association. McGhee also took to the track at Sharon Speedway in Ohio in the Lou Blaney Memorial with the All Stars last year.
"With our program, there is no reason we shouldn't run well and win some races," he noted. "With the equipment we have, we should be able to contend with those guys. With the experience I have from last year and Sam's experience from the non-wing stuff that should help as well."
McGhee will kick off the 2018 in Florida in just a few weeks. He will first strap into his No. 17M at Bubba Raceway Park in Ocala with the Arctic Cat All Star Circuit of Champions. McGhee will then make the trek to Volusia Speedway Park for a pair of All Stars races at the blazing-fast half-mile.