By J.D. Hellman

Kasey Kahne's future ranges from bleak to promising. It depends on how you want to look at it.

Kahne was bought out of the final year of his contract by Hendrick Motorsports, meaning he'll be racing for another team in 2018 -- if he's racing at all.

Kahne is being replaced by 19-year-old phenom William Byron, who many are calling the next Jeff Gordon, Kyle Busch, and Jimmie Johnson all rolled into one.

Not including soon-to-be 42-year-old, seven-time NASCAR Cup champ Jimmie Johnson, Byron, Chase Elliott, and Alex Bowman will make up the youngest trio of drivers on any team in NASCAR's premier series next season.

When Byron, Elliott, and Bowman open next season at the Daytona 500 in February, their collective average age will be… wait for it... 22.3 years old!

Of course, if you add JJ into the equation, the team suddenly becomes 27.25 years old heading into Daytona.

But we digress.

Kahne could care less about how young or old HMS will be next season. What's most important for him is where he hopes he'll wind up in 2018 compared to the reality of his situation.

The most extreme consequence is he's completely out of a ride, much like Greg Biffle. The Biff thought he'd have a ride for 2017 after his contract wasn't renewed by Roush Fenway Racing.

Instead, Biffle is gone and forgotten -- and not of his own choosing.

That could be the case with Kahne if another team doesn't pick him up.

There are reports that Kahne may drive for GMS Racing, which is expected to field at least one Cup car for the first time ever next season.

It's a logical possibility: GMS will be purchasing or leasing motors and car bodies from the Hendrick stable. Plus, team owner Rick Hendrick is reportedly speaking with other teams, trying to find a ride for Kahne.

Kudos to Mr. H for doing that, as few other owners would be so willing to help out a guy he essentially just fired.

But Kahne has other options -- not including the possibility that he'll leave NASCAR completely to run with a sprint car series. The question is will there be enough sponsorship available to support him in a full-time ride in 2018.

Remember, a lack of sponsorship for Kahne next season was the key reason he was cut. Byron, on the other hand, will have plenty of sponsorship from both Liberty University and Axalta.

Guess that's one of the benefits of being young and a promising and potentially budding superstar, as compared to the 37-year-old Kahne: sponsors want you more.

There are two other scenarios/rumors that also seem very plausible. Let's break them down: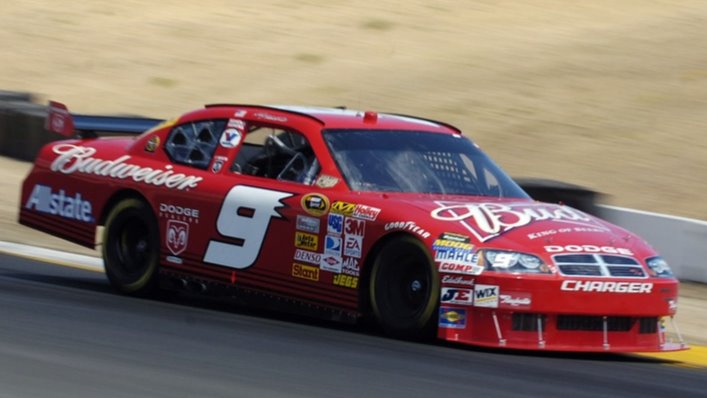 (Will Lester, USA Today)

Kahne returns to the Richard Petty Motorsports fold. Remember, Kahne raced for the hybrid Petty/George Gillett/Ray Evernham team in 2009 and the first 31 races of 2010 before he moved to the now-defunct Red Bull Racing.

This could potentially be the best spot for Kahne, but it depends on how certain dominos fall.

Current RPM driver Aric Almirola is rumored to be looking around for a more successful team. And, Almirola likely will take the team's primary sponsor, Smithfield Foods, with him, whether he remains at RPM or moves elsewhere.

If Almirola does depart RPM at season's end, Kahne would be a great replacement -- but only if RPM can find enough sponsorship to return to being a two-car operation.

Roush Fenway Racing is another option. Although it's questionable whether Jack Roush will go back to three teams in 2018. He also seems to be highly invested in young talent.

Right now, Roush seems content with Ricky Stenhouse Jr. and Trevor Bayne. Plus, Ryan Reed is also a promising Cup prospect.

But let's not forget that before Kahne came to Dodge and Chevrolet, he was originally under contract to Ford waaaaaaaaay back in 2003, when he replaced Bill Elliott at Evernham Motorsports.

Would Ford still be interested in having its one-time whiz kid back in the fold? Could Kahne reinvigorate his career by returning to the blue oval -- which he obviously would do with RPM, too -- that is if RPM stays with Ford next season.

There are also rumors that RPM may be on the verge of switching to Chevrolet for 2018 and would have a technical alliance with Richard Childress Racing.

What about Kahne to replace Erik Jones in the No. 77 Toyota Camry at Furniture Row Racing? Remember, Jones is vacating his seat at the end of this season and moving to Joe Gibbs Racing, where he'll replace the soon-to-be-departed Matt Kenseth.

Kahne at FRR would be a good fit, but one big obstacle stands in the way -- sponsorship.

FRR owner Barney Visser said a few days ago that he's trying to keep the 77 team around for next season, but he's had very few substantive discussions with potential sponsors.

So, in a way, Kahne will be kind of like NASCAR's version of Cuba Gooding Jr. in the movie "Jerry Maguire" -- show him the money and he'll be there.

The question is, though, who has the money -- and what happens if the money isn't there?

While we hate to think Kahne's Cup career may be in its final season, the same can be said about Kenseth, Danica Patrick, Kurt Busch, and one or two more.

Ask Greg Biffle about that. Sitting home was likely the last thing he expected would happen for 2017. Will Kahne face the same fate in 2018?

Only time -- and money (or lack thereof) -- will tell.


Kasey Kahne News
Weekly Columns by JD Hellman
Dale Jr Snaps Winless Streaks At Michigan
Ryan Blaney Moves From One Iconic Ride To Another With Penske Announcement
The Iconic Brickyard 400 Needs A Boost
It's Time For NASCAR To Get Dirty
As NASCAR Reaches Its Traditional Mid-Point, Big Changes Are On The Way
Weekly Columns by Jonathon Masters
The Cost Of Racing A National Modified Tour
How Dirt Modifieds Conquered The World
Why Dirt Late Models Look That Way
Turn Your Child Into A Dirt Superstar
Get The Races To Run On Time