We're coming at you with live updates from day 3 of the Knoxville 410 Nationals. Refresh the page for updates!


A-Main
Jason Johnson had this one in hand and will get a chance to defend last year's Knoxville Nationals title. He will start 17th in the $150,000-to-win big show.
Logan Schuchart, Aaron Reutzel, and Cory Eliason will also advance directly into the finals. Everyone else has to go through the alphabet soup.
Allen climbs the inside cushion and loses a couple of spots to 6th. That moves Eliason into the final transfer,
Halfway: Johnson, Schuchart, Allen, Reutzel
Schuchart makes his way to 2nd from 11th start.
On about lap 8, Logan Schuchart gets around Joey Saldana for the 4th spot, which is the last one that transfer to Saturday's A-Main.
Lynton Jeffrey flips on lap four while running 9th. He had to advance from the B. The team makes a quick wing change and they get him back out on the track.
Last year's big winner Jason Johnson gets the jump on the start and takes the lead from pole sitter Jacob Allen
B-Mains
B-Main 2:
Dale Blaney takes second for a while, but he is passed by the Wild Child Jac Haudenschild and James McFadden. Blaney finishes 4th, but that still send him home.
Is a lot less hectic; Chad Kemenah grabs the lead early and hangs onto it, so the battle shifts to 2nd
B-Main 1:
Lynton Jeffrey survives the B after threading the needle on Selvage's crash. He wins over Bill Balog and Scott Bogucki.
Dustin Selvage flips, collection Jason Kendrick and Tayler Malsam.
RJ Jonson flips dow the front stretch on and collects Rager Phillips
Lynton Jeffrey takes off with the lead of B-Main 1 as Scott Bogucki and Bill Balog give chase.
There will be two B-Mains tonight with the top three from the 1st going to the inside of the final three rows and the top three from the second to the outside.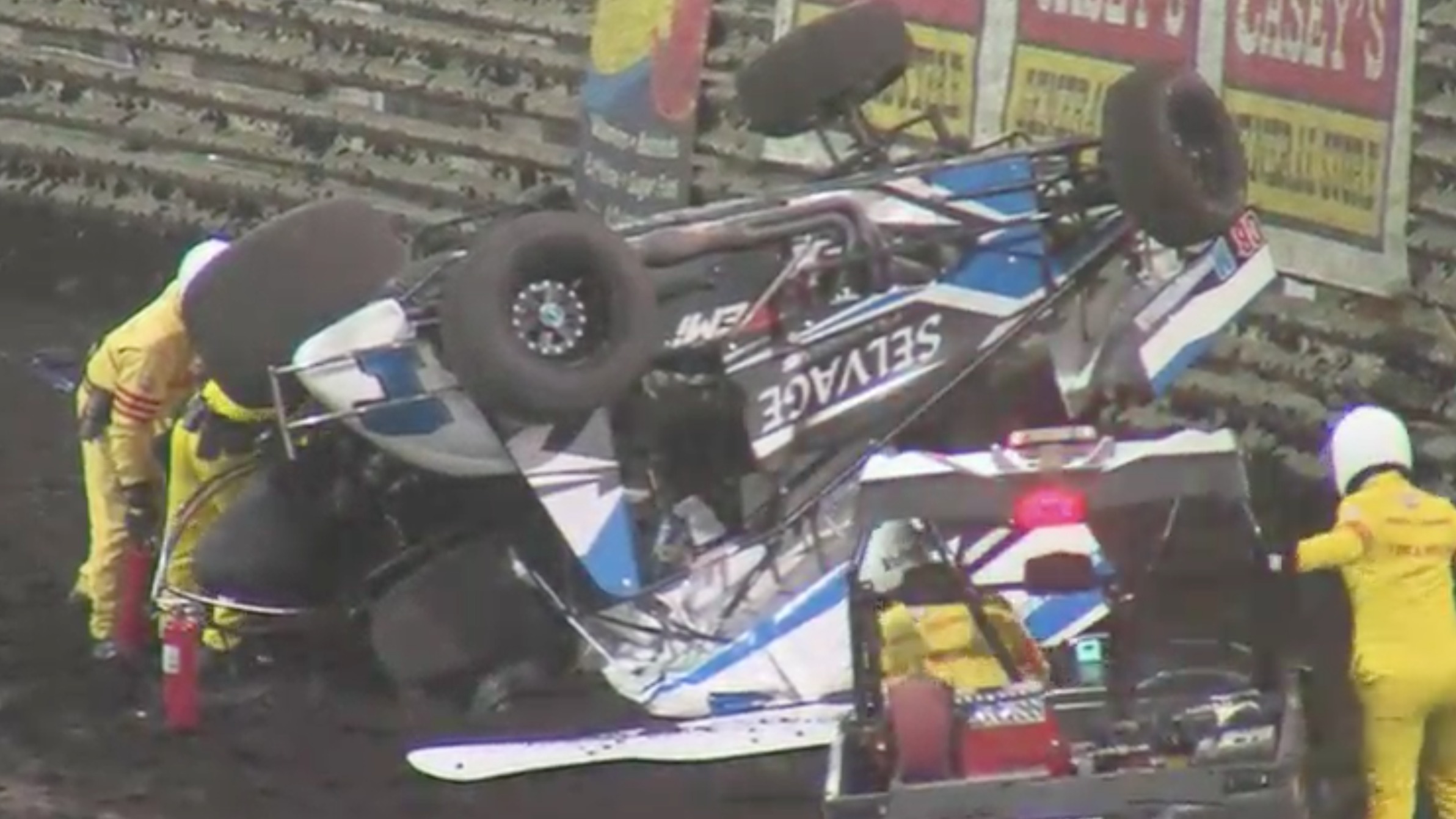 C-Main
Jason Kendrick wins. Paige Polyak bobbled at the end but held onto second. Matt Covington in 3rd and Scott Winters also advance.
Four laps in the book, Clyde Knipp slows. Curtis Evans climbs over the right rear and damages his front suspension
False start on the 1st try.
Heats
The remainder of the field will be determined by the C and B Mains
Top three transfer into the A-Main
Heat 6:
Kraig Kinser wins the final heat over Brent Marks and Cory Eliason.
Heat 5:
Sammy and Jeff Swindell finish 1-2. Sam Hafertepe, Jr. gets the final transfer; It started as a lazy spin, but when Matt Moro got backwards, he flipped to bring out a red flag.
Heat 4:
Tonight's fast timer in Flight 2 shows it's no fluke by winning. Tim Kaeding and Cole Duncan round out the top three. Kevin Thomas Jr will head to the B
Heat 3
: Joey Saldana makes it look easy, but Brady Bacon and Spencer Bayston had a spirited battle for 2nd. Both move on to the A.
Heat 2:
Brooke Tatnell gets to the checkers 1st in fron of Logan Schuchart and Aaron Reutzel, who also advance. Jamie Veal narrowly misses. They are having trouble getting this one underway - two false starts. On lap 2, Jake Bubak ends up on his lid.
Heat 1:
Sheldon Haudenschild jumps to the lead on lap one and rambles to the win over Dane Lorence and Jacob Allen
Time Trials Flight 1
Jason Johnson hangs on for quick time in the session. Jac Haudenschild (16.002), Chad Kemenah (16.085), Kevin Thomas Jr (16.156) and Matt Moro (16.170) round out the top 5.
Through 13 cars, the Ragin' Cajun Jason Johnson is fastest at 15.872
Time Trials Flight 1
Jacob Allen sets quick time for this session at 15.691 - which is half a 3/10th of a second faster. than Aaron Reutzel and Joey Saldana at 16.002
Through 10 cars, Bill Balog has quick time at 16.059.
There will be two groups of Time Trials tonight with only one lap to get it right. There are 72 cars; this is going to take a while.
Knoxville 410 Nationals Live Updates
Knoxville 360 Nationals Live Updates
Knoxville Nationals Coverage
410s
Knoxville 410 Nationals Live Updates, Night 2
|
Results
|
Recap
Knoxville 410 Nationals Live Updates, Night 1
|
Results
|
Recap
Jason Sides' Roller Coaster Has A Few Peaks Remaining
Dominic Scelzi Is More Comfortable In 410s Than 360s, And It Shows On Track
Brown Claims His 37th Knoxville Win With the 410 Sprint Capitani Classic
360s
Knoxville 360 Nationals Live Updates, Night 3
|
Results
|
Recap
Knoxville 360 Nationals Live Updates, Night 2
|
Results
|
Recap
Knoxville 360 Nationals Live Updates, Night 1
|
Results
|
Recap
Josh Baughman Knows Knoxville Wins Equal Immediate Prestige
Seat Time Is Critical To Scelzi's 360 Success
Fearless Harli White Tackles Both The 360 And 410 Knoxville Nationals
Danny Lasoski Aims For A Knoxville Victory When It Matters Most
Seth Bergman Tunes Up For Knoxville Nationals By Passing 18 Cars In 2 Races
Tony Stewart And Christopher Bell Highlight Knoxville 360 Nationals Entry List