2017 SVRA Brickyard Vintage Racing Invite
The Unser Family Reunion Continues On Father's Day
The Unser Family Reunion Continues On Father's Day
When Johnny Unser takes his daughter Loni to work, he straps her into a 3,000-pound racecar, gives her his best advice, and watches with pride.
Jun 18, 2017
by Dan Beaver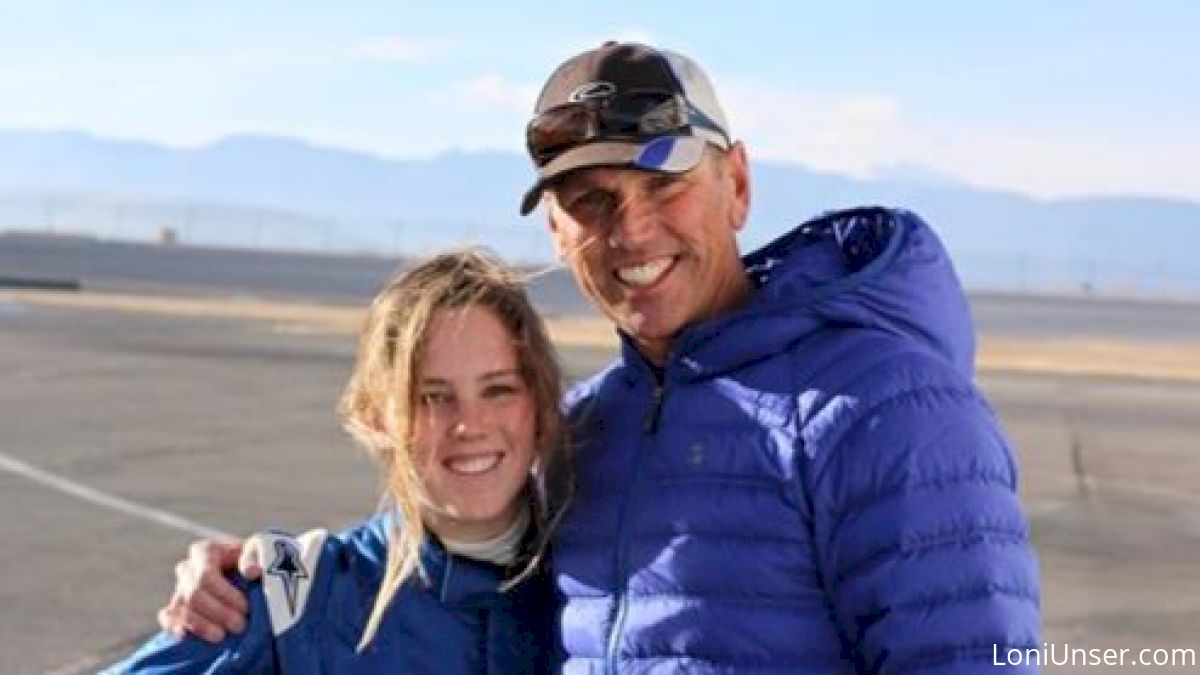 By Victoria and Dan Beaver
When Johnny Unser takes his daughter, Loni, to work, he straps her into a 3,000-pound race car, gives her his best advice, and watches with pride and a little nervousness.
This Father's Day, dad and daughter get to spend the day someplace special, surrounded by the entire Unser clan, and racing in the SVRA Brickyard Vintage Racing Invitational at Indianapolis Motor Speedway, which is
streaming LIVE on FloRacing
.
On Saturday, Loni watched her dad finish eighth in the Pro-Am portion of the Invitational. On Sunday, it is Johnny's turn to watch Loni race in the Enduro class, which will air at 8 AM ET.
For Johnny, the excitement of watching Loni race is tinged with the natural concerns of a father.
"It's a little nerve-racking to be honest," Johnny said. "It gets easier the further it goes on. We can give them all the tools and tell them everything, the information that a parent knows how to give their kid. In this case, it's passing down the family tradition."
While the focus this week for most of America is father and child, it is a little more intricate with the Unser family. As most of the clan has settled into post-racing careers or retirement, Loni is bearing the mantle of responsibility to keep the tradition alive -- and considering all the races and championships won by her uncles and cousins, it can be a heavy one.
"It's not just myself [offering advice] but my cousin Robby, my cousin Al Jr. and of course the uncles Al Sr. and Bobby all have advice for her as well," Johnny said. "It's all a lot of information for her to soak up, and then at the end of the day it's up to her what she does out on the race track and trying to make the car go fast. ... It's taken me back to my roots to watch her get started. It's a pretty awesome experience."
Loni is highly aware of that familial responsibility. In fact, that was the primary motivation that drove her into the cockpit.
"I knew that I always really wanted to pursue it," Loni said. "It's always been something in the back of my mind. It's always something that I wanted to do."
On Saturday during the Pro-Am race, father and son Al Unser Sr. and Jr. showcased their skills. Al Jr finishing second; Al Sr. finished one lap off the pace in 21st.
Father Bobby was in the booth to call the race while his son, Robby, finished sixth.
That family tradition is not only at the center of each of their personalities, in the case of Loni and Johnny, it is part of their shared bond.
"I think [the work and personal relationship] go hand in hand together," Loni said. "I think our working relationship is serious when it needs to be and fun when it can be, just like in real life. It's great to work alongside my dad."
Johnny said, "For me, Loni has always been really close with her mother, which is great. Watching her grow up is really cool. This gives me some selfish time at the race track. We're spending a lot of time together whether it's at the race track or doing promotions or things like that. As she's gone into college and she's away from home, I think her mom is kind of jealous that I get to spend so much time with her."
Sportscar Vintage Racing Association Coverage
Live Updates: SVRA Brickyard Vintage Racing Invitational Day 1
Ernie Francis Jr. Wins Brickyard Trans Am Pole
Amy Ruman Rules Trans Am
Francis Paces Brickyard Trans Am Practice
Johnny And Loni Race Together For First Time
Mazda MX-5 Joins The SVRA Weekend
Venerable Series, Venerable Track: Trans-Am Takes On Indy
Lyn St. James Legendary Career
The Sportscar Vintage Racing Association Joins FloRacing
SVRA Brickyard Vintage Racing Invitational
Where To Watch
Indianapolis Motor Speedway
4790 W 16th St,
Indianapolis, IN 46222
How To Watch
ON TV:
Now available on Roku and Apple TV 4 -- download the FloSports app today!
STREAMING:
Available only on FloRacing. A yearly FloPRO subscription provides access to ALL FloSports sites.
SIGN UP HERE