Natalie Decker Takes On Bigger Challenges
Natalie Decker Takes On Bigger Challenges
Natalie Decker made her superspeedway debut at Pocono Raceway this week as she continues to take on increasingly bigger tracks in the ARCA series.
Jun 10, 2017
by Victoria Beaver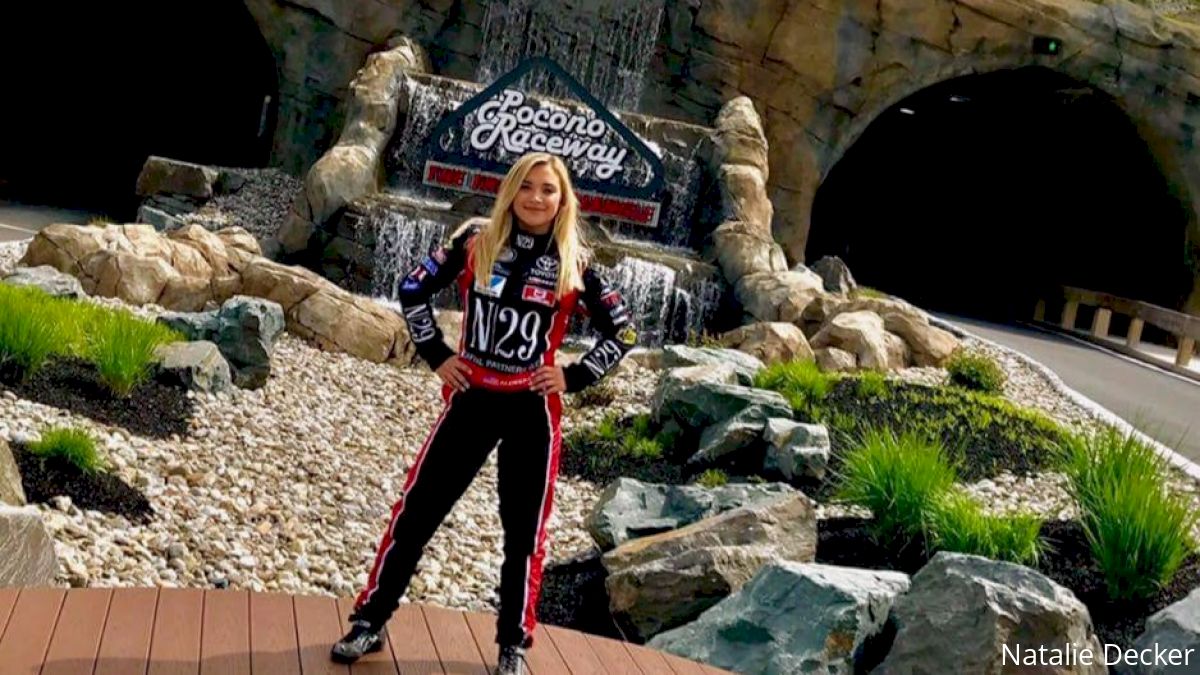 On Friday, there was a newcomer at the Tricky Triangle.
Nineteen-year-old Natalie Decker made her superspeedway debut with ARCA at Pocono Raceway in Long Pond, PA. She qualified well in 16th, but a broken shifter sent her behind the wall with 15 laps remaining -- she finished 27th. Before that problem arose, she was running 17th.
Prior to this week, the longest track Decker competed on was Gateway Motorsports Park in Madison, IL, which is long by local standards at 1.25 miles. A lap around Pocono is twice that length measuring in at 2.5 miles. Decker has never experienced anything like Pocono, but that's not slowing her down this weekend.
"Not even close, because the biggest track I've ever been on was Gateway with my super late model in the ARCA Midwest tour," she said. "I thought that was fast. Pocono is way fast. I didn't expect it to be anything like it was."
Decker used the skills learned from running two ARCA races already this season along with the help of her crew chief, Dave Leiner, and tips from veterans such as Tom Hessert.
"I feel really good," Decker said. "I had dinner with my crew chief last night, and he went over dart fish, which is a video that shows you and fastest guy on the track as a layover. It showed where I could get better, so he talked about that all night at dinner. We were at the track all day today. I'm really excited to get back on the track."
Decker picked up the racing gene from her father Chuck, owner of the Eagle River Derby Track. But after attempting to follow in his snowy footsteps in snowmobile racing, she decided to find something more her speed. Decker started in go karts at 9 years old and within a few years left carts for cars, quickly moving up from four cylinders to Super Stocks to late models.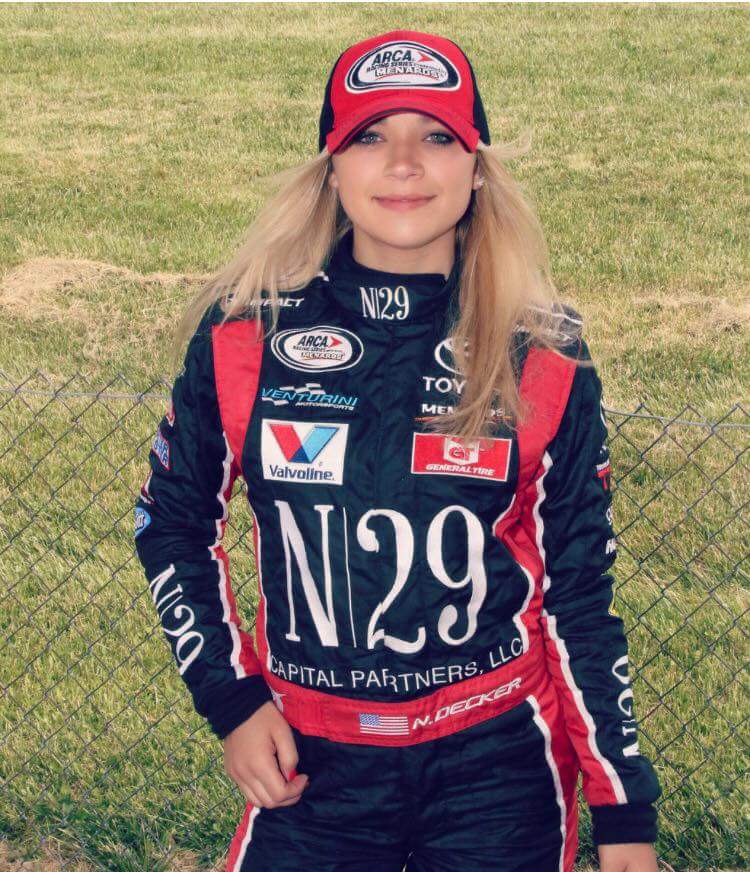 "I followed in my dad's footsteps, and he knew I wanted to race," Decker said. "I tried snowmobiles, and I wasn't the best at that. So we got into go karts, and it went really fast after that. We went to full size stock cars, then to super late models, and now I'm racing with Venturini Motorsports."
In Decker's racing experience, she hasn't had the misfortune of running into gender-based bias. Coming up in carts, there were a decent number of girls competing against the boys, and since then seeing female racers at the track is constantly becoming more familiar.
"There's a lot of respect there," she said. "There are a lot more females coming into racing, and all of the drivers see that and know that. When I'm on the race track they just treat me like I'm another race car driver."
Decker has made her first two starts with ARCA at Toledo, Ohio, and Elko, MN, one track brand new to her and one deeply familiar. Toledo came up on the docket first and Decker experienced her first live pit stop, since most regional short track races are designed to be run on less than a tank of gas.
"I was really nervous about that, and it went way better than I thought it was going to go," she said. "It was so much fun. I didn't know that live pit stops were that fun."
When ARCA returned to her neck of the woods last week, she had the chance to race at Elko, a track she's use to running in her super late model.
"Elko was super fun because I've raced on that track with my super late model," Decker said. "It was a very familiar track for me, and I knew everyone who worked there. It was really exciting to get on that race track in a different type of car."
She finished in 11th at Toledo and 13th at Elko and hopes to improve on that later at Road America, which was recently added to her schedule.
"My goals are to finish in the top 10, and that has been my goal since I started at Toledo," she said. "And I'm going to keep that my goal for Road America."
Women in Racing

Tammy Kaehler
Hanna Zellers
Lyn St. James
|
Project Podium
Morgan Turpen
Ahnna Parkhurst
Amber Balcaen
Sarah Cornett-Ching
McKenna Haase