2017 SVRA Brickyard Vintage Racing Invite
Lyn St. James Turns A Series Of One-Year Contracts Into A Legendary Career
Lyn St. James Turns A Series Of One-Year Contracts Into A Legendary Career
Lyn St. James was not the first woman to race in any of the series she impacted, but her presence may yet have the greatest lasting effect.
May 18, 2017
by Victoria Beaver
If you haven't heard the story of Lyn St. James, it's time to fix that.
In 1992, St. James was the third woman to be entered in the Indy 500 and the first woman to win Rookie of the Year there with a finish of 11th. St. James' racing career started later than most. She didn't strap into the driver's seat of a race car until 1973 at the age of 26.
Her early years in racing were humble beginnings compared to the records she would break and the achievements she would make throughout her career.
In her 45 years in the sport, she's raced in everything from the Indy 500 to the 24 Hours of Le Mans (where she has two victories) to the 12 Hours at Sebring (one win). Her passion for racing starts at the track and is heightened by the sense memories that await the drivers and fans that surround her.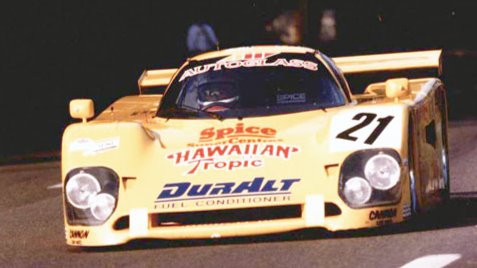 "I really like everything about it, the sounds, the smells the people, the variety of locales that you end up going to whether it's an old airport like Sebring or a historical place like Indianapolis or a beautiful place like Laguna Seca," she said. "You travel to all kinds of great places in the country and you see the world without having to travel the world, because people come from all over to see the race. I love all of it. I love it as much today as the first time I went to it. I love everything, it's why I'm still up to my eyeballs in [the sport]."
But the world wouldn't know St. James' name if she had not turned her passion for the sport into fuel to advance herself. When she started, she had only the support of her husband, John Carusso, who was learning to race at the same time. He was in a Corvette, and she in her infamous Ford Pinto.
"We were both learning at the same time," St. James said "He was a huge mentor for me in business since we were in business together. He was a huge supporter of me becoming the best that I could be. He understood that it was important to me, whether [his advice] was 'you first have to finish the race to finish first,' or 'you have to get past the first corner.' For the first seven years it was just he and I and the occasional friend we could bring in. He was pivotal in my early development."
Funding to most racers is the least fun part of racing. It's a distraction from what they love, a ball and chain keeping them from being on the track.
Sadly, it's probably one of the biggest parts of racing. One can't race without tires, without a crew, without expensive firesuits, or even flame-retardant underwear. It all costs money, and race purses don't cover it. St. James would not have succeeded without the funding that she got from Ford early in her career.
"When I got Ford Motor Company as a sponsor in 1981, it was really important and I was obviously really excited about it... that lent credibility to my racing," she said. "When Ford decides to be your sponsor, that let's everyone know that you have something going on. Otherwise, they wouldn't do it.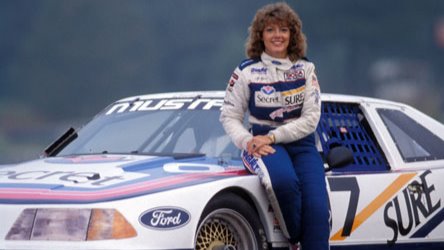 "So my credibility and all that I know was raised by them, and quite frankly it's what allowed me to get decent equipment, not so much the equipment in the beginning but it gave me the chance to get going. It was just huge and it was my biggest accomplishment and the one I'm most proud of, to be honest, because I didn't have an agent. I did it on my own. I had one-year contracts for 14 years. That's probably my proudest moment in racing, in business, and in life."
St. James' involvement in the sport did not stop when she retired from IndyCar or stopped pursuing wins and championships. With all the knowledge she's gained through her own journey in the sport, it would have been selfish not to pass it on to other drivers.
She's ingrained herself in the business side of sport by starting the Lyn St. James Driver Development Program in 1994, later renamed The Complete Driver Academy. In this program, she trained young female racers in the physical and mental aspects of racing, how to deal with business and media attention, and the technical side of racing.
Graduates of this program include NASCAR star Danica Patrick, NASCAR Next driver Julia Landauer, and IndyCar standout Sarah Fisher. Of the seven female racers to qualify and race in the Indy 500, two are graduates of the program.
"Things change too quickly now," St. Jame said. "This year will be the 25th anniversary of my racing in the Indy 500, which to be honest totally blows my mind. I know I'm older than 25, but I don't feel old enough for that. I can't comprehend that it's been 25 years since my first Indy 500. It's really hard because time changes so quickly now with social media and electronics. The world is moving so much more rapidly.
"I'm actually still just blown away and pleased that people still remember what I did or just remember me at all. I'm hoping what I did is making a difference for women in racing."
St. James disbanded her driver's program around 2012 to make more time for her work with the Women's Sports Foundation and her funding program "Project Podium," which will be featured in the second part of this article.
See Also:
Lyn St. James' Project Podium
Women in Racing
Morgan Turpen
Ahnna Parkhurst
Amber Balcaen
Sarah Cornett-Ching
McKenna Haase