16-Year-Old Ahnna Parkhurst Already Has One Late Model Win This Year
16-Year-Old Ahnna Parkhurst Already Has One Late Model Win This Year
Ahnna Parkhurst is fresh off a late model win at Swainsboro Raceway and is ready to challenge the NeSmith Dirt Late Model Series touring regulars at the Talladega Short Track.
May 5, 2017
by Victoria Beaver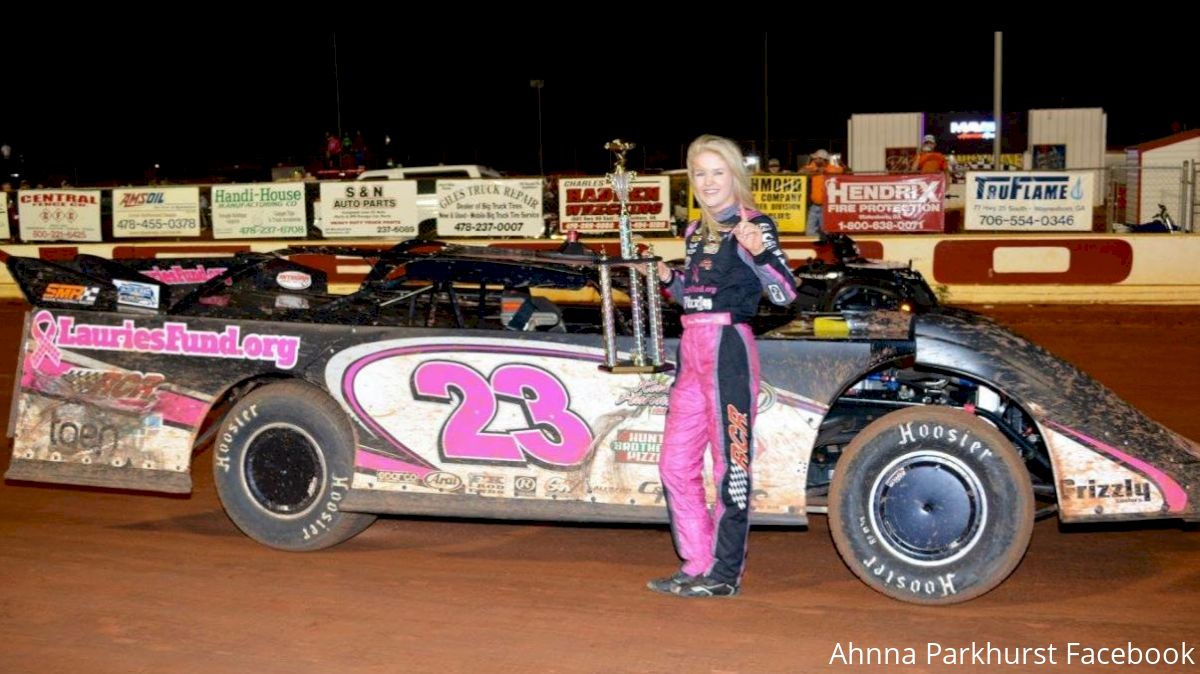 Statistically, fewer teenagers are knocking down the doors on the eve of their sweet 16 to get their driver's licenses. Ahnna Parkhurst is not included in that number. She's been driving competitively in late models for the last two years while only turning 16 this past year.
This year, the Evans, GA, native is racing the full season and going after the NeSmith Dirt Late Model Series rookie of the year honors. Although she's not the youngest vying for the title --
Colton Horner is only 14
-- she's still a young face in a sea of older, more experienced drivers.
"It was a lot different when I first got started in late models... everyone was kind of willing to help us and watch out for me, but now that I'm getting a little better and I can run up front with them," Parkhurst said. "The guys are treating me a little bit different, they don't want too much to do with me.
"I try not to say 'Well, I'm younger so I should get this or that, or I can't believe you did that: I'm only 16.' I try not to think like that."
This weekend, Parkhurst will be competing in her third and fourth points races of the NeSmith touring season. The races will occur at Talladega Short Track across the street from the infamous superspeedway. Parkhurst feels confident with her team's ability at this particular track after experiencing another new circuit in her last outing. She visited Greenville Speedway in Greenville, MS, for the first time in the Rumble on the Gumbo last month.
"There's only been two points races so far and they were at Greenville, which is a track that I've never been before and that place is like no other," Parkhurst said. "It took me to about the heat race the second night to have any idea what I was doing. So it hurt us a little bit but we still have 18 more races, and we usually run pretty well at Talladega."
She also goes into Talladega fresh from Victory Lane at Swainsboro Raceway in Swainsboro, GA, last weekend. The win came in an unsanctioned event, but the morale boast that it gave her and the team may drastically improve their chances this weekend.
"I want that win in the 604 late models so bad," Parkhurst said. "That's what I'm really chasing, but it's good to win in the 602 because it builds up the whole team's confidence. Especially because my mom had gotten real sick during the week so it was good that we were able to get that. I still want that 604 win and hopefully in the NeSmith series we can get one this year, that would be great. I'm looking forward to winning another one this year."
Parkhurst has different responsibilities off the track than most of her competitors. She's attending her sophomore year of high school online so she can keep up with her schedule at the track and the shop. She uses her time on the track to promote cancer research and treatment: a cause especially important to the young driver whose mother has been fighting an ongoing battle with the disease for more than a decade. In a situation that can make many feel powerless, Parkhurst has found peace pushing the loud pedal.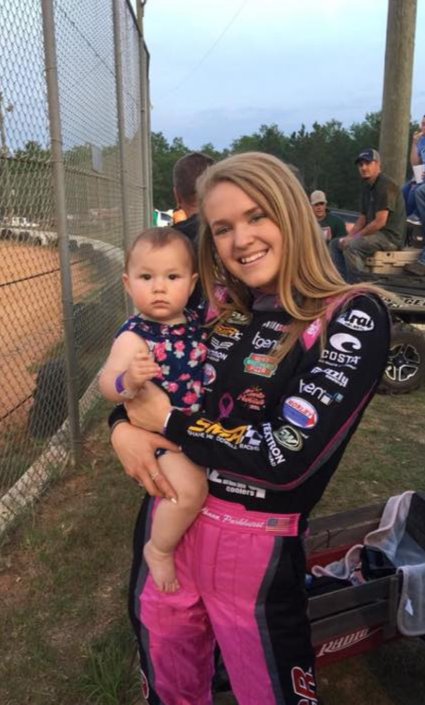 Parkhurst will be joined at Talladega by one of the team's owners, Dale McDowell.
"When Dale's around and able to run with us we focus on my driving," Parkhurst said. "He knows my better driving than anybody I've ever had help from. It's great. He helps me and is able to tell me everything. ... So it's just good to have that knowledge available. I've only been racing a few years, and I'm the only one in my family that's ever raced. My daddy didn't really have any idea of what we were doing."
Her friends and Shane McDowell Racing teammates Austin and Ty Dillon will be racing across the highway at the superspeedway but will make their way over for a reunion at some point during the weekend.
"They usually come over one night if not both nights if they can to say 'hey' and check it out," Parkhurst said. "They usually don't stay all night, but they'll watch the heat races and give a few pointers. Their dad, Mike, comes over as well, so does Richard Childress. It will be a fun weekend I haven't seen them in a while."
H3: Women in Racing
Amber Balcaen

Sarah Cornett-Ching
McKenna Haase