2023 South Carolina 400 at Florence Motor Speedway
Results: Kade Brown Scores South Carolina 400 Victory At Florence
Results: Kade Brown Scores South Carolina 400 Victory At Florence
Results, highlights, and more from the 2023 South Carolina 400 at Florence Motor Speedway.
Nov 20, 2023
by Rob Blount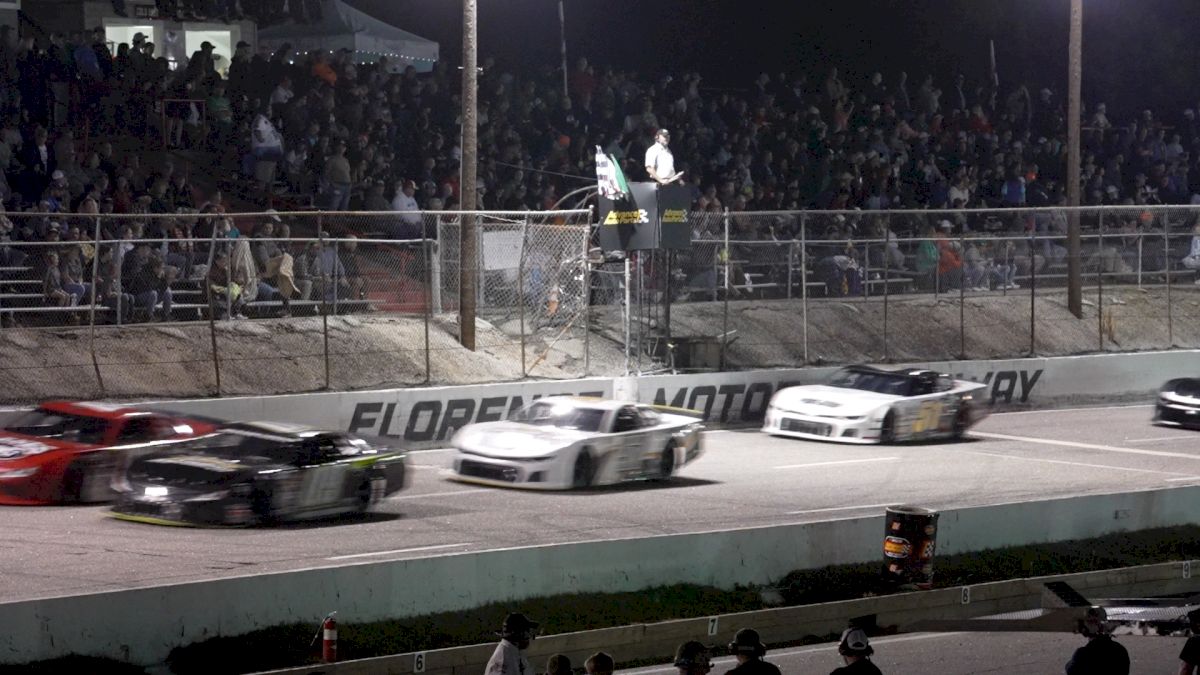 At just 17 years old, Kade Brown has quickly established himself among the elite in Late Model Stock Car racing. Just this year alone he became a track champion at Hickory Motor Speedway, he won the Bobby Isaac Memorial and the Fall Brawl, and on Saturday night he added a crown jewel win in the South Carolina 400 to his list of accomplishments.
Brown dominated the second half of the 250-lap race, but had to hold off the likes of Kaden Honeycutt and Carson Kvapil, and a hard-charging Brenden Queen and Dale Earnhardt Jr. to get the victory. But it was the battle with Honeycutt that had the attention of the capacity crowd and the FloRacing viewers at home.
On a late restart Honeycutt threw his black No. 10 to the inside of Brown in turn one and gave Brown a door-slam, sending Brown up the race track in turn two. Ironically, that higher lane gave Brown the momentum down the backstretch and he sailed his white No. 23 into turn three and returned the favor to Honeycutt, retaking the lead in the process. From there, Brown was able to hold on for one more lap to score his first South Carolina 400 victory.
The win is the second in as many weeks for Brown who also won the Fall Brawl 200 at Hickory just one week earlier.
Winning Quote From Kade Brown
"We knew we needed clean air. Just like Hickory. I wanted to get clean air and set the pace for everyone. I'm just happy it worked out. It means so much. I mean, going back to the Myrtle Beach days, Sam Yarbrough would be my hero just watching him go out there and dominate. Josh Berry and all these guys, it's an honor to even race with them. So to be able to compete against all those guys for wins, it means so much."
South Carolina 400 Highlights

South Carolina 400 Results
| | | |
| --- | --- | --- |
| Pos. | No. | Driver |
| 1 | 23 | Kade Brown |
| 2 | 10 | Kaden Honeycutt |
| 3 | 8 | Carson Kvapil |
| 4 | 62 | Josh Berry |
| 5 | 03 | Brenden Queen |
| 6 | 28H | Landon S. Huffman |
| 7 | 57H | Jacob Heafner |
| 8 | 3 | Dale Earnhardt Jr. |
| 9 | 57Z | Conor Zilisch |
| 10 | 5L | Carter Langley |
| 11 | 51N | Stephen Nasse |
| 12 | 16K | Casey Kelley |
| 13 | 21B | Lanie Buice |
| 14 | 1 | Trent Barnes |
| 15 | 95 | Sam Yarbrough |
| 16 | 04 | Ronnie Bassett Jr. |
| 17 | 13 | Cody Kelley |
| 18 | 71 | Katie Hettinger |
| 19 | 09 | Riley Gentry |
| 20 | 30 | Paul Owens |
| 21 | 29 | Casey Wyatt |
| 22 | 18A | Anthony Adams |
| 23 | 88 | Doug Barnes Jr. |
| 24 | 18R | David Roberts |
| 25 | 75H | Landon Huffman |
| 26 | 5B | Bryant Barnhill |
| 27 | 11 | Josh Williams |
| 28 | 18M | Truett Miranda |
| 29 | 51 | Matt Cox |
| 30 | 02 | Justin Milliken |
| 31 | 43 | William Sawalich |
| 32 | 7 | Tristan McKee |
| 33 | 20 | Josh Dickens |
| 34 | 16M | Adam McCumbee |
| 35 | 2 | Brandon Pierce |
| 36 | 32 | Zack Miracle |
| 37 | 70 | Stuart Ricks |
| 38 | T2 | Travis Truett |
| 39 | 99 | Stacy Puryear |
| 40 | 50 | BooBoo Dalton |
| 41 | 55 | Mark Wertz |