2023 USAC Hangtown 100 at Placerville Speedway
Kyle Larson Wins First USAC Midget Feature In Two Years At Placerville
Kyle Larson Wins First USAC Midget Feature In Two Years At Placerville
Kyle Larson held off Logan Seavey and Buddy Kofoid to win the Friday prelim portion of the Hangtown 100 at Placerville Speedway.
Nov 18, 2023
by FloRacing Staff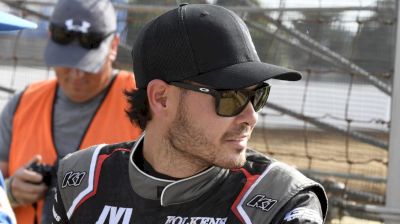 Kyle Larson estimated that it had been the longest he'd gone without winning a midget race in his illustrious career.
As it turned out, the ingredients that made up his last victory just two days shy of two years ago turned out to be the same mix that led him to victory lane during Friday night's Hangtown 100 opener at California's Placerville Speedway.
Although Larson's time spent behind the wheel of a midget is fewer and far between these days with all his other obligations, this was one he had long coveted, and of course, winning never becomes old hat, even for Larson.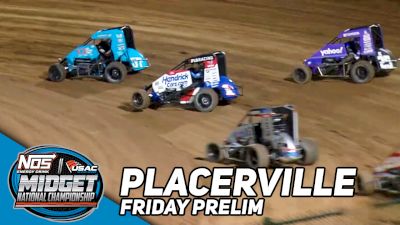 Highlights: USAC Midgets Hangtown 100 Friday Prelim Placerville Speedway
Winning Quote From Kyle Larson
"It was a lot of fun and it's cool to get back into victory lane in a midget, Not that I race them a lot, but it's been a couple years since I've won a midget race. I've run 10 or 12 midget races over the last couple of years and that's probably the longest I've gone without winning a midget race."
USAC Midgets at Placerville Results
1. Kyle Larson (6)
2. Logan Seavey (1)
3. Buddy Kofoid (4)
4. Jade Avedisian (12)
5. Taylor Reimer (2)
6. Gavin Miller (3)
7. Jacob Denney (8)
8. Justin Grant (5)
9. Tanner Carrick (7)
10. Spencer Bayston (14)
11. Shane Golobic (18)
12. Cannon McIntosh (13)
13. Ryan Timms (16)
14. Emerson Axsom (11)
15. Mitchel Moles (10)
16. Tanner Thorson (17)
17. Carson Macedo (23)
18. Brody Fuson (24)
19. Daison Pursley (15)
20. Jake Andreotti (22)
21. Corey Day (21)
22. Braden Chiaramonte (20)
23. Hayden Reinbold (19)
24. Thomas Meseraull (9)
USAC National Midget Point Standings
Logan Seavey has a 230-point lead over Justin Grant in the USAC Midget point standings. Bryant Wiedeman is third, Daison Pursley is fourth and Ryan Timms completes the top five.
Full USAC National Midgets Points Standings
Last Race: November 14 - USAC November Classic - Bakersfield
Up Next: November 18 - USAC Hangtown 100 at Placerville Speedway