2023 USAC November Classic at Bakersfield Speedway
Logan Seavey Charges To Win Bakersfield November Classic With USAC Midgets
Logan Seavey Charges To Win Bakersfield November Classic With USAC Midgets
Logan Seavey charged from ninth to win a thrilling November Classic feature at Bakersfield Speedway with the USAC National Midget Series.
Nov 15, 2023
by FloRacing Staff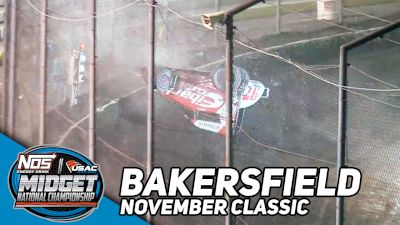 Logan Seavey remembers it well.
The last time the Sutter, Calif. native won the November Classic at California's Bakersfield Speedway in 2018, it cemented his USAC NOS Energy Drink Midget National Championship hopes and aspirations.
Five years later, at the very same 1/3-mile clay oval, the current series point leader's second victory at Bakersfield on Tuesday night brought him one step and one race closer to wrapping up a second career series title.
The ninth place starting Seavey tracked down racelong leader Emerson Axsom with nine circuits remaining in the 30-lapper to earn the seventh victory of his magical USAC National Midget season in his Abacus Racing/Honest Abe Roofing - Indy Custom Stone - Laura Kopetsky Tri-Ax/Spike/Stanton SR-11x.
Seavey's 15th career USAC National Midget victory moved him inside the top-50 all-time on the series win list alongside Don Branson, Larry Rice and Chris Windom.
The occasion was made doubly special with the sky-blue No. 57 paint scheme Seavey was sporting in tribute to Abacus Racing crewman Johnny Cofer who had the car revealed to him in surprising fashion at the team's Noblesville, Ind. shop last Wednesday.
Cofer himself drove a sky-blue No. 57 to a USAC Western States Midget victory at Bakersfield Speedway back in 1994 en route to that year's season title. Seavey is keen on keeping the trend going as his only Bakersfield win resulted in a championship and his latest on Tuesday moved him even closer to clinching.
In a hole early after a 21st place qualifying run, Seavey dug in and shoveled his way out with a heat race victory, which positioned him on the inside of row five for the feature. Earlier in the evening, Cofer was a tad unnerved, but Seavey would soon lead Cofer out of any sense of uneasiness.
Winning Quote From Logan Seavey
"Even when we get a little behind, we figure it out really quickly and get it right back, Johnny was a little nervous. He said, 'man, are we buried yet?' I said, 'no worries; we'll take care of it.' And we did and we're here. It speaks to how good this car is. We were a little off there early in the night, but we got it all squared away and sorted out. We were good in the heat race and really good in the feature."
USAC Midgets at Bakersfield Results
1. Logan Seavey (9)
2. Emerson Axsom (1)
3. Justin Grant (2)
4. Cannon McIntosh (5)
5. Carson Macedo (7)
6. Daison Pursley (8)
7. Taylor Reimer (6)
8. Jade Avedisian (14)
9. Jacob Denney (13)
10. Hayden Reinbold (17)
11. Jake Andreotti (10)
12. Bryant Wiedeman (16)
13. Ryan Timms (18)
14. Buddy Kofoid (4)
15. Mitchel Moles (21)
16. Cade Lewis (12)
17. Brody Fuson (22)
18. Chance Crum (20)
19. Shannon McQueen (15)
20. Mariah Ede (19)
21. Gavin Miller (3)
22. Michael Faccinto (11)
USAC National Midget Point Standings
Logan Seavey has a 230-point lead over Justin Grant in the USAC Midget point standings. Bryant Wiedeman is third, Daison Pursley is fourth and Ryan Timms completes the top five.
Full USAC National Midgets Points Standings
Last Race: September 30 - USAC Midgets at BC39 - Dirt Track At IMS
Up Next: November 16 - USAC Hangtown 100 at Placerville Speedway