2024 PRO Superstar Shootout at Bradenton Motorsports Park
Erica Enders Clinches Sixth NHRA Pro Stock World Championship
Erica Enders Clinches Sixth NHRA Pro Stock World Championship
Erica Enders clinched her historic sixth NHRA Pro Stock World Championship at the NHRA Finals at In-N-Out Burger Pomona Dragstrip.
Nov 13, 2023
by Courtney Enders
There's a reason why they call her the quEEn. Elite Motorsports Pro Stock dynamo Erica Enders clinched her sixth NHRA Camping World Drag Racing Series Pro Stock world championship in the opening round of the In-N-Out Burger NHRA Finals at famed In-N-Out Burger Pomona Dragstrip. Enders, the Winningest Woman in Motorsports, secured her championship when she defeated her Elite Motorsports teammate Fernando Cuadra Sr. with a pass of 6.502 seconds at 210.80 mph.
Enders qualified No. 3 with a pass of 6.500 at 210.01. All eyes were on her gorgeous Johnson's Horsepowered Garage / Melling Performance / SCAG Power Equipment Chevrolet Camaro as the pair lined up on the track, knowing that if she won this single round, the championship would be hers. The crowd erupted in applause as the Pro Stock star turned on the win light to secure her second consecutive championship.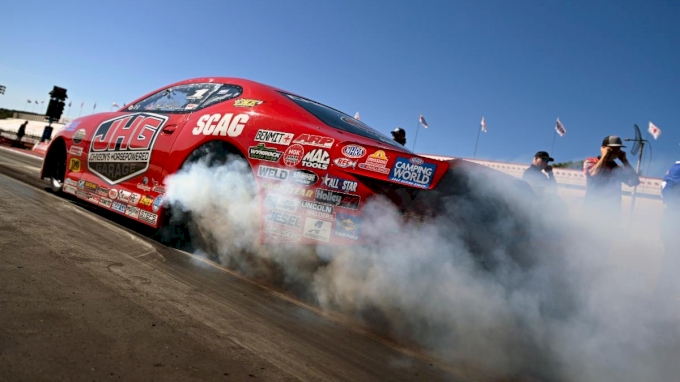 Coming off of the best-performing season of her career, Enders had a shaky start in 2023. At one point in the season, she was No. 15 in the points standings. But Enders, who is known for her tenacity and ability to perform under pressure, dug deep to find new resolve as the competition in Pro Stock continued to heat up.
"I've got to give God all the glory," said Enders. "He took a mess and turned it into a message. The message this year is tenacity and consistency, and digging through all of it to prevail when it matters. This championship hits differently because of the fashion in which we got it done. Rallying is what we do. It makes me so proud to be associated with such a great team. They have a never-quit attitude and that's why they're world champions. I'm lucky to be their driver."
Entering the Countdown to the Championship, Enders had worked her way up to third in the points standings. She powered her way to three consecutive No. 1 qualifiers in the first three events of the Countdown. In Dallas, Enders picked up her third win of the season where she became the Winningest Woman in Motorsports. She followed that up with a win in Las Vegas to take a considerable lead in the points race.
"Things started to change direction in St. Louis," said Enders. "After we won Dallas, I thought maybe we could actually pull this off. It's just a perfect lesson about why you never quit, and why you never give up. All the chips can be down and you can still come out on top. I've got to thank my sponsors - JHG, Melling Performance, SCAG Power Equipment, Gallagher, High Performance Lubricants, CHE, Peoplease, Stockseth Racing, CTech Manufacturing, Mac Tools, Comp Cams, TMS Titanium. I give them the credit. It's through God that I can do all things but it takes a team of people. I couldn't do it without them."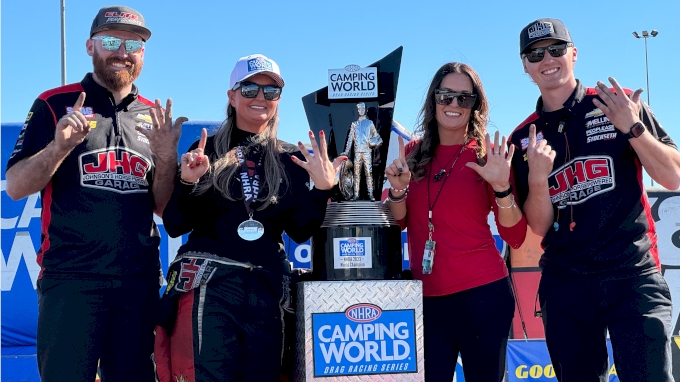 "I've said it before, but it bears repeating: Erica Enders is the baddest b*tch on the planet," said Elite Motorsports team owner Richard Freeman. "She is a warrior and she does not give up. I'm so proud of this team. But it isn't over yet. We've got more racing to do."
The day isn't done for Enders and the rest of the Elite Motorsports team as they continue to compete in the final event of the season.