2023 Castrol Gateway Dirt Nationals
Breaking Down The Castrol Gateway Dirt Nationals Late Model Prelim Rosters
Breaking Down The Castrol Gateway Dirt Nationals Late Model Prelim Rosters
Breaking down the preliminary night rosters for the COMP Cams Super Late Model portion of the Castrol Gateway Dirt Nationals.
Nov 13, 2023
by Koty Geyer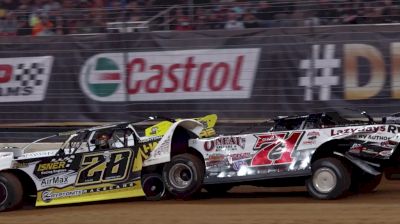 Preliminary night rosters have been announced for the COMP Cams Super Late Model portion of the Gateway Dirt Nationals in St. Louis, MO on Thursday-Saturday, December 14-16.
Thursday night's preliminary entry list is led by defending Gateway Dirt Nationals Late Model winner Tyler Erb, who looks to become the third driver to go back-to-back in Saturday night's main event. One of those drivers is Bobby Pierce, who will also race on Thursday night alongside World 100 winner and Lucas Oil Late Model Dirt Series champion Hudson O'Neal.
Also joining the Thursday night roster is former preliminary night winners Gordy Gundaker, Shannon Babb and Myles Moos; 2018 Gateway Modified champion Mike Harrison and 2024 NASCAR Cup Series rookie Carson Hocevar.
Friday night's preliminary entry list is just as loaded as Thursday night's. Two-time Gateway champion Tyler Carpenter is back at the dome that made him a legend four year ago. The driver he beat in 2019, multi-time World of Outlaws champion Brandon Sheppard, is set to go on Friday night alongside 2022 Gateway Modified champion Ricky Thornton, Jr. and former Lucas Oil Late Model Dirt Series champion Jimmy Owens.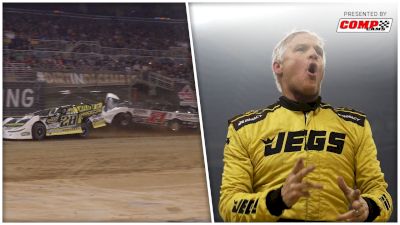 VIDEO: A look back at the COMP Cams Top 5 Moments from last year's Gateway Dirt Nationals.
Michigan native Cody Bauer looks to defend his Friday night preliminary win from one year ago, as last year's Saturday night runner-up Tanner English starts his redemption tour at the same time. Other drivers on the Friday preliminary list include Hunt The Front's Joseph Joiner, Lucas Oil Late Model Dirt Series points runner-up Devin Moran and local favorite Ryan Unzicker.
The field of 145 drivers has been split up into 72 and 73 car fields for two preliminary nights. Full rosters for each preliminary night can be viewed at the bottom of this story.
Each preliminary night will take just the top-three finishers from the night's A-Feature straight to the championship night A-Feature on Saturday. Only 20 of the 145 drivers on hand will start the 40-lap, $30,000 to win main event on Saturday night.
The Gateway Dirt Nationals moves to Thursday-Saturday, December 14-16 at The Dome At America's Center in downtown St. Louis, MO. The Comp Cams Super Late Models and Summit Racing Equipment Modifieds will battle it out over three days for $30,000 for Late Models and $10,000 to win for Modifieds.
All three days of the Gateway Dirt Nationals will be streamed live on FloRacing. If you're not a FloRacing subscriber, click here to sign up today.
Gateway Dirt Nationals Thursday Roster
Mike Harrison
Jason Feger
Jake Rainey
Bill Wagner
Kyle Mixon
David Marlow
Jason Zobrist
Matt Koch
Layne Bellm
Lance Brasington
Jody Knowles
Chad Zobrist
Lindsey Hansen
Josh Lewis
Joe Bellm
Rachel Carpenter
Micheal King
Michael Jensen
Josh Boller
Austin Tettaton
Gordy Gundaker
Kip Hughes
Jordan Barbee
Chris Fetter
Matthew Norman
Bob Gardner
Freddie Carpenter
Jason Welshan
Scott Cimfl
Megan Sanders
Rusty Griffin
Erik Thorne
Chandler Moenning
Jonathan Lee
Morgan Alexander
Rodney Melvin
Carson Hocevar
Alan Westling
Sterling Freeman
Tyler Erb
Jack Riggs
Dustin Rollins
Glen Powell
Gregory Kimmons
Myles Moos
Zach Wohlers
Hudson O'Neal
Michael Epplett
Mike Spatola
Nick Hoffman
Bobby Pierce
Shannon Babb
Ryan Wilson
Austin Seelig
Jadon Frame
Kyle Hardy
Ronnie Yanacsek
Austin Theiss
Robbie Bostic
Jason Wagner
David Seibers
Matthew Ratzlaff
Quentin White
Rusty Schlenk
Dustin Dixon
Bo Lockwood
William Stile
Glen Hounshell
Luke Bennett
Justin Carter
Dakota Dellinger
Gateway Dirt Nationals Friday Roster
Jimmy Owens
Ricky Thornton, Jr.
Scott Rhoades
Trevor Gunaker
Carson Ferguson
Jacob Magee
Austin Howes
Steve Sheppard
Joshua Dietz
Tyler Carpenter
Delbert Crum
Casey White
Chris Simpson
John Henderson
Josh Rice
Ruben Mayfield
Oakley Johns
Dakota Smith
Preston Farmer
Teejay Janousek
Timmy Hancock
Josh Baker
Joseph Hughs
Jonathan Woods
Brandon Tibaldi
Darin Weisinger
Derek Fetter
Mike Kline
Timothy Welch
Ted Johnson
Brandon Sheppard
Kylan Garner
Dylan Thompson
Ryan Montgomery
Joe Denby
Cody Bauer
AJ Campbell
Spencer Hughes
Scott Geaschel
Jacob Kolwyck
Ryan Unzicker
Jim O'Hara
Shaun Wiltjerhunt
Patrik Daniel
Scott Bell
Jason Knowles
Jayme Zidar
Jon Mitchell
Robbie Scott
Wil Herrington
Daniel Adam
Michael Luna
Timmy Dick
Corey Delancy
Brad Basey
Devin Moran
Joseph Joiner
Matthew Tribble
Braxton Carter
Tanner English
Donald Johns
Jeffrey Ledford
Blake Creech
Brandon Englund
Devin Gilpin
Tegan Evans
Nicky Pennington
Max Baker
Jason Miles
Manny Falcon
Dylan Bates
Chris McKeehan