2023 USAC November Classic at Bakersfield Speedway
USAC Midget West Coast Swing Begins Tuesday At Bakersfield Speedway
USAC Midget West Coast Swing Begins Tuesday At Bakersfield Speedway
USAC National Midgets begin the series' traditional west coast swing with a stop at Bakersfield Speedway on Tuesday, November 14.
Nov 13, 2023
by FloRacing Staff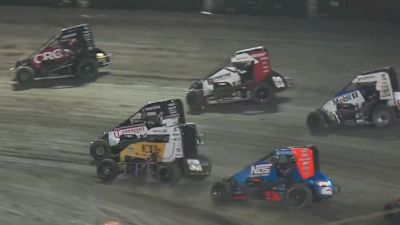 All roads lead to California's Bakersfield Speedway!
For one, it's the start of the USAC NOS Energy Drink Midget National Championship's annual voyage to the west coast on Tuesday night, November 14, the first of six races in a 12-day span in the Golden State to close out the 2023 season.
Secondly, the November Classic presents a myriad of new beginnings and challenges ahead with the likes of Thomas Meseraull's debut with a new team looming as well as RMS Racing's three-race winning streak being put to the test, Buddy Kofoid's pursuit of a historic third Bako win and Logan Seavey's championship quest, just to mention a few.
Here's a look at six of the storylines we're watching on Tuesday at Bakersfield!
A New Ride For Thomas Meseraull
The November swing discussion starts with a new beginning for defending Bakersfield winner Thomas Meseraull.
After the recent parting of ways between Meseraull and the RMS Racing team, Meseraull and his Engler-powered EA Stealth engine will make its debut with a former Spike Chassis out of the RMS stable which will retain the same familiar number of 7x.
It's quite the change of scenery for Meseraull who has scored all 10 of his USAC National Midget career victories for RMS and has competed full-time with the team since their formation in 2018. Meseraull took the team's ride to a 30-lap wire-to-wire victory at Bakersfield in 2022.
Bakersfield success has been part of the equation for Meseraull since the earliest days of his racing career and continues to the current day. In fact, his very first USAC-sanctioned feature win came at Bakersfield with the Western States Midget division all the way back in the year 2000.
RMS Racing Looking "Four" More
Speaking of which, after a daunting and frustrating season, the RMS Racing team has recently broken through to hit their stride on the USAC National Midget trail.
After going winless throughout the first 18 events of the year, the team has now won three-straight, including two by Justin Grant while Meseraull added one to the win column as well.
Now sporting a one-car effort for the upcoming California swing solely for Grant, the RMS outfit is riding a streak which equals the team's longest string of victories set during the first three rounds of the 2022 season.
Now the pursuit for team principal Dave Estep and crew is to become the first team not named Keith Kunz/Curb-Agajanian Motorsports to win four-straight USAC National Midget features since Tucker-Boat Motorsports took five consecutive triumphs in 2020.
Furthermore, RMS enters the upcoming trip as the most recent winner in the state of California with Grant reigning victorious during the season-ending Turkey Night Grand Prix at Ventura Raceway in 2022.
Buddy Kofoid's Back At Bako
Buddy Kofoid's midget starts have been fewer and further between this year in comparison to recent seasons. But the 2021-22 USAC National Midget champion has been a force every time he's hit the track this season to no one's surprise.
In just five USAC National Midget starts during the 2023 campaign, the Penngrove, Calif. driver has finished inside the top-five in all five, including a pair of feature victories.
Furthermore, in his past three Bakersfield appearances, he's finished on the podium each time and won twice in back-to-back fashion in 2020-21. With one more victory on Tuesday, he'd equal current Keith Kunz Motorsports C.E.E.O. (Chief Everything Else Officer) Jay Drake and Billy Vukovich as the winningest USAC Midget drivers at Bakersfield.
Kofoid is committed to competing on the full six-race slate with the USAC Midgets in November in the seat of the KKM/Curb-Agajanian No. 67K, one of seven entries from the team's stable that'll be on hand at Bakersfield.
Logan Seavey With Championship Closeout On His Mind
Logan Seavey (Sutter, Calif.) is one of three past November Classic winners slated to compete in Tuesday's event at Bakersfield along with Buddy Kofoid and Thomas Meseraull.
Seavey captured the 2018 Bakersfield round in grand style by utilizing the high line to pass for the victory coming out of the fourth turn on the 30th and final lap, which also locked up the series title for him in one fell swoop.
It was during the California rounds a year ago in which Seavey made his debut with Abacus Racing. Now, a year later, the pair stands head and shoulders above the field on the brink of a championship, up 225 points in the series standings with just six races remaining.
Coming off a fifth-place finish at Bakersfield in 2022, Seavey and Abacus would like to further cement their title wishes with another "one fell swoop" performance on Tuesday.
Double-O Andreotti
Jake Andreotti has competed the entirety of the USAC National Midget season in a car owned by Tom Malloy. However, for the remainder of the season, he'll find himself back in a former, but familiar, ride.
The Castro Valley, Calif. native has re-teamed up with car owner Pete Davis and his No. 00 for the six-race schedule in their California homeland, the same team with which he accrued several impressive runs this time a year ago, punctuated by a fourth-place result in the 2022 season finale at Ventura.
This year alone, in limited starts on off-weekends from the national trail, Andreotti ventured back home to California and has been stellar in Davis' No. 00 with the USAC Western States Midgets. In just three starts, Andreotti and Davis won twice and finished as the runner-up in the other.
Even better, Andreotti is undefeated in a midget on Bakersfield soil this year. However, both of those victories came at the neighboring The Dirt Track at Kern County Raceway Park. Nonetheless, the team is confident that they can have another breakthrough moment this time around just down the road in Bako.
Australia Teams With America
Just like clockwork, the distinctive machinery of Australia's Dyson Motorsport and American drivers Carson Macedo and Spencer Bayston return to the field for a full two weeks of midget racing on the west coast of the U.S. in the Fall.
Macedo (Lemoore, Calif.) and Bayston (Lebanon, Ind.) are coming off a year in which they both finished inside the top-eight of the World of Outlaws NOS Energy Drink point standings for 2023.
Both drivers have established themselves in midgets along the way as well with Macedo earning a USAC Indiana Regional Midget series title and National Rookie of the Year honors in 2016. Last year at Merced, Macedo was able to notch his first career USAC National Midget victory.
Bayston, meanwhile, was a mainstay at the top of USAC National Midget racing throughout the mid to late 2010s, establishing himself as both a National Midget champion in 2017 and an Indiana Midget Week titlist in 2018.
USAC November Classic Details
The Tuesday, November 14 running of the November Classic at California's Bakersfield Speedway features the USAC NOS Energy Drink Midget National Championship, California Lightning Sprints and American Stocks.
Pits open at Noon Pacific with the gates opening at 4pm, the drivers meeting at 4:30pm and cars on track at 5pm.
Adult general admission tickets are $20. Kids 6-12 general admission tickets are $10. Kids 5 and under general admission tickets are free. Ages 65+ and military (ID required) general admission tickets are $18.
USAC NOS Energy Drink National Midgets and California's Bakersfield Speedway have a history that dates back six decades. Davey Moses won the first trip by the USAC National Midgets in the summer of 1959. Over that period, 24 series races have been held at the lightning-quick 1/3-mile that has been both paved and dirt throughout its history.
The NOS Energy Drink November Classic from Bakersfield will be streamed live on FloRacing at https://flosports.link/40w7aPg.