2023 CARS Tour at Caraway Speedway
Brenden Queen Scores Caraway Win; Carson Kvapil Takes CARS Tour Title
Brenden Queen Scores Caraway Win; Carson Kvapil Takes CARS Tour Title
Results, quotes, highlights and more from the CARS Tour season finale at Caraway Speedway.
Nov 6, 2023
by Rob Blount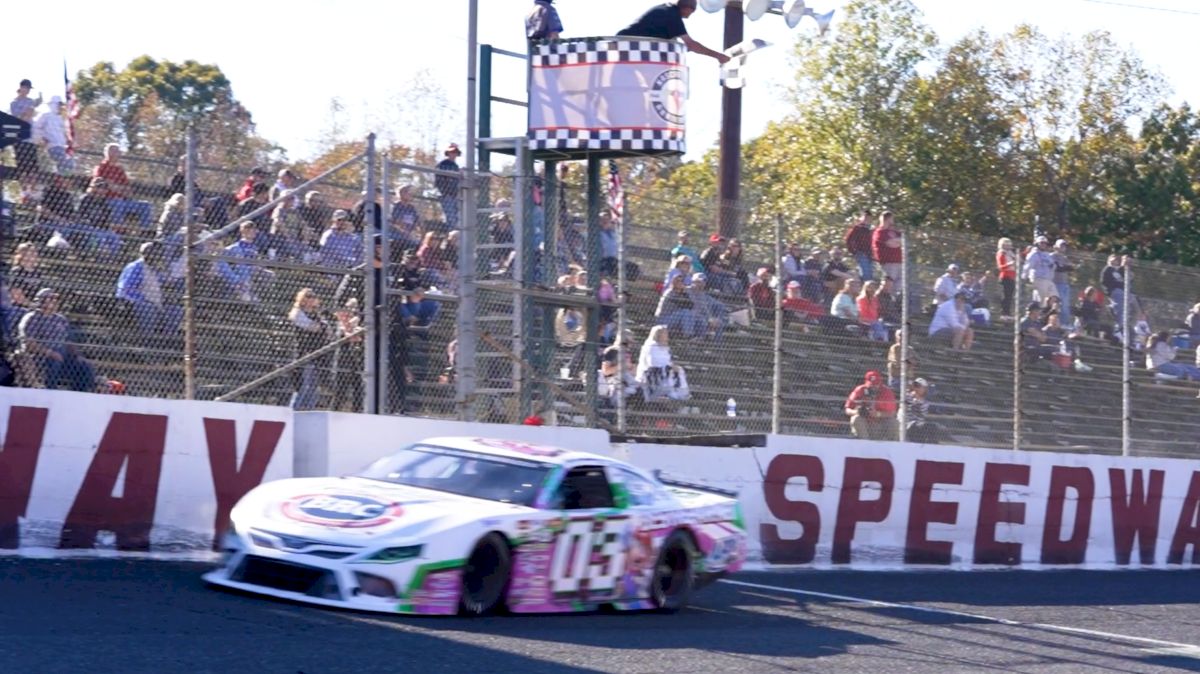 Brenden Queen did all he could do at Caraway Speedway. He put his Lee Pulliam Performance No. 03 on the pole, which clinched him the most poles bonus point. He led a lap and got a bonus point there. He led the most laps for another bonus point. And he went out and won the race, leading all 125 circuits on Saturday afternoon at the North Carolina short track. But in the end, it still wasn't enough to overcome his 21-point gap entering the race weekend to Carson Kvapil.
Kvapil's 11th-place finish on Saturday was strong enough to clinch the CARS Tour Late Model Stock Car championship for the second year in a row, even though it wasn't the type of performance he had hoped he'd have at one of his better race tracks.
Kvapil finished the season with five victories, 13 top-fives, and 15 top-10 finishes in 16 races. Queen ended the year with two wins in a row for a total of four victories, 12 top-fives, and 15 top-10 finishes to go along with his six pole awards in 16 races.
Championship Winning Quote From Carson Kvapil
"It's awesome. It just goes to show how legitimate this team is. Last year we won the championship with four wins and I don't think we finished outside the top five except for maybe one or two races. To come back with even more competition than last time, especially with the 03 and Bobby (McCarty) getting in a better car, it made it a lot harder. We were able to get even more wins than last time, and I feel like the field is a lot tougher than it used to be. Ending the season with our worst finish really sucks. It's painful for sure. But, we knew what we had to do. We knew we had to finish 16th or better and we were able to do that."
Race Winning Quote From Brenden Queen
"We did everything we needed to do and it just wasn't meant to be. But we're not going to leave here upset. We just put two weeks of butt-whoopings on them. That's so hard to do in this series, to lead flag-to-flag two weeks in a row. That thing was bad to the bone. That was one of the most fu races I've ever run. I didn't think I had the best car. The thing was slipping and sliding off of turn two the whole race. It felt like I was a gasser on the dirt track. I was having to manage it, and that's my wheelhouse. I love racing like that on the dirt. I had such a blast. When you're doing that and you're still driving away, that's such a good feeling."
CARS Tour LMSC Highlights

CARS Tour LMSC Caraway Speedway Results
| | | |
| --- | --- | --- |
| Pos. | Car No. | Driver |
| 1. | 03 | Brenden Queen |
| 2. | 6 | Bobby McCarty |
| 3. | 22 | Landon Huffman |
| 4. | 14 | Jared Fryar |
| 5. | 04 | Ronnie Bassett Jr. |
| 6. | 10 | Kaden Honeycutt |
| 7. | 21 | Lanie Buice |
| 8. | 2 | Brandon Pierce |
| 9. | 16 | Chad McCumbee |
| 10. | 59 | Heath Causey |
| 11. | 8 | Carson Kvapil |
| 12. | 77w | Trevor Ward |
| 13. | 77 | Connor Hall |
| 14. | 7w | Dylan Ward |
| 15. | 75B | Coy Beard |
| 16. | 95 | Jacob Heafner |
| 17. | 4 | Dylon Wilson |
| 18. | 15 | Ryan Millington |
| 19. | 8b | Chase Burrow |
| 20. | 67 | Cameron Bolin |
| 21. | 15c | Logan Clark |
| 22. | 24 | Mason Diaz |
| 23. | 1 | Andrew Grady |
| 24. | 32 | Zack Miracle |
| 25. | 81 | Mini Tyrrell |