2024 Tulsa Shootout
Tyler Courtney Tabbed To Drive For Christopher Bell At Tulsa Shootout
Tyler Courtney Tabbed To Drive For Christopher Bell At Tulsa Shootout
Christopher Bell is returning to the Tulsa Shootout as a car owner, with Tyler Courtney behind the wheel of his Micro Sprint.
Nov 3, 2023
by FloRacing Staff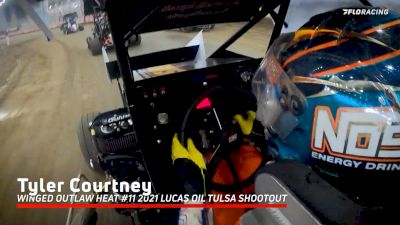 One of the biggest names in motorsports will return to the Tulsa Expo Raceway in December for the 39th annual Tulsa Shootout, but with a different role.
Making his return as a car owner, former Tulsa Shootout winner and three-time Chili Bowl Champion, Christopher Bell, will look to add another Golden Driller to his trophy case and possibly a first for Indiana's Tyler Courtney, who will be behind the wheel in Hyper Racing Outlaw Non-Wing and RS12 Motorsports Outlaw competition.
"The Shootout is a very special race for me and one that helped make my name in the sport," stated Bell, who topped the Tulsa Shootout on Outlaw competition in 2018.
"At this point in my life, I'm taking a step back from driving dirt cars, and I enjoy having a mix of young and proven talent behind the wheel of my Micros. Tyler [Courtney] and I have a long history together, going back to when we were teammates at the Shootout back in 2011 or 2012. I'm excited to try and get him his first driller."
Close to achieving a Golden Driller in Tulsa Shootout competition, "Sunshine" placed third in the 2021 Outlaw A-Feature.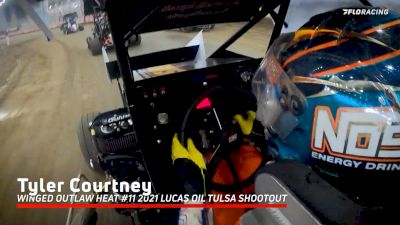 Onboard Camera View: Tyler Courtney 2021 Tulsa Shootout Heat Race
Among the latest round of entrants into the annual "Mecca of Micros" the number of Golden Driller hopefuls is pushing the 800 mark, with drivers from 35 states on the card.
Among the myriad of talent setting their sights on Tulsa is NASCAR's Kyle Busch and Late Model ace Ricky Thornton, Jr., along with former Golden Driller winners like Frank Flud, Blake Hahn, Mattix McBride, Cannon McIntosh, Jason McDougal, Joe B. Miller, and Jack Thomas.