Super DIRTcar Series
Stewart Friesen Updates Super DIRT Week Status Following Talladega Crash
Stewart Friesen Updates Super DIRT Week Status Following Talladega Crash
Stewart Friesen provided an update on his Super DIRT Week status following a crash in Saturday's NASCAR Truck Series race at Talladega Superspeedway.
Oct 3, 2023
by Koty Geyer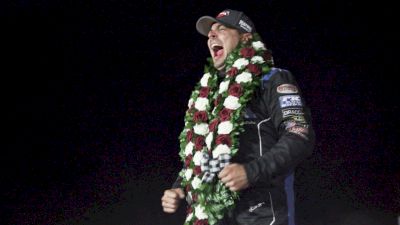 Following his wreck during the NASCAR Craftsman Truck Series race at Talladega Superspeedway on Saturday, Stewart Friesen announced that his intentions to compete at Super DIRT Week at Oswego Speedway are still on as previously planned.
The Big-Block Modified ace and five-time Super DIRT Week Billy Whittaker Cars 200 winner was involved in an accident on lap 39 of Saturday's NASCAR Craftsman Truck Series race at Talladega. He was treated and evaluated at a local hospital before being released that night.
This incident brings out the caution late in Stage 2. @StewartFriesen climbs from the vehicle following the crash. pic.twitter.com/F4MpYlu6th

— NASCAR CRAFTSMAN Trucks (@NASCAR_Trucks) September 30, 2023
The following is from a statement released by Friesen Tuesday afternoon on his social media pages.
"After consulting with my family and doctors, we are going to give it a shot for Super DIRT Week this weekend at Oswego Speedway. The pain and area most affected from Talladega is the L2 & L3 region of my lower back.
"We are going to practice the No. 44 Modified on Wednesday, consult with the doctor each day and take it from there. Thank you to everyone for their concern and support the past few days. It has meant a lot to myself and the team. See you in Oswego."
Super DIRT Week kicks off on Wednesday, October 4 with practice for all four divisions, along with the 30th Hurricane Harvey 75 for DIRTcar 358 Modifieds and DIRTcar Sportsman at the nearby Brewerton Speedway. Time trials and qualifying heats for the Pro Stocks and 358 Modifieds are Thursday, with Super DIRTcar Series and DIRTcar Sportsman qualifying and qualifying heats on Friday.
Saturday kicks off feature racing with the DIRTcar Pro Stocks 50 and the DIRTcar 358 Modified Salute to the Troops 150. The week caps off on Sunday with the DIRTcar Sportsman Chevrolet Performance 75 and the main event, the Super DIRTcar Series Billy Whittaker Cars 200.
Friesen has won the Super DIRT Week main event five times with the Super DIRTcar Series, second most all-time just behind Brett Hearn's six victories. His wins came in 2010-2011 and 2014-2016, becoming the first of only two drivers to win the event at both the Syracuse Mile and at Oswego Speedway.
Friesen recently kicked off big-money season for Northeast Dirt Modifieds with a $53,000 Fonda 200 victory with the Short Track Super Series. If all goes well this weekend, Friesen is expected to chase another $50,000 next weekend during the STSS Speed Showcase at Port Royal Speedway.