2023 High Limit Sprint Series at Lernerville Speedway
Dale Earnhardt Jr. Praises High Limit Sprint Car Experience At Lernerville
Dale Earnhardt Jr. Praises High Limit Sprint Car Experience At Lernerville
Dale Earnhardt Jr. said he's "looking forward to many more" Sprint Car races after attending Tuesday's High Limit Series at Lernerville Speedway.
Sep 28, 2023
by Kyle McFadden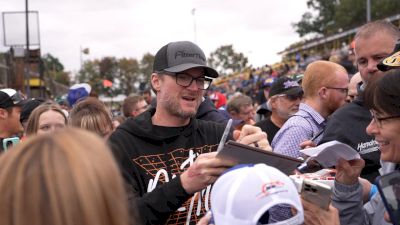 Sprint Car racing gained at least one new fan this week in Dale Earnhardt Jr. The NASCAR Hall of Famer experienced his first Sprint Car race on Tuesday with the High Limit Series at Lernerville Speedway in Sarver, Pa., and came away with lasting impressions.
"The drivers are insane. Such bravery to be able to go out there and throw it in the corner like that," Earnhardt said. "It's insane. Watching qualifying and watch Brad go out there and run that lap, that was a big deal for me to see that. See the speed of the car get down into one and him just commit. But it's awesome. Having a lot of fun. The track is fun to watch (it) change."
How Earnhardt ended up at the 4/10-mile oval on Tuesday began with an idea he had back in May: if Kyle Larson would compete in a CARS Tour race aboard a JR Motorsports entry, then Earnhardt would attend a Larson-promoted High Limit Series event at some point this year.
Sure enough, Larson held up his end of the deal on June 28 at North Carolina's Caraway Speedway so Earnhardt could get a taste of the racing discipline that Larson's so passionate for.
"It was awesome that he was here," Larson said. "He's just a great guy. For him to come up with the idea to do this, I'm super thankful for that. And just seeing how deals with all the fans. It's pretty incredible for somebody like that. I've never been around anything like that before in my life. Just seeing the craziness was wild. But he handles it very well. I think we're all fortunate as race fans here tonight to have him here and help grow our sport."
Earnhardt said Tuesday checked "all the boxes" when it comes to a fulfilling experience as a race fan.
Highlights: 2023 High Limit Sprint Series at Lernerville Speedway
After The Checkers: Kyle Larson And Brad Sweet Recap High Limit Sprints At Lernerville

"As far as putting the event on and the efficiency of the event … having cars on track all the time … the camaraderie's been amazing," Earnhardt said. "Everything's been great … the food; even drank some local beer. Everything's been great.
"I knew it was going to be a huge crowd," he added. "I knew it was going to be an extremely popular event. I knew they were going to do a great job."
So, the age-old question arises: would Earnhardt ever like climb behind the wheel of a Sprint Car one of these days?
"Absolutely. Any kind of racer, you're curious about it. And I'd love to learn," Earnhardt said. "I know Jimmie (Johnson) drove Bowman's car last year. So I'm sure there's a scenario where I can get in and understand what they're doing."
Earnhardt made sure to provide further context to this train of thought, that any potential laps turned in a Sprint Car would be in a carefree test session rather than anything competitive.
"After sitting here and watching those guys go around the track, I have no business out there trying to compete with them," Earnhardt said. "That's insane and impressive how good they are. I really admire the skill it takes. Glad I'm able to be here and witness it. Looking forward to seeing many more races in my future."