2023 USAC BC39 at The Dirt Track at IMS
Cannon McIntosh Resets With New Ride For Remainder Of USAC Midget Season
Cannon McIntosh Resets With New Ride For Remainder Of USAC Midget Season
Cannon McIntosh split ways with Dalby-Mac Motorsports and will drive for a new team in the BC39 and the remainder of the USAC Midget season.,
Sep 25, 2023
by FloRacing Staff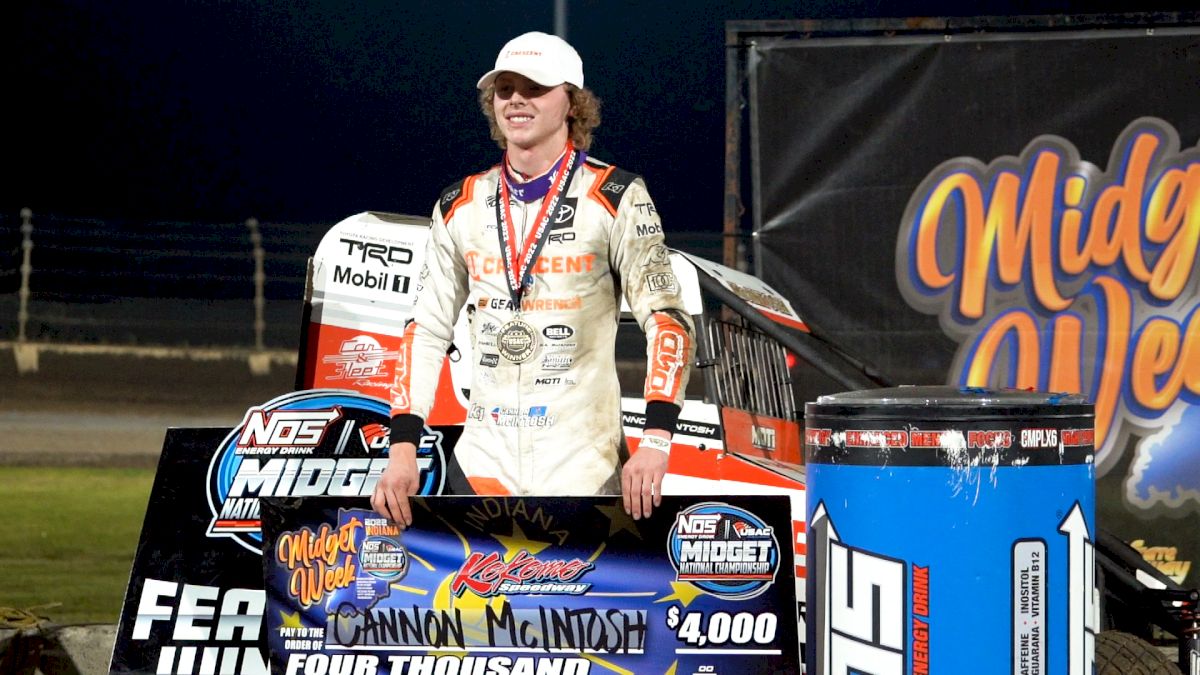 Cannon McIntosh hopes a change will do him good as he joins CB Industries for the remainder of the 2023 USAC NOS Energy Drink Midget National Championship schedule starting this week, September 27-30, during the Driven2SaveLives BC39 at The Dirt Track at Indianapolis Motor Speedway.
McIntosh (Bixby, Okla.) vacates the Dave Mac-Dalby Motorsports No. 08, which he had driven full-time on the USAC circuit since 2021. Now, he'll drive Chad Boat's CB Industries No. 86 for the team alongside fellow full-time series driver Bryant Wiedeman.
Over his career, McIntosh has accumulated six series victories and twice finished fifth in USAC points in both 2020 and 2022. However, the 2023 season, by his own admission, has been a struggle as he remains winless and stands ninth in points.
McIntosh was absent for the past two races last weekend at Ohio's Eldora Speedway, ending his run of 119 consecutive USAC National Midget feature starts since 2019, second most in series history behind only Tracy Hines' run of 131 straight between 2009-15.
Present at the facility, but without a ride at Eldora, McIntosh officially hit the reset button, serving as a spectator not only of the racing action, but also of the CBI team, who he officially becomes a member of this week.
"It's a good reset for me," McIntosh explained. "I feel like the middle of this season became a big struggle for me. I've just been looking for a turnaround point. Now, with this opportunity lining up, I feel like it's a good chance for me to just go out and try to do my best and turn everything around. Chad has great cars and likes to win, and I feel like we're going to do really well. Just getting to watch Eldora and be around and see how everything was done at CB Industries, it definitely made me confident in what they could do. I feel like we're going to have some success for sure."
A midseason change isn't the most ideal situation for any team, driver or crew member, but McIntosh felt that, at this juncture, it was prudent to do what was best for him, as he put it.
"Racing was becoming very tough," McIntosh acknowledged. "Our finishes weren't there at all and I wasn't having fun doing it for myself. I felt like I had to do something that was going to be a good change for me. It's a reset to jump into a really good car, which is kind of a bonus. I felt like we always had good cars as well (at Dave Mac-Dalby Motorsports). It just wasn't clicking as well as it used to. Chad's stuff has been really good lately, so I'm definitely confident in making this switch."
Now residing in North Carolina, McIntosh acknowledges the differences from being involved in a family-owned team to driving for another outfit. McIntosh knows this firsthand as he previously competed for Keith Kunz/Curb-Agajanian Motorsports during the 2020 season. With CBI, he expects to be able to focus a bit more on the driving side of things. Furthermore, the CB Industries team is located just about five minutes down the road from his current residence, allowing him to pop-in to the shop anytime.
This week's BC39 marks the first set of events on McIntosh's schedule with CB Industries. At the 2022 BC39, McIntosh led a race-high 20 of the 39 laps before finishing second following a riveting duel with winner Buddy Kofoid. The hunger for winning the BC39 has only grown stronger since for the 20-year-old McIntosh, as does the desire of getting back into victory lane with USAC for the first time this year.
"This one had a big highlight on it when I first saw the schedule after last year," McIntosh explained. "We led a lot of laps and had speed the whole week, then it came down to the wire with Buddy. We were really close, so it's really one I'd love to snag this year. Winning that race or not, it was cool just to being able to put on a show like that in front of all the fans inside of IMS, but to finish it out on top would be even cooler, I'd imagine. It definitely gives me a little more hunger going into it, especially with the struggles I've had. I just needed something to turn it around, so this would be the perfect place to turn it around, I'd say."
Brent Crews, previously scheduled to compete in the CB Industries No. 86 at the BC39, will not compete in the event. Instead, he will race in this weekend's Atlas 200 ARCA Menards Series event at Salem (Ind.) Speedway.
RACE DETAILS
The fifth running of the Driven2Save BC39 featuring the USAC NOS Energy Drink Midget National Championship comes to The Dirt Track at Indianapolis Motor Speedway for four consecutive nights on September 27-28-29-30.
The BC39 officially gets underway on Tuesday, September 26 with team parking at 3pm Eastern followed by a BC39 Welcome Party at 6pm at USAC Headquarters.
On track action starts Wednesday, September 27, beginning with the drivers meeting in the IMS Media Room at 3pm Eastern. Public gates open at 4pm with cars hitting the track for practice at 6pm, followed by the incredibly exciting Stoops Pursuit feature race which will conclude the night's racing action at 9pm. In this event, 25 cars will start and compete in five, five-lap segments. If a driver gets passed in any segment, they are eliminated.
For Thursday and Friday, September 28-29, the field will be split into two with one half of the field competing on night one and the other half competing on night two. On both nights, public gates open at 4pm Eastern with hot laps at 6pm, followed by hot laps, heat races, the C-Main, the Semi-Feature and the $5,000-to-win Feature event.
The finale, on Saturday, September 30, will have the public gates opening at 4pm with a driver meet and greet scheduled for 4pm in the midway and a public driver's meeting at the USAC merchandise trailer at 4:45pm. Cars hit the track for practice at 6pm, followed by opening ceremonies at 7pm and the main events, starting with the D-Main, multiple C-Mains, Semi-Feature and the 39-lap Feature event paying $20,039-to-win.
There are three options for viewing the racing action and also having pit pass access. You can purchase a competitor pit pass only where no seat is included with limited viewing of the track. Secondly, you can purchase a competitor pit pass with reserved seating included, which are available in the lower level of the main grandstands. You may also purchase a grandstand seat from the IMS ticketing site with a pit pass upgrade. Competitors must enter IMS via the 16th Street tunnel.
Each entry filed will come with two VIP parking passes for inside parking at IMS, intended for driver and entrant. All others must either purchase inside parking or park outside of turns three and four of 2.5-mile paved oval track.
Spectator tickets are also available www.TheBC39.com. Spectators are to enter the Indianapolis Motor Speedway via 30th Street.
The event on the quarter-mile dirt oval inside turn three at IMS will continue to honor late USAC champion and three-time Indianapolis 500 starter Bryan Clauson and increase awareness of and participation in the Indiana Donor Network and Driven2SaveLives.
Brady Bacon (2018), Zeb Wise (2019), Kyle Larson (2021) and Buddy Kofoid (2022) have captured victories in the first four editions of the BC39.