2023 USAC BC39 at The Dirt Track at IMS
Brady Bacon Recovering After Race Fuel Eye Injury At Eldora Speedway
Brady Bacon Recovering After Race Fuel Eye Injury At Eldora Speedway
Brady Bacon is recovering from an eye injury after an accident at Eldora Speedway that resulted in race fuel entering his eye.
Sep 25, 2023
by Tyler Burnett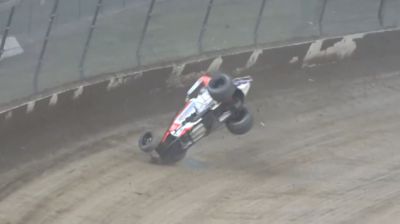 Brady Bacon is currently recovering from an eye injury suffered this past weekend during the 4-Crown Nationals at Eldora Speedway. The injury occurred when a race fuel device shot methanol into his eye while he was preparing cars for Saturday's main events.
Bacon was immediately rushed to the Eldora infield care center and had has his eye flushed multiple times with saline. The medical staff also gave him numbing drops to help ease the severity of the burning pain.
Bacon started the USAC National Sprint Car feature and was running 15th when the engine expired on his No. 69 Sprint Car five laps into the race. After pulling back into the pits, his left eye started swelling shut and eventually was closed completely, forcing him to end his night and forgo the final two main events in which he was set to start. Tyler Courtney filled in for him in the Chris Dyson No. 9 during the USAC Silver Crown Series event.
"I was so fortunate for the accident to happen at Eldora, which has a top notch care facility in the infield. I want to give a big thank you to Tony Stewart for stepping up and building the care facility there, which has everything they needed to treat me including an eye wash station," Bacon said on a Facebook post Monday morning." Thank you so much to all the medical staff that helped me throughout the night, you were all very helpful, skilled and professional."
On Monday morning, Bacon updated us with pictures showing his eye losing swelling and opening. He also said that his vision is one-hundred percent in the eye as he tries to recover quickly in time for the upcoming USAC BC39 at Indianapolis Motor Speedway on September 27-30.
"As many of you know I got fuel sprayed in my eye in an incident at the track while making a fuel system adjustment. My eye got better throughout the day yesterday and is much better today also. I can keep it open easily today. My vision seems to be 100% in the eye that was hurt and is just hindered by fluid and the swelling of my eye lids now."
Bacon currently sits second in USAC National Sprint Car series point standings, 66 points behind points leader Justin Grant.