2023 ValleyStar Credit Union 300 at Martinsville Speedway
Results: Trevor Ward Wins ValleyStar 300 In Photo Finish At Martinsville
Results: Trevor Ward Wins ValleyStar 300 In Photo Finish At Martinsville
Trevor Ward held off Landon Huffman in a photo finish to win the ValleyStar Credit Union 300 at Martinsville Speedway.
Sep 25, 2023
by FloRacing Staff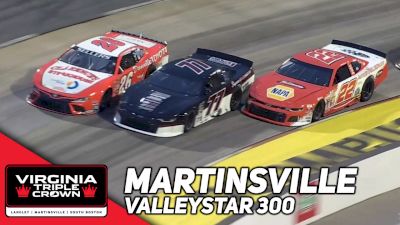 It was a true Cinderella story on Sunday night at Martinsville Speedway in the ValleyStar Credit Union 300. However, when clock strikes midnight on Monday morning Trevor Ward will still be able to say he is a Martinsville Late Model champion.
When the green flag flew on Sunday evening, the consensus pick was that Bobby McCarty would finally break the curse and win his first race here at the historic half-mile. After falling back to save equipment for a charge to the checkered, it would be the equipment that ended that chance to kiss the grandfather clock once again.
"Man, I hate this place. But I love this place. But, I hate this place," said a dejected McCarty post-race.
It would be a race that generations will come to never forget as it came down to two drivers with plenty to prove: Landon Huffman, who brought home the $30,000 to win Old North State Nationals with the CARS Tour back in August but is still trying to showcase his ability to be a top contender in late model stocks. And Trevor Ward who was still looking for that big win to put his name on the map.
With less than ten laps to go, Huffman and Ward were able to put a gap of multiple car-lengths between their fellow competitors. The two drivers ran side-by-side, banging fenders every corner. As they came to the line in front of a standing crowd, Ward was able to beat Huffman to the line by a mere margin of .058 seconds.
The feeling was unlike any other for Ward as he watched his crew run down the front straightaway to congratulate him.
"I started crying immediately," said Ward after the race. "And I don't cry a lot. My Grandpa died about seven years ago, and that was the worst I ever wanted to cry. And I haven't cried since. He would be proud of me watching me win this deal. He definitely is. He was with me tonight. We did it paw-paw.
"But it's not about the money. It's not even about the clock. It's about every one of them guys. I was stoked for them. I was crying for them."
Trevor Ward also would go on to say how his path to this victory is unlike any in the pit area. Not being backed back thousands of dollars, Ward has to do everything on his own and build the cars from the ground up. In victory lane, he would dedicate this victory to the working "blue collar" folk who can still get the job done over high-budget teams.
"I work harder than anybody out there. I'm going to say that just out front," said Ward. "Going into Friday, when we unloaded I was going on 32 hours of no sleep. The biggest thing that happened was that we got a day to sit back and chill. I got to come back on Sunday with sleep and fresh mind and no race cars to work on and worry about. That was the biggest thing. I think if it was a Saturday night show I wouldn't have won the race."
On the other end of the spectrum, Huffman described the second-place finish with one adjective… heartbroken.
"Coming that close to a grand-father clock is tough," Huffman said. "Half a car to a fender, hell I don't even remember. But I am proud of how I raced."
Ward also snuck his way into a $7,000 Virginia Triple Crown title as McCarty and Brenden Queen both had mechanical trouble in the race.
"I'm a nobody. I would talk about them too," said Ward. "They've done everything. You've got a Wilkesboro winner. You've got a Hampton Heat winner. You've got everybody. I'm a nobody. Why would they talk about me? But at the end of the day, I'm cool with that."
Even after all of the haulers have left and the lights have dimmed around the facility, Ward still does not think this win will sink in before he finally gets to rest.
"It's not going to sink in until the morning, probably. I think I looked at my phone and I had like 152 text messages. I didn't even know who half of them were."
2023 ValleyStar Credit Union at Martinsville Speedway Unofficial Results
1. Trevor Ward
2. Landon Huffman
3. Carson Kvapil
4. Peyton Sellers
5. Doug Barnes
6. Mason Diaz
7. Kade Brown
8. Trent Barnes
9. Justin Hicks
10. Brenden Queen
11. Kaden Honeycutt
12. Heath Causey
13. Daniel Silvestri
14. Carter Langley
15. Jacob Borst
16. Dexter Canipe
17. Casey Kelley
18. Blake Stallings
19. Matthew Waltz
20. Dillon Harville
21. Jacob Heafner
22. Kyle Dudley
23. Kres Vandyke
24. Thomas Scott
25. Dustin Rumley
26. Ryan Matthews
27. GR Waldrop
28. Karl Budzevski
29. Jared Fryar
30. Connor Hall
31. Sam Yarbrough
32. Dylan Ward
33. Bobby McCarty
34. Chase Burrow
35. Zack Miracle
36. Mike Looney
37. Ryan Millington
38. Matt Cox
39. Riley Gentry
40. Davey Callihan