2023 4-Crown Nationals at Eldora Speedway
Chris Windom Dominates Friday USAC Midget Feature At Eldora Speedway
Chris Windom Dominates Friday USAC Midget Feature At Eldora Speedway
Chris Windom earned his third career USAC National Midget 4-Crown Nationals victory Friday night at Eldora Speedway.
Sep 23, 2023
by Tyler Burnett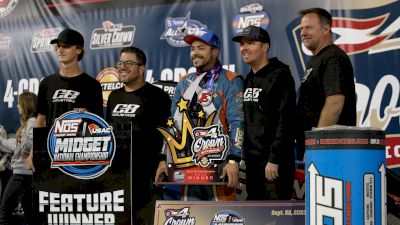 Death, taxes and Chris Windom/CB Industries winning USAC NOS Energy Drink National Midget races at Rossburg, Ohio's Eldora Speedway.
That is the itemized list of life's seemingly inevitabilities that have been certain in recent years, and nobody has proven it more often of late at the 1/2-mile dirt oval than the Canton, Ill. driver and the Mooresville, N.C. based team.
During Friday night's BeFour The Crowns 25-lap feature event, Windom checked out on the field from his front row starting position and kept himself and his right rear tire firmly planted within inches of the outside wall en route to a wire-to-wire victory in his CB Industries/NOS Energy Drink – PristineAuction.com – K & C Drywall/Spike/Speedway Toyota.
It was Windom's third Eldora midget win in his last four starts at The Big E dating back to 2021. His 15th overall USAC National Midget feature triumph also moved him inside the top-50 all-time alongside USAC Hall of Fame inductees Don Branson and Larry Rice.
Furthermore, CB Industries' prowess on the high banks was once again on full display as the team became the first entrant to earn four consecutive Eldora feature wins – three with Windom in 2021-22-23 and another with Mitchel Moles on the opening night of the 2022 4-Crown Nationals weekend.
The outfits who had previously earned three-straight at Eldora are synonymous with the sport: Steve Lewis (2001-02), Keith Kunz Motorsports (2011-13 & 2015-17) and Clauson Marshall Racing (2018-21). However, one team now stands alone in uncharted territory – CB Industries.
Windom's sixth overall 4-Crown Nationals feature win (3 Midget, 2 Silver Crown, 1 Sprint) ranks fourth all-time behind only Jack Hewitt (19), Tyler Courtney (7) and Dave Darland (7). In all those wins, nothing compares to the moment when everything clicks from the track to the car to the individual behind the wheel. All of it worked in perfect synchronicity for Windom and CBI on this night. Their night.
USAC Midgets 4-Crown Nationals Friday Highlights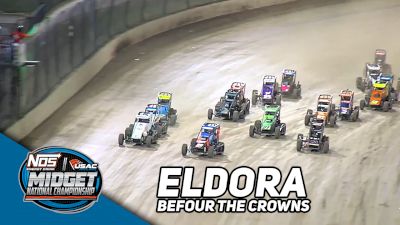 Winning Quote From Chris Windom
"It's just such a fun racetrack when it's like this, up on the fence, you've got a lot of room and midgets are so fun to run when it's like that. I've had a decent amount of experience here doing it too. I always enjoy coming back and racing for (team owner) Chad (Boat) every chance I can; we have a lot of fun together. It's so much fun and it's one I look forward to doing every season."
USAC Midgets at Eldora Speedway Results
1. Chris Windom (2)
2. Jade Avedisian (1)
3. Rico Abreu (4)
4. Bryant Wiedeman (5)
5. Logan Seavey (6)
6. Daison Pursley (3)
7. Justin Grant (9)
8. Gavin Miller (10)
9. Thomas Meseraull (14),
10. Ryan Timms (7)
11. Jacob Denney (13)
12. Mitchel Moles (8)
13. Daniel Whitley (11)
14. Jake Andreotti (15)
15. Hayden Reinbold (18)
16. Taylor Reimer (12)
17. Clinton Boyles (16)
18. Briggs Danner (17)
19. Holly Jones (19)
20. Kyle Simon (20)
21. Ian Creager (21)
USAC National Midget Point Standings
Logan Seavey has a 96 point lead over Justin Grant in the USAC Midget point standings. Bryant Wiedeman is third, Jade Avedisian is fourth and Ryan Timms is fifth.
Full USAC National Midgets Points Standings
Last Race: September 21 - USAC Midgets at James Dean Classic Gas City
Up Next: September 23 - 4-Crown Nationals at Eldora Speedway