2023 Pink Lady Classic at Meridian Speedway
More Than 30 Cars Set For Ninth Pink Lady Classic At Meridian Speedway
More Than 30 Cars Set For Ninth Pink Lady Classic At Meridian Speedway
More than 30 teams have filed entries for this weekend's Ninth Annual Pink Lady Classic at Boise, Idaho's Meridian Speedway.
Sep 19, 2023
by Rob Blount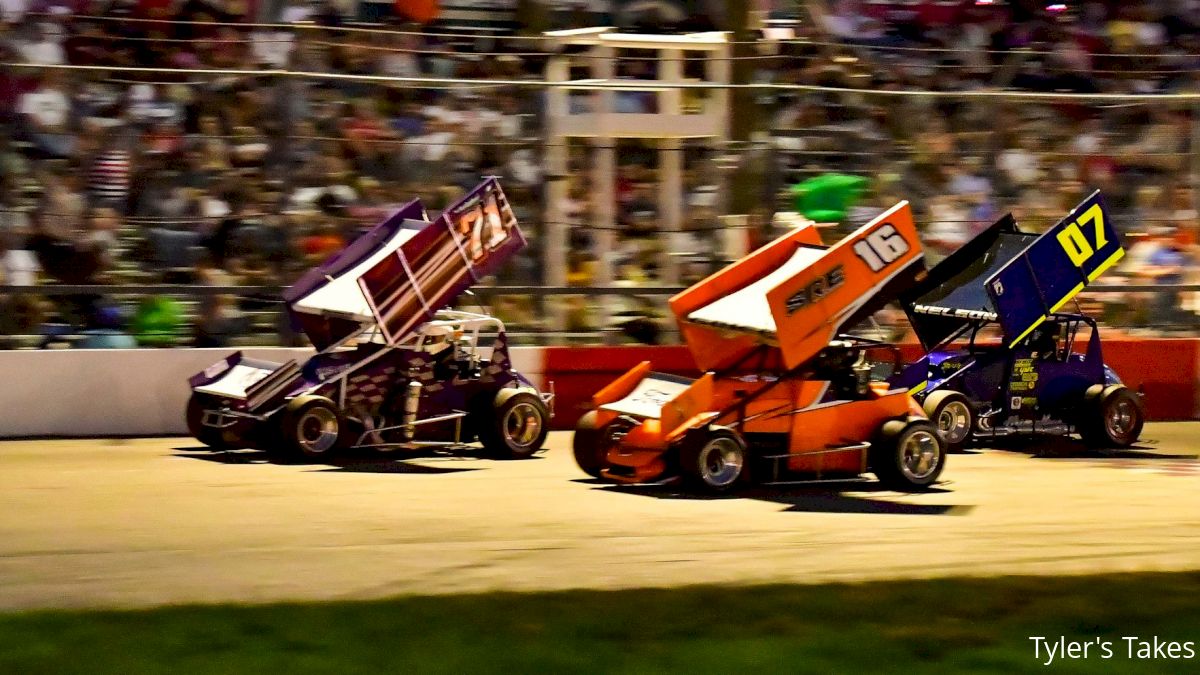 One of the biggest pavement Sprint Car races of the year is the Pink Lady Classic at Boise, Idaho's Meridian Speedway, and more than 35 teams have already filed entries for this Saturday's edition, which will pay $27,000 to the winner.
The Pink Lady Classic is a 100-lap Speed Tour/NSRA co-sanctioned Sprint Car race that pays tribute to Kenny Hamilton's 1968 Grant King-built Sprint Car that, of course, was famously pink.
Saturday's race is the ninth edition of the Pink Lady Classic, and this year's entry list is headlined by defending race winner, Colton Nelson, from Meridian, Idaho. Nelson has now won one-third of the Pink Lady Classics to be held, including the last two in a row. Nelson's first triumph came in 2018.
In total there have been six different winners through the Pink Lady Classic's history, and five of them are entered in Saturday's race.
Cory Lockwood of Nampa, Idaho took the victory in 2020, holding off Bryan Warf and Casey Tillman to take the checkered flag that year. Both of those drivers are entered as well as they look to score their first Pink Lady Classic trophy.
In 2019 it was Kyle Alberding of Roseburg, Oregon who went to victory lane. Alberding held off Aaron Willison for the win. Willison is also on the entry list as he also seeks his first Pink Lady victory.
Ryan Burdett of West Jordan, Utah took the victory in 2017, the third year the Pink Lady Classic was contested. Burdett has finished in the top five on two other occasions, in 2019 (fifth) and 2021 (third).
The final previous winner is Davey Hamilton Jr. who went to victory lane in the second Pink Lady Classic in 2016. Hamilton, of Boise, is a USAC Silver Crown winner, a King of the Wing National Sprint Car Shootout winner, and he won the Dave Steele World Non-Wing Sprint Car Championship event earlier this year at Showtime Speedway.
The previously mentioned Bryan Warf of Kuna, Idaho, has come as close as possible to winning the Pink Lady Classic on multiple occasions but has always come up a little bit short. Warf has finished second on four occasions. He also has finishes of third, sixth, and fourth.
Currently, this year's entry list has Idaho, Florida, Utah, Colorado, Indiana, Washington State, Oregon, and Canada represented.
The Pink Lady Classic will take place on Saturday, September 23 at the Meridian Speedway live on FloRacing. Fans that cannot attend in person can watch the live stream as part of their FloRacing subscription. Fans can subscribe by clicking here.
2023 Pink Lady Classic Entry List
| | | |
| --- | --- | --- |
| Car No. | Driver/Team | Hometown |
| 0 | Drew Crenshaw | Nampa, Idaho |
| 1 | Natalie Waters | Grantsville, Utah |
| 02 | Anthony Quintana | Riverton, Utah |
| 4 | TBA | |
| 6G | Bryan Gossel | Fort Collins, Colorado |
| 7 | Rand DuBois | Redmond, Washington |
| 07 | Colton Nelson | Meridian, Idaho |
| 8 | Stanley/Stanton | |
| 9 | Troy DeCaire | Tampa, Florida |
| 12 | Aaron McPeak | Boise, Idaho |
| 12 | Ron Larson | Quesnel, B.C., Canada |
| 14 | Aaron Willison | Langley, B.C., Canada |
| 14 | Davey Hamilton Jr. | Tampa, Florida |
| 14x | TBA | |
| 16 | Rob Grice | Boise, Idaho |
| 16G | Austyn Gossel | Windsor, Colorado |
| 17 | Mike Murgoitio | Meridian, Idaho |
| 22 | DJ Lyons | Nampa, Idaho |
| 22 | Richie Larson | Prince George, B.C., Canada |
| 24 | TBA | |
| 26 | David Parrie | Eagle, Idaho |
| 33 | Kyle Alberding | Roseburg, Oregon |
| 33j | Jeff Montgomery | Langford Station, B.C., Canada |
| 36 | Ryan Burdett | West Jordan, Utah |
| 36J | Jarett Burdett | West Jordan, Utah |
| 41 | Tyler Roahrig | Plymouth, Indiana |
| 57 | Evan Margeson | Nampa, Idaho |
| 71 | Riley Rogers | Meridian, Idaho |
| 77 | Matt Elliott | Boise, Idaho |
| 77L | Nate Little | Boise, Idaho |
| 81 | Casey Tillman | Kuna, Idaho |
| 91 | Bryan Warf | Kuna, Idaho |
| 94 | Lance Wade | Victoria, B.C., Canada |
| 98x | Kyle Tellstrom | Boise, Idaho |
| 99 | Cory Lockwood | Nampa, Idaho |